Shadowman #5 resurrects Valiant Entertainment's horror hero for a thrilling new arc on January 19th.
Background
The Deadside of the Valiant Universe is reacting to the mortals' vices and misery, creating blights of spirits. Jack Boniface, the titular Shadowman, tries to keep the peace but finds himself in a losing battle. Because the Deadside isn't simply a realm of spirits to manage, but a spirit with free will.
Progress Or Payback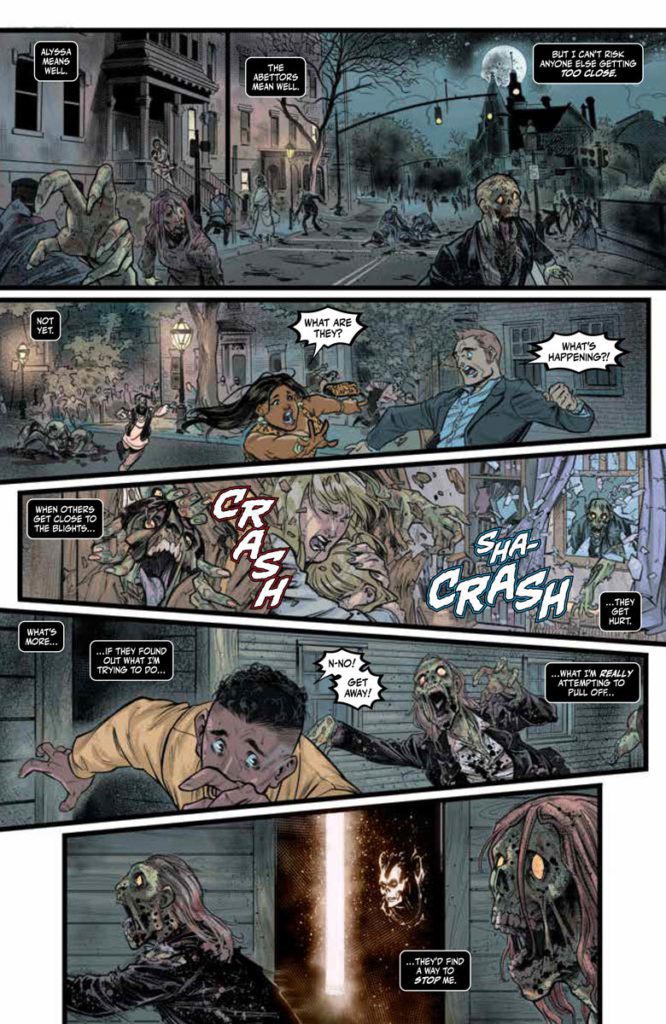 Cullen Bunn cleverly makes this issue about an inevitable ideological war. Jack wants to change approaches instead of retain a broken system of spirit management with coexistence. It's a neat idea that fits into Jack's development from runs before by learning to live with his Shadow Loa, making Shadowman an example to follow. But it's not just the Deadside herself causing mayhem that he has to worry about. A returning supporting character Alyssa and the Abettors would rather have the status quo remain as is. Between the two threats, there's a nervous tension that leaves readers on edge.
Blurring Lines
Pedro Andreo's artwork showcases impressive designs of characters and the grotesque undead. Each one has a very memorable trait to identify among all of activity on a page.
But it wouldn't be half as memorable without the colors by Jordie Bellaire. Her choices in color highlight the most important events taking place. Brightly colored innocents running from the ravenous undead practically tell the story. But not as much as the transitions in a spread where the warm lights among the zombies dim out for foreboding foreshadowing of a coming disaster.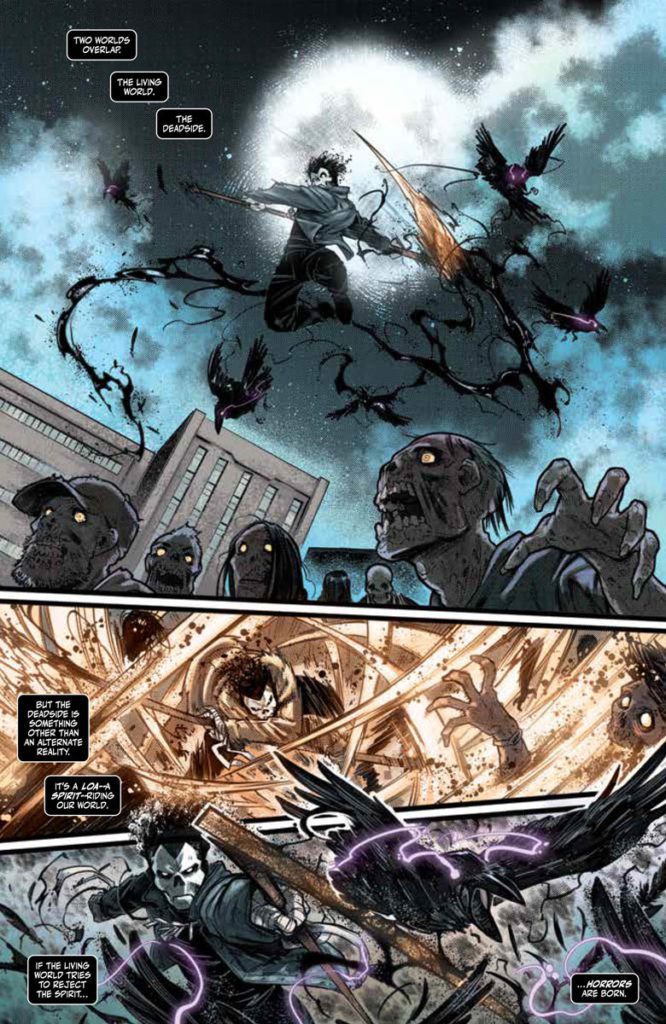 If only the more spectral interactions with greater spirits weren't so distracting. In practice this shows off the otherworldly power of Shadowman and the Loa. But sometimes the inking and coloring get so blurry that it's hard to tell what's happening.
In Clayton Cowles' lettering, there's a lot of character put into every sound made. In one of the most compelling instances, the notes from Jack's saxophone performance arrange in a way that evoke sheet music. Meanwhile, word balloons reflect different things about the speakers' personalities. The manifestation of the Deadside speaks in the same shape of distorted word balloons as the Loa pantheon, but the color and classical font suggest she's older and more powerful than they are. It's what adds to the reader's anticipation of her next move.
Ready For A Thrill Ride?
Shadowman #5 comes back with plenty of intrigue. This new chapter has a few characters with motivations ready to be explored, especially in relation to the title character. This is one saga that people will want to see through.