Sanditon has returned for a second season, the first of two being filmed back-to-back for PBS and Britbox. The new season sees many characters return to the sea town along with some new faces.
It has been a year since the events of Sanditon's first season and Charlotte (Rose Williams) being rejected by Sidney (Theo James). Since that time, Charlotte has learned of Sidney's death. She returns to Sanditon, takes a position as governess, and soon finds herself with two suitors, the reclusive Alexander Colbourne (Ben Lloyd-Hughes) and a senior army officer Colonel Francis Lennox (Tom Weston-Jones).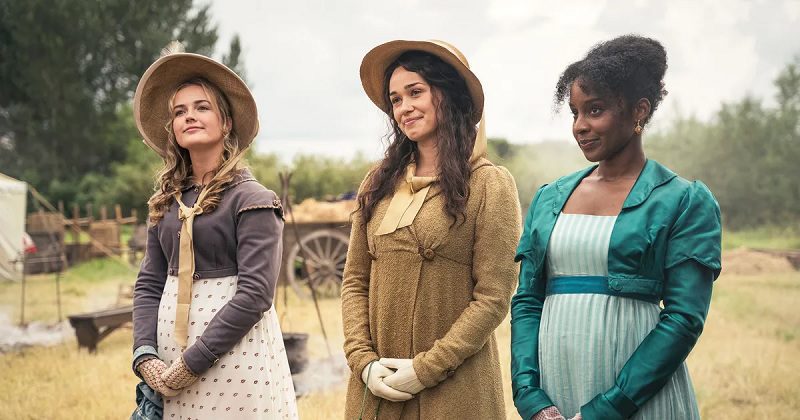 Other residents of Sanditon also have issues involving romance. Charlotte's younger sister, Alison (Rosie Graham), falls for a young army officer, Captain William Carter (Maxim Ays), whilst Georgiana (Crystal Clarke) needs to fend off men who want to marry her for her money.
Tom Parker (Kris Marshall) believes there's an opportunity to make money by making an arrangement with the army to set up a permanent garrison near Sanditon. Esther (Charlotte Spencer) returns to Sanditon after suffering a miscarriage and nearly dying because of it. She seeks a cure for her infertility whilst staying on the coast.


The first season of Sanditon was a bigger hit in the US than it was in the UK. PBS saved the show, and the second season was broadcast in the US before it was released in the UK. The first season of Sanditon obviously had an appeal, and PBS was going to capitalize on that.
Sanditon was based on Jane Austen's unfinished novel. The series used what Austen wrote as a springboard to make their own story. The unique selling point of Sanditon was being a little more subversive than previous Austen adaptations. The first episode showed Charlotte seeing two people in the middle of a sex act, although Sanditon was nowhere near as raunchy as Bridgerton. The main couple of the first season did not end up together.


The second season saw some big changes. This season had a reduced episode count, it was down to six, and the darker edges of the first season, like Clara (Lily Sacofsky) being the victim of sexual abuse, were smoothed out. There were still some darker ideas that involved coercive behavior, but they don't appear until the tail end of the season.
The second season can be best described as a consistent period drama. Fans of the regency-set dramas will get a fix from this season of Sanditon. It had the costumes, settings, and romantic drama the target audience would want.


The direction of Sanditon's second season was more traditional for an Austen adaptation. The Heywood sisters were both in the middle of love triangles. Army officers were trying to court the sisters, but they were unaware of other men who were also interested. Georgiana also had a romantic story because she might have found a perfect match, Charles Lockhart (Alexander Vlahos), the local portrait artist who shared her interest in political activism, but he needed to earn her trust.
Charlotte and Georgiana have been shown to be strong-willed women. Georgiana's wealth meant she had the luxury to choose her partner and led a sugar boycott so slavery could be abolished. Charlotte wasn't rich, but she was willing to stand her ground when she became a governess. She wanted to give her charges a proper education and not be taught how to find a husband.


Alison differed from her friend and sister. She had a traditionalist outlook because she went to Sanditon to find her husband. Alison was a romantic and had an idealistic view of courtship. But the reality could be harsher.
Sanditon's second season was filled with stories. Besides the romantic plots, there were tensions between the residents and the army. Tom wanted to make a deal with the army to set up barracks, believing it would be beneficial for the town. However, there was tension because Arthur (Turlough Convery) distrusted Lennox and their motivation. Lennox's character and the army's actions get revealed as the season progressed.
There was a lot of action within the Denham household, and they were interlinked. Esther was desperate and looking for a way to have a baby, and Edward was looking to become Lady Denham's heir. He was willing to use underhand methods to achieve this, and Clara returned to Sanditon pregnant with Edward's child. There was a lot of drama since the characters had a mutual distrust for each other.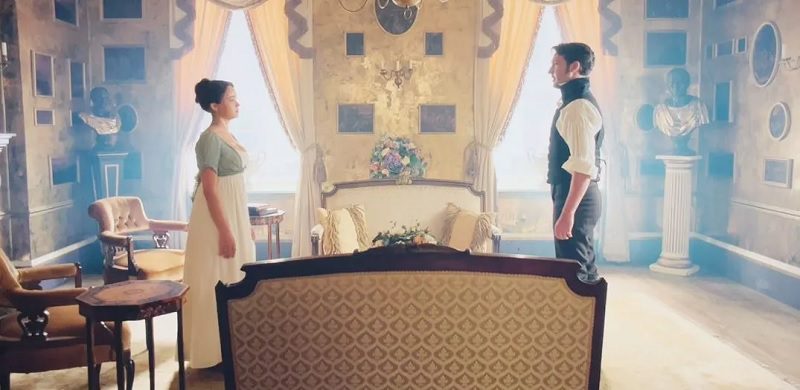 The evolution of the relationship between Esther and Clara was the most interesting in the season. They were hostile in the previous season to the point they were politely bitchy to each other. Yet their relationship grows more complicated, and Esther's position slowly softens during the season.
There were also smaller subplots in the season. Georgiana and Lady Denham were on the opposite side of the slavery debate, and it came to a head in the fourth episode of the season. The other small subplot involved Colbourne's niece, Augusta (Eloise Webb), who wanted to be introduced to society. Webb showed herself as a promising young performer as she played a rebellious teen (or as rebellious as someone can be in Regency England). Augusta tried to drive Charlotte away from the governess' job before revealing what drove the youngster to these actions.
Like many British period dramas, the second season of Sanditon was a relaxing watch. It was a handsome production, with a generally likable cast and interesting characters. It was fine comfort viewing.