RED SONJA #14 tells a multi-plot story of Faustian bargains in a time of desperation and starvation. Writer Mark Russell challenges Queen Sonja to use her wits instead of her sword, and Bob Q's art brings even a simple negotiation to life.
Summary
Queen Sonja's kingdom is on the brink of starvation after a devastating war. She reaches out to an unlikely ally in her desperation, but how far will she go to save her people?
Cover Art
Jae Lee paints a winning cover. Lee's image is not just cool imagery; it calls back to a minor scene within the book that's much more dangerous than it looks. Red Sonja, here, doesn't look like the statuesque warrior she's historically is seen as, but more roguish and sly. It's a refreshing take on the character.
Writing
Mark Russell put together a story that forces Queen Sonja to rely on wit and diplomacy over swordplay. In short, her strength as a Queen is put to the test. The dialog is clean and sometimes witty. The overall plot flows well. That said, this issue is much more conversation than action. If you pick this issue up looking for the glory of battle, reset your expectations. It's a good story, but it's not an action-packed.
Lettering
Hassan Otsmane-Elhaou does a phenomenal job with the lettering; especially in two key areas. 1) Otsmane-Elhaou clearly transitions carryover dialog from one panel to the next which keeps the reader's eyes moving. 2) He expertly bolds just the right words to visually interpret inflection and emphasis in the character's voice. Very well done.
Coloring
There are a lot of browns, greys, and earth tones in this issue, but Dearbhla Kelly manages to keep all the panels looking distinctive. You have a lot of static scenes, but that's not surprising since there isn't much action going on. Still, each panel is bright and visually interesting.
Pencils/Inks
Bob Q's illustration is a standout in this issue. Q shows a knack for facial expressions that say just as much as Otsmane-Elhaou's lettering. Q raises and lowers the eyebrows asymmetrically on each character to convey how they're considering each others words in less-than-pleasant terms. Also, the slant of each mouth really sells how the Aristocratic adviser (on the left) is arrogantly ambivalent to the plight of the peasants, and Isolde's (on the right) lopsided frown deftly conveys disgust at the adviser's indifference.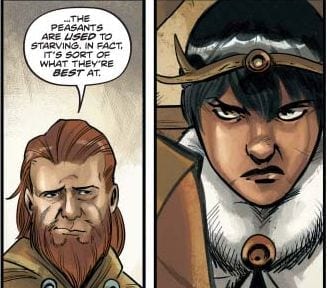 Conclusion
In all, we thoroughly enjoyed this issue. It's very conversation heavy over action, but the story moves. Queen Sonja takes an important step toward developing as a mature and wise(?) leader. We recommend you pick up this issue.