Hellboy has always, at heart, been a bit of a goof. For as skilled as Mike Mignola is at drawing shadows and quiet moments of contemplation, he'll just as happily have Hellboy fall over himself, or maybe end up in a pink bathrobe. Which is why it's nice to see one of the many Mignolaverse titles lean into comedy. For as much awe as the books can treat their own lore with, it's fun to see Silver Lantern Club treat the supernatural the same way Hellboy himself does: cryptic, commonplace, and very annoying.
WRITING
The Mignolaverse's backbone is built on simple folktales, and Mignola and Chris Roberson have been writing Hellboy stories for quite awhile. "Simple and breezy" is the name of the game here. Framed as a tale being told to Hellboy by former paranormal investigator Simon Bruttenholm, it recounts a time that Simon and fellow investigator Edward Grey were roped into a werewolf hunt. Edward's friend and immortal werewolf hunter Yad Tovich drags them from pub to pub, insisting that there's no time to spare in their supernatural hunt — except for one more drink, of course. But Simon and Edward quickly come to realize that the hunter Yad may be a bit more calculating than he lets on. The plot, then, is an opportunity for the characters to bounce off one another as they wander London's bars at night. The supernatural itself even takes a backseat to the bar-hopping, much of it coming from half-remembered adventures the characters drunkenly explain to one another.
Yad Tovich has shown up in a previous Hellboy story as a more tragic character. But here he sets the tone for the issue, cast as a drink-loving, spirited old man, unreluctant to lead others into trouble. Werewolves have never fit into the Hellboy universe's aesthetic of crumbling castles and Victorian fashion quite as well as vampires, but they certainly belong with Yad's rugged, outdoorsman attitude. I have a feeling we'll be seeing more of him.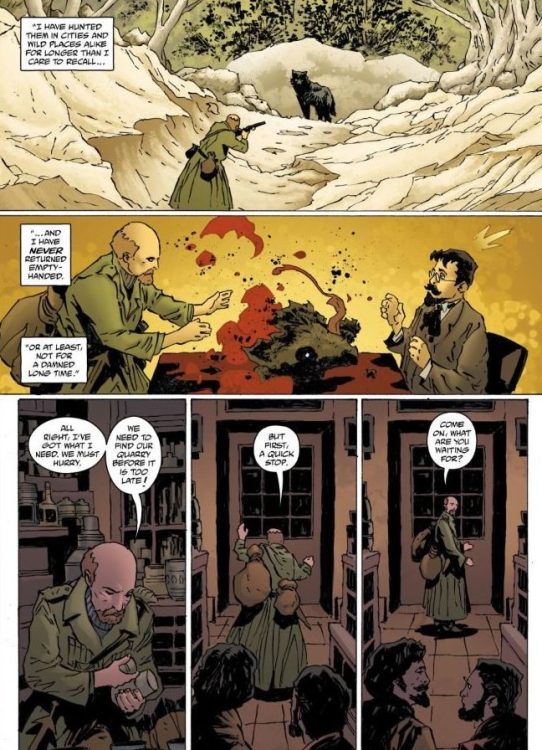 ART
Ben Steinbeck and Christopher Mitten share art duties here, with Steinbeck drawing the modern day framing scenes, and Mitten working on the meat of the story. Mitten's scratchy lines and exaggerated character acting both compliment the story's chaos. Mitten is obviously having a lot of fun drawing drunk characters, as he makes them sway and stumble and grip streetlamps for support. Meanwhile, Steinbeck's art, while still cartoony, feels more weighty and grounded. It works as a contrast to Mitten's more impressionistic style, making the scenes where Simon talks to Hellboy feel more fixed in the present.
Befitting a story less focused on the supernatural, Michelle Madsen's colors ground the story in earthy browns and greens. The werewolves of the issue fit right into this natural environment, the only supernatural tell being their small, bright-green eyes. It all makes for a believably dingy vision of Victorian London for the protagonists to stumble through.
As for letterer Clem Robins, he's been working on Hellboy books for quite a while, and maintains his pleasant, handwritten look. It's a style seen through most Mignolaverse titles, and helps keep all the books with different art styles and tones feel consistent with one another.
VERDICT
Hellboy: The Silver Lantern Club is a series that trades the Mignolaverse's ghost stories for bar tales. Which means getting to see a more grounded, rowdy side of the universe. It's a fun change of pace, and makes for a nice, comfortable read. After so many years, it's nice to see these characters can still hold their liquor.