How to talk about Nightwing #87? It's one of those comics that is so different, there aren't even the words to begin discussing it. From the very start, writer Tom Taylor, artist Bruno Redondo, colorist Adriano Lucas, and letterer Wes Abbott make it clear that they are breaking the mold. For one thing, Taylor and Redondo aren't credited as writer and artist. They're both billed as "Storytellers." It's a seemingly small detail that represents how much we need new vocabulary to even discuss this incredible issue from DC Comics.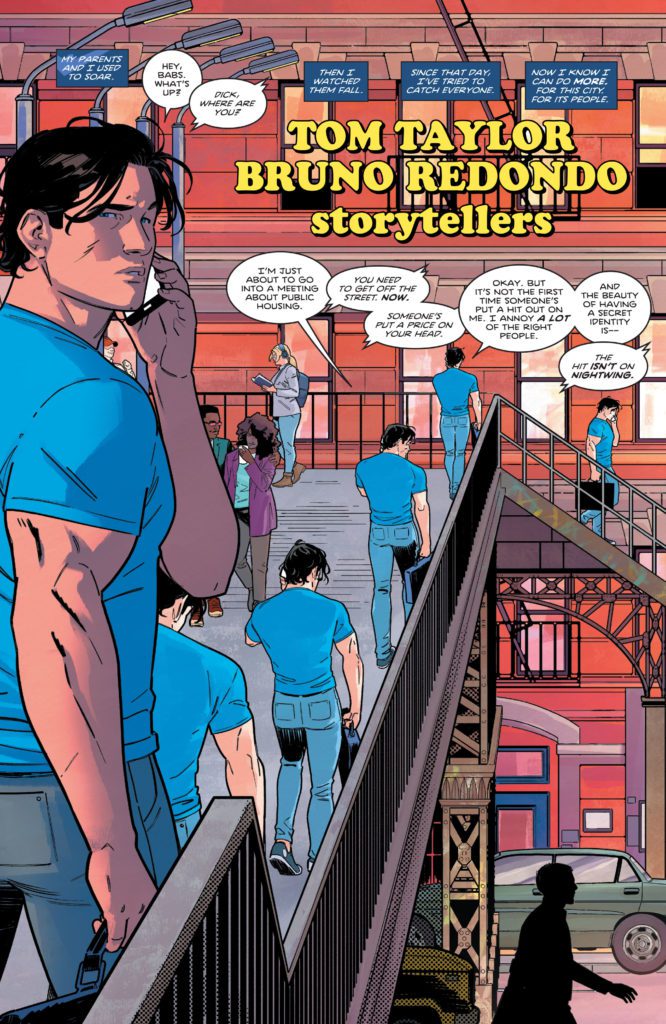 Writing &  Art
Nightwing #87 is one continuous image. In the past, Redondo has shown the trajectory of Nightwing's leaps and bounds through the air in a single panel by drawing Nightwing's figure at each point of the jump. This is how the whole of Nightwing #87 is done. We see Dick Grayson clambering across the page, almost like he's chasing himself. And Taylor makes a point of taking a backseat in this issue. The script isn't text heavy, the narrative beats are very simple. Because anything more than a chase across town threatens to bog down this issue with unnecessary details, slowing the reader down when the action ought to be moving at breakneck speed.
Yet, Taylor manages to find some truly emotional beats in the chaos. He straddles that line of "too much" and "too little" brilliantly. We get just enough from the script, not feeling like the art is the sole purpose of this issue. And Redondo does the same thing. It's not just Nightwing's trail through town that matters on each page. Redondo's figures are dynamic and the chase is enthralling, but the context of each scene is just as charming. Redondo places nods to all kinds of things around each page. He also uses depth to allow the reader to take in the whole scene, rather than laser focusing on Nightwing. When Nightwing drives across a bridge, he's a small figure on the page. Redondo brings our attention to the cityscape around him, giving us a second to marvel at its beauty.
Coloring
Lucas, in previous issues, has already shown his brilliant ability to make us feel time passing. To do a fade from late afternoon to early evening in a single image, though? Now, that's impressive. The transition is seamless. Lucas allows the soft lighting of streetlights to blur the lines between one page and the next. That way, each page can get progressively darker. But Lucas also gives Bludhaven's many streets a sense of character. The dimly lit bridge is a completely different landscape to the shining fluorescent lights found in Bludhaven's fast food joint, Tolay Away. Ultimately, Lucas grounds us in the timing of this chase across town. But he also helps us to feel the spirit of the city Nightwing is zipping through.
Lettering
Just as Redondo marks Nightwing's trajectory through this comic, Abbott marks ours. He guides us from building to building, placing word balloons and caption boxes close to the action. But it's his sound effects that are truly remarkable. When Nightwing speeds off on a motorcycle across a bridge in the background, the noise of the bike's motor disappears behind a corner, then reappears in the background of the scene. With this, Abbott gives us a sense of the depth of the scene. And later, when another character joins Nightwing in his chase, we begin following both their trajectories through a building. The sound effects of them beating up the bad guys trace two lines, but the lettering for each character remains relatively the same. Nightwing's letters are blue and yellow, while the other character's are white and black. Abbott brings order to what could have been a really confusing scene.
---
DC Comics' Nightwing #87 is fresh and brilliant. With their "one uninterrupted image" approach, this creative team could have made this issue seem empty and gimmicky. But instead, they bring just the right amount of story and emotion to an action-filled race across the page. It's fun and truly, truly impressive. Pick up Nightwing #87, out from DC Comics December 21st, at a comic shop near you!