Newburn #1 is going to make you hate writer Chip Zdarsky and artist/colorist/letterer Jacob Phillips. Not because the new series from Image Comics isn't great — it's fantastic, fresh, and funny. And that's exactly the problem. When you read about Easton Newburn, you're going to be pissed off you hadn't come up with him first. Zdarsky and Phillips introduce readers to their own version of Columbo. Difference is, this guy might kill you if you cross him.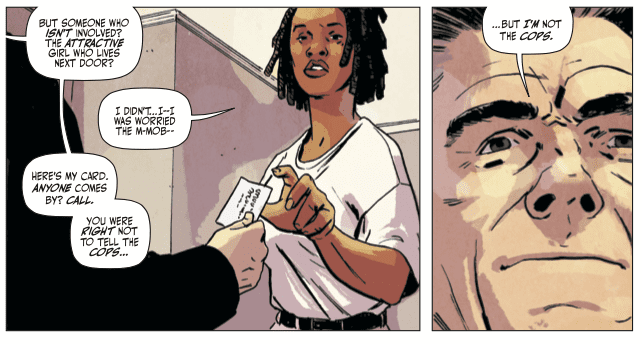 About Newburn #1 (from Image Comics):
EASTON NEWBURN is a private detective without loyalties, investigating conflicts between rival crime factions while collecting enemies along the way. In this DEBUT ISSUE, a man is murdered after stealing from his own mafia family, but they aren't the ones who ordered the hit…
Writing
Zdarsky's script for Newburn #1 has several plates spinning at once. It's a brilliant crime thriller, an interesting mystery, and it has a dash of comedy. But none of these factors are competing against one another; they were perfectly in sync. In fact, it's the gritty, no-nonsense tone that makes the jokes land so well. And it's the laughable disregard these characters have for other people that makes them feel so damn dangerous. When Newburn is stopped at the entrance to a club, he wastes no time in getting his arm around the bouncer's neck, ready to choke him out. When the club owner comes out, he just tells Newburn to go easy on the new guy. It's all part of a day's work for these characters. Their casual responses to violence are both hilarious and disconcerting at the same time.
Art
Maybe it's Phillips art that puts the Columbo connection in my mind. There's a dry smugness to Easton Newburn. It's like he has the whole thing figured out from the first scene, but he's waiting for his cue to blow the lid off the case. He's waiting for his "one more thing" moment. You can see it on his face. He's completely emotionless as other characters get riled up, but then he grins slightly when he knows they're really pissed off. It's these little flashes of self-satisfaction, between the lifeless looks of a man on the job, that we learn everything we need to know about Newburn. His is the face of a man who knows far more than he's letting on.
Coloring
Through Phillips' coloring, every scene in Newburn has a kind of glow to it. The night air is a dark, rich purple. The inside of a seedy, Russian bar is cast in a deep red hue. Even one of the character's apartments has a soft pink glow to it. Phillips reinforces a sense of time and place to each scene. He gives buildings a personality and street corners a sense of character. It's a beautiful issue that completely immerses you in the world it's portraying.
Lettering
Phillips' lettering is definitely the issue's biggest weak point. Word balloons often show up with very long tails that jut into the faces of some of the characters. It's often a little distracting. And when we see Emily's journal — Emily is at the center of Newburn's case and her thoughts show up as pages from her journal — it's odd that there's no effort to make those pages actually look like a journal. Instead, we see her entries in white and yellow on a black background. It's a strange design choice that takes the reader out the world for a second. But all of this is small potatoes in the face of this fantastic issue that Zdarsky and Phillips have put together.
---
You definitely don't want to miss this series. Zdarsky and Phillips are doing some of their best work with Newburn. Pick it up and check out the awesome backup story "Brooklyn Zirconia – Part One" by writer Nadia Shammas, artist Ziyed Yusuf Ayoub, and letterer Frank Cvetkovic. Newburn #1 is out from Image Comics November 3rd at a comic shop near you!