Writer Gene Luen Yang and artist Bernard Chang return with a fantastic new chapter of their mythology/superhero hybrid in Monkey Prince #2. With colors from Sebastian Cheng and letters by Janice Chiang, this follow-up to the stellar first issue continues the momentum with a goofy and immensely fun comic. With a silly yet engaging script and outstandingly animated visuals, this issue proves that Monkey Prince is a must-read in the DC stable.
"Batman and Robin fight with Pigsy over…a part of Monkey Prince's body that fell off and is rolling around moving on its own? And Pigsy better grab it quickly, before Monkey Prince transforms back into Marcus Sun, because there's no way a regular teenager could survive that!"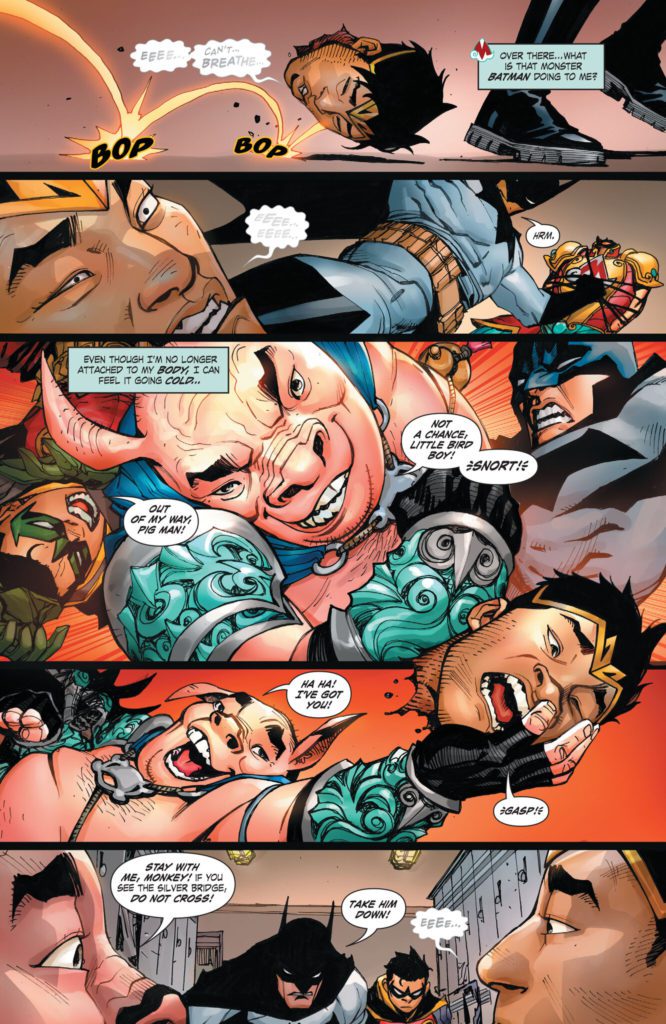 Writing & Plot
Gene Luen Yang has struck the proper balance of relatable, inspiring, and absurd with his script for Monkey Prince #2. Marcus, understandably comparable to a young Peter Parker, functions with all the confused naivete of a teenager going through puberty – and a new set of magical superpowers. Naturally, after getting his head cut off in his monkey form and having it kicked around and caught in a lacrosse net by a determined Robin, he's more than a little apprehensive about his new abilities. This apprehension results in some great exchanges with Sifu Pigsy (aka the best character in this book), as well as some serious irony involving his time with his family. The humor in this issue never lets up and it always lands with its signature over-the top physical comedy and witty dialogue. I can admit I was apprehensive about the inclusion of Batman and Robin in this comic. I mean, seriously, does Bats really need more page-time right now? However, Yang utilizes him in a uniquely comedic manner. He's written in a way that I would imagine the Adam West Batman series would have been done if it were created today. The way Batman's seriousness keeps getting tripped up on the strange magical hijinks of the Monkey Prince and Pigsy is a genuine source of good comedy here. This comic is a delightful read, and Yang's work will keep me coming back here month after month.
Art Direction
This comic's infectious energy is due to the fantastic and animated pencils of Bernard Chang. The former Wonder Woman artist's unique yet familiar designs for both our mythical cast and the DC classics continue to be delightfully impressive. If we could get a Sifu Pigsy spinoff drawn by him, I'd be a happy man. Chang's character animations are fluid and tie in with his panel direction to keep this book's momentum moving swiftly. What I'm most impressed by is how Chang designs and utilizes the characters from the Chinese myth and places them into the DC universe. The Monkey Prince, Pigsy, and numerous new villains that show up in this chapter all look completely unique and stick out among the DC cast. However, they still retain a comic book-ish iconic hero/villain style.
So much of what makes the visual experience so vibrant is Sebastian Cheng's coloring. Each panel explodes with life and action thanks to his work filling in Chang's pencils and inks. There's an almost youthful flair to this comic's hi-fidelity style that, to be frank, reminds me of a Marvel book. The lettering from Janice Chiang is modern and has tons of flexibility within the dialogue bubbles. Every aspect of this comic visually is genuinely outstanding.
Verdict
Monkey Prince #2 is a ridiculously fun follow-up chapter to the already stunning debut. Gene Luen Yang's writing is stylistically unique among Western comics, and consistently nails his humor while moving the plot forward in an engaging direction. The visuals from Bernard Chang and Sebastian Cheng are energetic, vivid, and brilliantly animated, making this one of the best looking 'Big 2' comics on stands today. Be sure to grab this issue when it hits shelves on March 1st!