Love Everlasting #1 is not what you'd expect. The first few pages, heavy-laden with the exposition dumps of thought bubbles and caption boxes, are a recreation of the romance comics of the 50's to 70's. It's retro, cheesy, and delightful. But soon, Love Everlasting #1 changes quite a bit. Eventually, it'd be more accurate to call it psychological horror than to call it a romance comic. Writer Tom King, artist Elsa Chatterier, colorist Matt Hollingsworth, and letterer Clayton Cowles are doing something completely original with this series. Better yet, they're allowing readers to get access to it for free, through their Substack, Everlasting Productions.
Writing
It's tempting to say that King is lampooning the writing of old romance comics in his first few pages. The story is melodramatic and the romance between the two characters is sudden and intense. But King actually seems to embrace these staples of the genre, rather than poke fun at them. The first story in Love Everlasting might be over the top, but it's joyfully over the top. You find yourself chuckling at the drama, yet still giddy when the story comes to a close. If King had simply wanted to write in the style of old romance comics, he could have done so and done so well. But instead, he takes things a step further. As we go into our second story, everything becomes immediately confusing. And King lets the confusion sink in before offering any clues as to what is going on. By the end of the issue, King has turned the whole genre on its head. He's changed everlasting love from a dream into a threat. This script will leave you begging for the next chapter.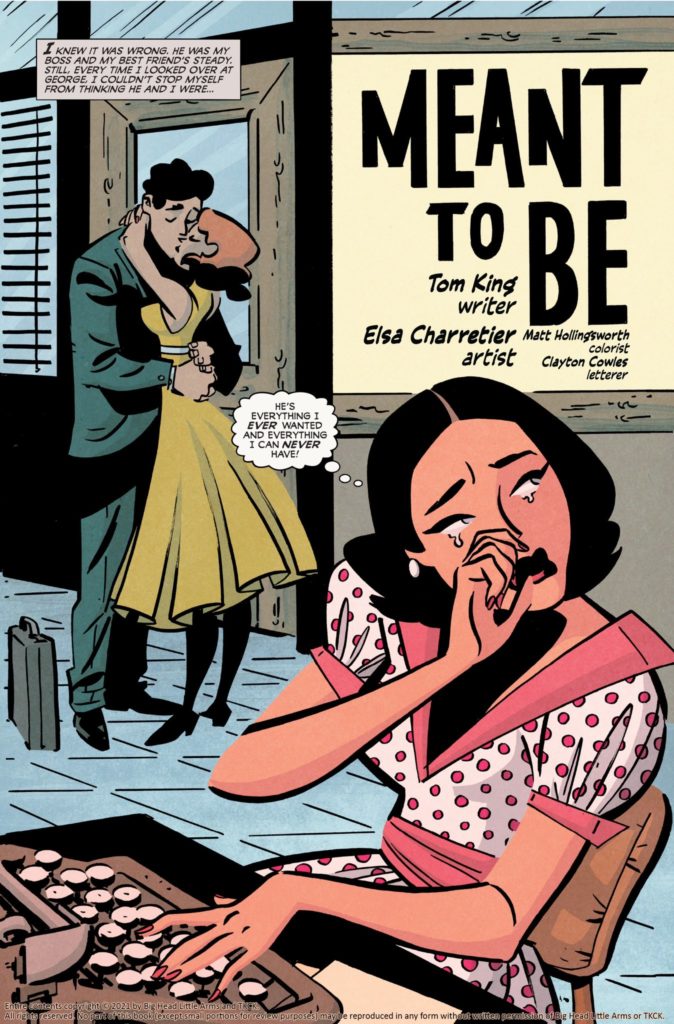 Art
Chatterier's art perfectly matches the style of the 50's and 60's. It's playful and beautiful at the same time. As we meet our protagonist, Joan Peterson, we quickly learn that she's someone who feels more like an extra than a main character. And Chatterier shows this brilliantly. In every panel, Joan looks small. She's often off to one side, like she's trying to stay out of everyone's way. There are plenty of instances of her even hiding behind things. The other characters, like her confident roommate Marla, stand tall in every frame, taking up space and brimming with happiness. And when we switch into another story, Joan seems the same. She's a supporting character in her own life. Until she begins to suspect that something is up. We see her in the dead center of a panel while she stares at the reader, with the art style changed to a scratchy, unfinished look. When Joan finally feels like she understands what's going on, at least somewhat, she starts to push into the center of every frame. She takes charge. She starts acting like a real main character.
Coloring
Hollingsworth gives each story in Love Everlasting #1 a distinct flavor. The first story, about Joan falling for George, has many panels that have a slight pink tint to them. We're seeing the world through the hopelessly in love eyes of Joan. The next story, focusing on Joan and a musician from the Village, Hollingsworth colors in blues and purples. The entire chapter feels like it's happening in a nightclub. And the last full story we get, set in the Wild West, is colored in earthy tones of beige and red. Hollingsworth makes us feel that these aren't just different chapters. They're entirely different worlds.
Lettering
Cowles ups the drama of every scene with his lettering. We see the small font of people speaking with bated breath, leaning in for a kiss. Or we see the growing font of Joan's realization in a caption box. "But then. But then! But then!!" it says, with each refrain being bigger than the last as she finally latches onto some hope. As Joan begins to realize that everything isn't okay, Cowles places small caption boxes on the page that interrupt her other thoughts. Finally, this culminates in a jagged, red word balloon with large, bold letters. Every beat, every change, is emphasized by Cowles masterfully.
---
Love Everlasting is a smart, terrifying upending of the romance genre. It reels you into a world that feels comfortable and familiar, before pulling the rug out from under you. You don't want to miss this fantastic new series. Each issue is free through Everlasting Productions, with issue #1 available now.