DC Comics' The Swamp Thing has always been a verbose comic series. It tells its story in poetic verses and extended metaphors. That's what sets this series apart. But at times, that's also its greatest weakness. The Swamp Thing #12 has some really mesmerizing moments, but these moments get lost in a sea of exposition and long-windedness.
Writing
Writer Ram V knows how to craft a good monologue. His villains and heroes alike have a tendency to wax eloquent about their intentions and ideals. The Swamp Thing #12 opens with one such monologue. The Pale Wanderer (now sporting a brand new look and name to match) describes to his followers why his new form holds so much significance. His speech might go a little long, but it serves its villainous purpose of being a rallying cry for V's many baddies. Unfortunately, the text-heaviness doesn't end there. There are at least four more scenes, filled with caption boxes and word balloons, that leave very little up to the imagination for what may be driving our characters.
Many of the characters begin to sound alike, too. The Pale Wanderer, Levi Kamei, Tefe Holland, and a brand new character that's introduced in the final pages of this issue, all think and speak in theatrical ways. You begin to become aware, as a reader, that one person is writing all of these words. The really frustrating thing, though, is that there really are some great moments in the writing. First of all, the ideas V is presenting are all interesting. This plot is taking incredible twists and turns. And V is articulate and moving in the soliloquys and monologues of some pages. But these pages are weighed down by the rest of the issue, which is chock full of exposition. This is not the first time this series has struggled to keep its subtext intact. However, in the past, it hasn't stopped V from bouncing back with subtlety and nuance in the next installment.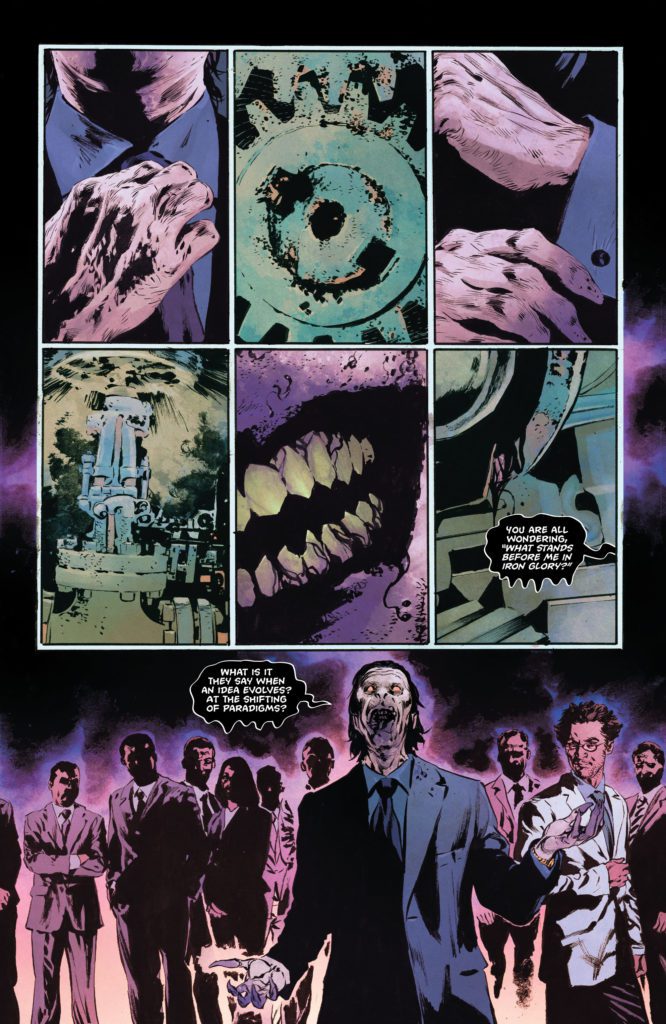 Art
Part of what makes the writing of this issue disappointing comes from the fact that Mike Perkins' art is already so effective. Perkins does mountains of storytelling, choosing all the right details to hone in on. Several moments in The Swamp Thing #12, we see panels that ought to be accompanied by nothing but silence. The body language, scenery, and placement of characters has done enough to tell us everything we need to know about what's going on. The moments that shine the most in this issue are the times when it feels like V is really putting his trust in Perkins, pulling back on his script to make room for the paradoxically stunning and horrifying images in each panel.
And in this issue in particular, we get more than Perkins' usual subtle visual language. We still have scenes with nuanced expressions between our characters. But Perkins also also lets loose. In one scene, featuring the 90's Wildstorm character Jack Hawksmoor, we get a flashy fight sequence that's brilliantly reminiscent of that period in comics. Elsewhere, Perkins leans fully into the poetic imagery of this series. He turns flower petals into panels and backdrops into rich tapestries. Every inch of this issue is beautifully detailed and precisely rendered.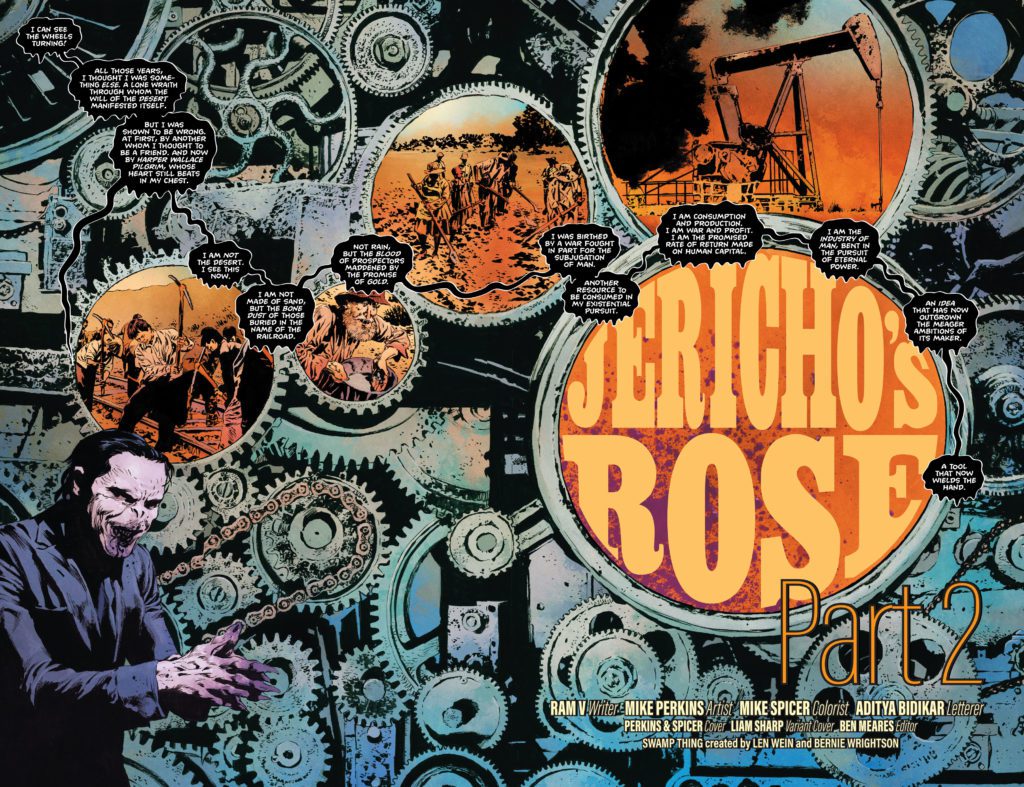 Coloring
Mike Spicer gives each major character a color that pervades every scene they're in. The Pale Wanderer's (now the Pale Pilgrim) panels are drenched in an eerie purple. Later, when we see Jack Hawksmoor roaming the streets of Detroit, he can tell something is up. The whole scene is painted in the same purple color. Hawksmoor can feel the Pale Pilgrim's influence at work. Swamp Thing's scenes are all colored in shades of green. But Spicer also adds in layers of red and orange to each panel. We see the war that's going on inside Levi Kamei. He's caught between two worlds — the Red and the Green — and he's unsure which side of him matters most. Spicer captures this internal struggle in a dazzling way.
Lettering
There are lots of great moments in Aditya Bidikar's lettering. Right off the bat, when we see the Pale Pilgrim's monologue, it's against a backdrop of gears and cogs. The Pilgrim's words are shown in dripping, black word balloons. Bidikar traces these word balloons around each cog. It immediately makes you think of Pilgrim greasing the wheels of his newfound revolution. Elsewhere, Jack Hawksmoor tries to talk with a dying robot. The robot's dialogue shows up in square word balloons. Around the tail of each word balloon, Bidikar places small white rectangles. These look like false starts and other attempts at communication that don't fully form. These details and more make Bidikar's work a joy to pick apart.
Verdict
The Swamp Thing #12's script is a little crowded and heavy-handed. V doesn't leave much information for the reader to piece together in this chapter. But the ideas presented in this issue, and the accompanying visuals, are as stunning as ever. Perkins, Spicer, and Bidikar create a beautifully detailed world that it's hard not to get lost in. Pick up The Swamp Thing #12, out from DC Comics now, at a comic shop near you!