KING IN BLACK: SPIDER-MAN #1, available in comic book stores on Wednesday, March 17th, hones in on Peter Parker's experience amidst Knull's invasion. Our hero believes himself to be a failure after witnessing Eddie Brock's death and Dylan's capture. The story that follows gives readers a look at the struggle many face when striving to rise above their guilt and fear.
Story
Feeling defeated, Peter wanders the streets of New York in a dazed stupor. The weight of the symbiotes' attack is almost too much for him to bear. Though he didn't release Knull upon Earth, Peter feels it was his fault symbiotes found their planet in the first place. His bonding with the Venom symbiote all those years ago still haunts him.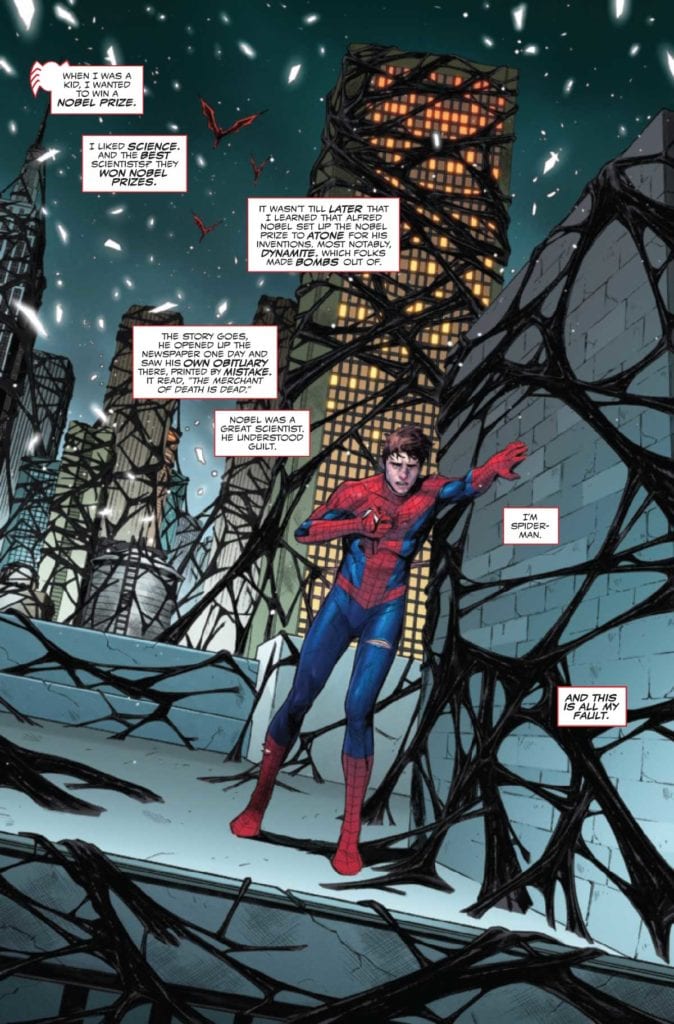 One of the beautiful aspects of Jed MacKay's main narrative is the arc Peter goes through. Instead of succumbing to the effects of his very real anxiety, the hero moves forward. Readers can identify with this feeling, when something stronger than ourselves encourages us to act in spite of great emotional turmoil.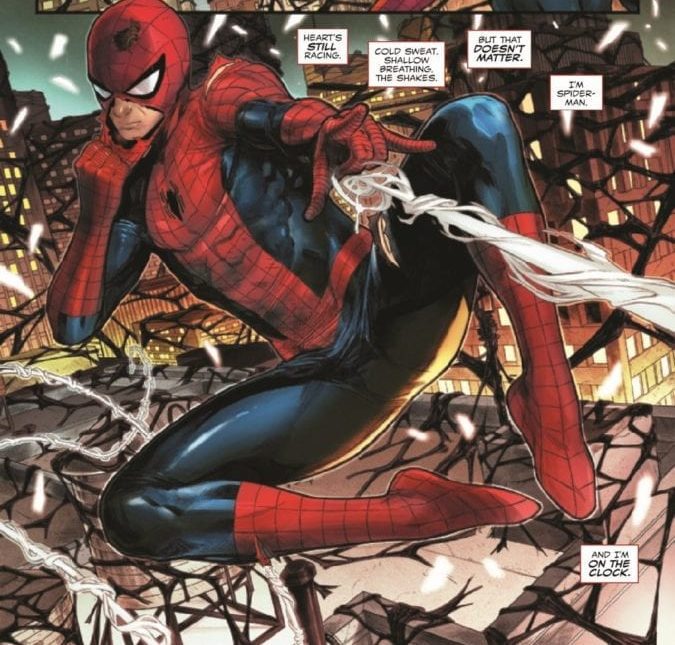 Unfortunately, Peter's first attack hits Humberto Lopez a.k.a. Reptil, mistaking him for a symbiote dragon. But instead of creating conflict, the heroes bond over their shared sense of responsibility for the people of New York.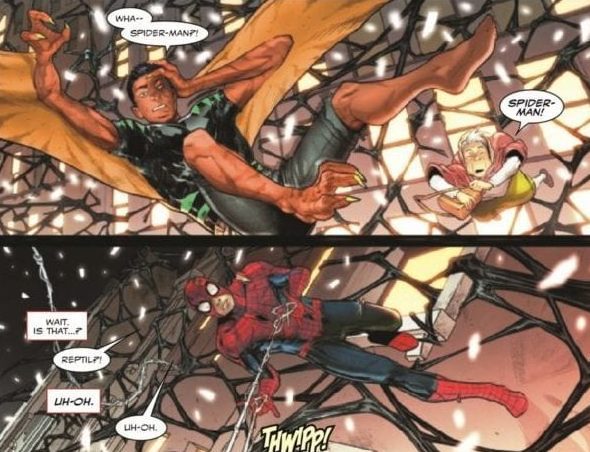 We see this movement from guilt-ridden despair to hope-filled action play out in MacKay's backup story as well. Now partnered with Peter, Humberto embraces a call to protect the city. Despite his grandfather's concerns for his safety, he stays to save more people.
The inspiring nature of both of these stories makes this issue one for the history books.
Artwork
Main Story
Michele Bandini's penciling and ink work, along with Elisabetta D'amico's inking, presents us with some of the most realistic depictions of Peter we've seen in comics. These illustrations pair well with Erick Arciniega's coloring, which employs a mix of the hero's standard red and blue set against harsher backgrounds.
Backup Story
Artist Alberto Alburquerque and colorist Rachelle Rosenberg craft illustrations full of fast-paced action. While focusing less on realistic details, this team uses their creative talent to depict Peter and Humberto fighting  in stunning action sequences. The sweeping lines and swirling colors generate a sense of high speed movement, reinforcing the idea that the two are fighting to save as many people as possible.
Throughout both stories, VC's Joe Caramagna's lettering does a great job of emphasizing the most important statements in the characters' dialogue.
Conclusion
KING IN BLACK: SPIDER-MAN #1 reminds us why we love Spider-Man. Watching the hero take on a huge responsibility with the enthusiastic Humberto is an inspiring sight.
Do you want to see these two team up more often? Let us know in the comments below!