KING IN BLACK: BLACK KNIGHT #1, available in comic book stores on Wednesday, February 3rd, follows the troubled character of Dane Whitman amidst the symbiote god Knull's invasion. Fighting to abate the call to violence from the mystical Ebony Blade, Whitman has spent a lot of time attempting to cultivate peace within his mind. But when a distress call from the Avengers is brought to his attention, we'll see the Black Knight forgo all caution and seek to satisfy his lust for battle.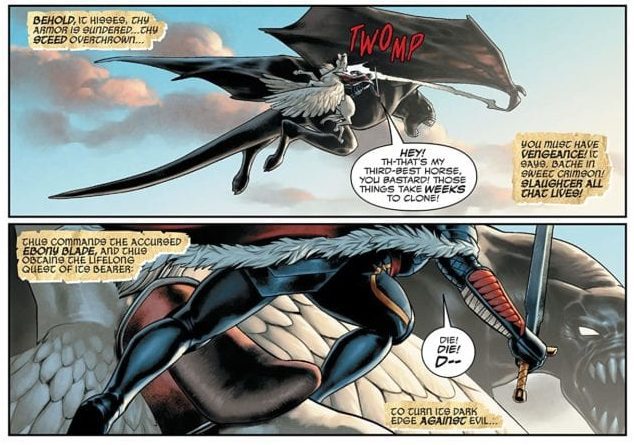 Story
This issue is set in the midst of Knull's army's descent upon the earth. A medieval ancestor of Whitman alerts him to the Avengers call, who implores the knight to make a plan of action.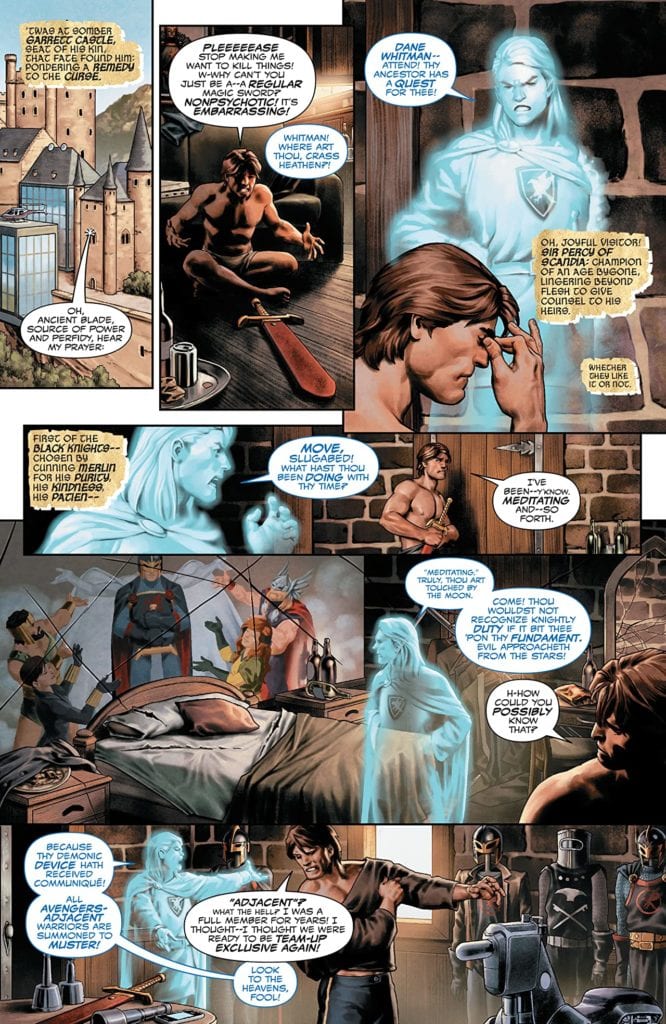 Feeling a sudden, irresistible urge, Whitman jumps into battle with a massive symbiote dragon. And the fight looks promising. But in the kerfuffle the symbiote god contacts him via telepathically, causing him to drop the Ebony Blade.
There's an intriguing contrast in the story's depiction of Whitman. On the one hand is the awkward guy who's just trying to do his job (poorly), and on the other we see a caricature of a knight from storybooks, believing himself to be pure and valiant. But once Whitman comes into contact with Aero and other heroes, he'll realize there are parts of his heart that so pure.
Simon Spurrier's epic tale of Whitman's self-evaluation is a thrill. The main protagonist must come to terms with his own morality, which reflects our own desires to be "good" while often falling short of them.
Artwork
The artwork in this issue is fantastic in its detail and fantasy elements. Jesus Saiz's penciling, ink work, and coloring create epic fight scenes for readers. They offer shining swords and armor, detailed character designs, and colorful landscapes.
VC's Cory Petit's lettering was one of the best artistic features in this issue. Whitman's fairytale-esque narration appears to be set on tattered pieces of parchment torn from a storybook.
Conclusion
KING IN BLACK: BLACK KNIGHT #1 is a fantastic one-shot featuring the intriguing psyche of one of the lesser known former Avengers. We hope there are more stories featuring Black Knight in the King in Black event to come.
Do you think the Ebony Blade has the power to vanquish Knull? Let us know in the comments below!