King in Black #1 is in your local comic book shop right now, as Donny Cates, Ryan Stegman, inker JP Mayer, color artist Frank Martin, and letterer Clayton Cowles bring Knull to earth for an epic five-chapter Marvel Comics event.
Did I mention this was a blockbuster comic? There are NINE double-page spreads in this book. Stegman is given the freedom to explode the Marvel Comics Universe all over this book with four jaw-dropping shocking moments. The pace of the book is very brisk because of Stegman's Michael Bay-inspired artwork.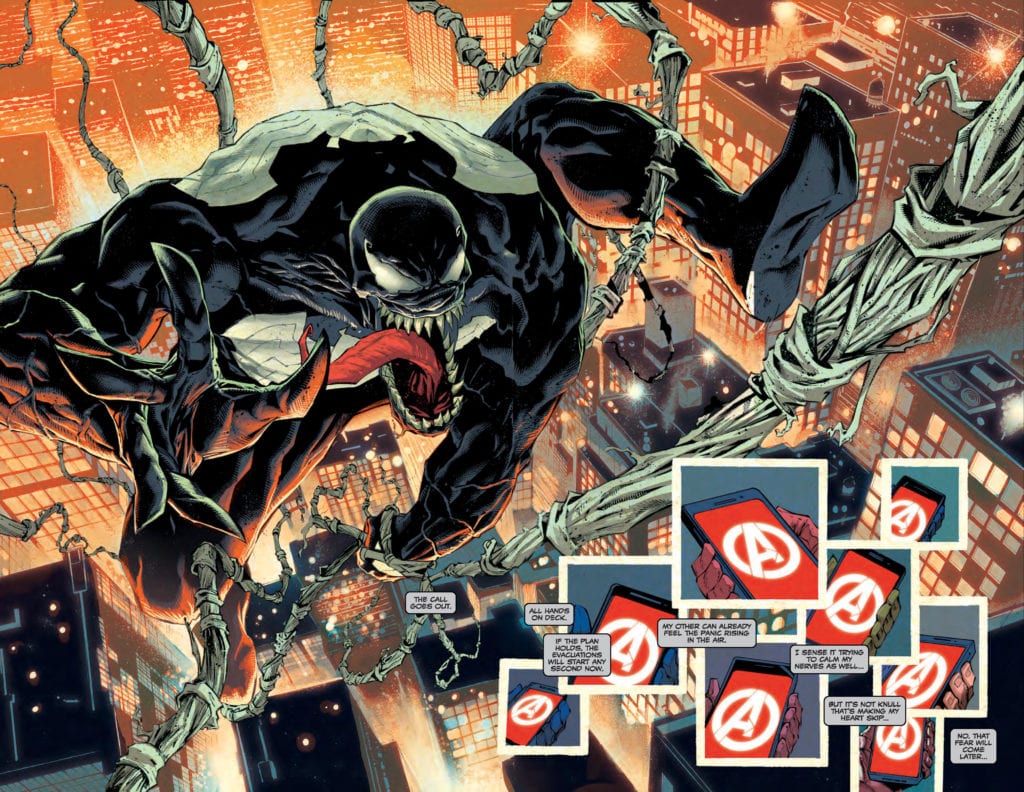 Cates does his job and sets up an insane conflict with insurmountable odds for heroes to overcome and figure out how to save the world yet again. Where Cates excels is in how accessible this first issue is to a new reader. If you are a fan of the Marvel Cinematic Universe, you can pick this book up and hold your own understanding of the plot. Where explanation is needed, Cates fills in the gaps. As mentioned above, there are four cliffhanger moments that Cates could have ended the first issue on, but he throws everything at this comic to keep stunned and begging for more.
Martin is the force that separates King in Black #1 from all other giant Marvel Comics event books. This is not a Spider-Man event book, this is a Venom event book, and the color palette is DARK. The darkness sets the tone for the series, and then Martin screams in your face with his electric blues, on-fire yellows, and deep blood reds. The colors used invoke emotion and get into your soul. King in Black #1 feels like the final chapter of 2020.
Cowles must be smiling ear-to-ear, admiring the job he did on this issue. There are so many different lettering elements in King in Black #1 that make the book so much fun to read. The gigantic sound effects are off the charts with scale. The tone and texture in the word balloons is very emotional, from Captain America's confidence, to Knull's consumption of death, to Eddie Brock's torment and relationship with the symbiote.
King in Black #1 is a complete book that gets you excited to read comics and dig through back issues to research the story.