JUGGERNAUT #1, available from Marvel Comics on September 23, visits the unstoppable giant during his day job as he encounters a wayward teen at a crossroads in life. Continuing the trend in recent releases with Iron Man #1 and Marvel's Snapshots: X-Men, Fabian Nicieza's story is a personal and self-reflective character piece on the traditionally destructive character.
Cover Art
Geoff Shaw's cover is raw and powerful. True to the reputation of the Juggernaut character, he charges at the reader with unstoppable force. It's a visually exciting cover, and the art is nearly identical to the internal pages in style and tone.
Writing
Nicieza's story is a solid character piece that puts Cain Marko in the mentor role to a homeless teen with force powers. The modern Juggernaut is now cast as a blue-collar every man who uses his power as a one-man wrecking crew for Damage Control. You get the sense Nicieza wants to show a Juggernaut who's grown as a person, released his perpetual anger, learned more than a few lessons from the past, and is at peace with pursuing a "quiet" life.
Nicieza wrote a quieter, gentler Juggernaut. On the one hand, it's a long departure from the character's origins, which may put some readers off. On the other, it's a refreshing take that shows how you can grow and evolve a character through life experience rather than jarring event shenanigans that throw canon out the window. I like this Juggernaut. He's relatable. He's fun to watch in action. And you get an unexpected Superman vibe as a character that's aware of his destructive strength but gingerly tries to use it without hurting anyone.
Pencils/Inks
Ron Garney's art style is rough and unrefined but in a way that's consistent with the Juggernaut's grounded personality. Marko is continuously surrounded by rubble, debris, and dust, so it makes sense that the lines for both the characters and the surroundings are roughed up for emphasis. This is an earthy, grounded story and the art is equally earthy to match.
The highlight of Garney's art is the sparing use of blurring techniques applied to flying rubble and force powers. D-Cel's deceleration blasts warp the air in a convincing way, and Marko's smashing blows look more potent with the blurring applied to rubble flying in all directions. Great work by Garney.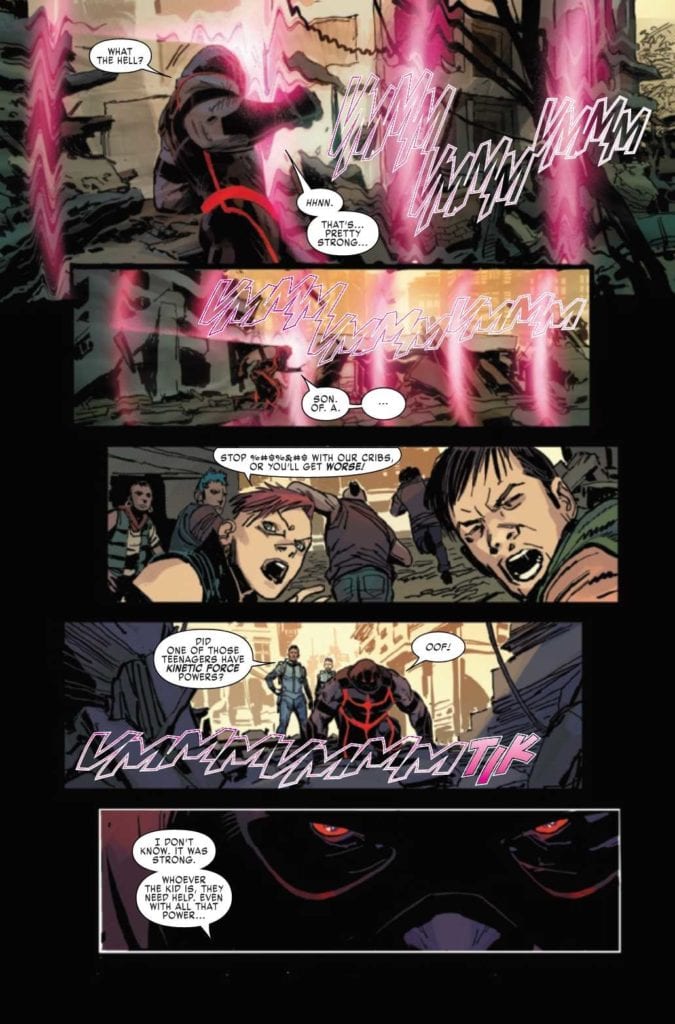 Coloring
Matt Milla's coloring compliments Garney's art style with intentionally rough shading. Juggernaut, and every scene he's in, has more depth and weight in a very grounded way. Milla shows off excellent use of color to bolster the art style that suits the main character's personality.
Lettering
VC's Joe Sabino executed a fine job with the lettering. The text was easy to read, it flowed through the panels in a natural way, and it didn't interfere with the art. That said, the lettering tended to become a distraction because it was too bright and clean. Where the colorist and artist went to great pains to stylistically rough up the art, the lettering was not organically worked in, and it looks pasted on like a sticker. Overall, good lettering, but it needed more attention to an organic integration with the panels.
Conclusion
JUGGERNAUT #1, available from Marvel Comics on September 23, is a kinder, gentler, and frankly, more likable exploration of a character that's evolved beyond his origins. The writing is well done, and the art greatly compliments the story. I strongly recommend this book.