Writer Saif Ahmed and artist Fabiana Mascolo bring us the first chapter of the kind of character-driven story seldom seen in the world of Western comics – or stories in general. "Yasmeen" #1 is a beautifully constructed and intimately written comic about a young woman and her family attempting to move past the terrors they've experienced in the past by finding a new home in a new land. With excellent character writing and fitting artwork, this could easily go down as one of the best comics of its kind.
"Iraq, 2014. Life couldn't be better for 16-year-old Yasmeen as her family is able to buy a big new house. Then ISIS invades Mosul. Yasmeen's Shia family barely escapes, while Yasmeen us captured by terrorists and sees her uncle executed. Yasmeen is sold to an ISIS fighter as a slave and must relinquish her innocence in order to save her three new Yazidi friends who are punished with starvation. Two years later, Yasmeen is reunited with her family in the United States. Her parents are so happy to be reunited with Yasmeen that they fail to see the state of depression that she has fallen into after two years of slavery and torments. Now faced with a new life, Yasmeen must learn to survive in a society that both fears and hates her and must overcome the horrors of the past in an attempt to find herself again."
Writing & Plot
Writer Saif Ahmed's script for "Yasmeen" #1 carries the tension of its plot by one of the most competent uses of flashback-cuts I've seen in recent comics. Yasmeen and her family are seen at moments in the present having to adjust to life as a Muslim family new to America. At the same time, the circumstances as to their move from Iraq pop up with growingly dire events in each sequence. Ahmed's writing here provides clear details as to the context of the conflicts that have occurred in the Middle East involving ISIS, without ever throwing gobs of exposition at the reader. Instead, he uses the voices of the characters and their knowledge and faith to simply speak as one would imagine they normally would. There is no overhead narration, making all of the storytelling come across naturally while still being informative. This also allows the reader to become immersed in these characters' lives, as Ahmed's dialogue sensibilities are fantastic. Each member of Yasmeen's family has a distinct personality, and they overall have a highly relatable family life that makes them a total joy to read – and makes the tragedies they endure that much more heartbreaking. Through this script, Ahmed demonstrates that he clearly understands how to let such an intimate story tell itself.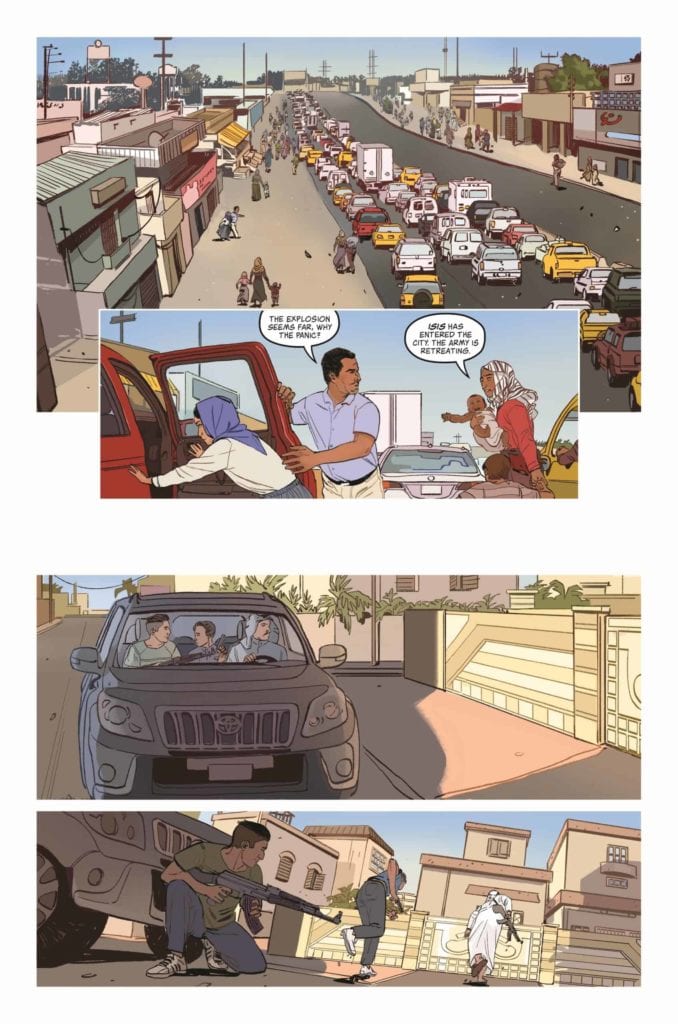 Art Direction
Of course, comic stories "tell themselves" based on how the artist decides to visualize the script. Fabiana Mascolo's artwork in "Yasmeen" #1 is full of vivid human detail and gorgeous colors that humanize its cast and endear the reader to Yasmeen's story in the ways stellar comic art should. Mascolo's soft pencils craft a variety of faces that bristle with genuine humanity and emotion. Happiness, hope, reluctance, indifference, and devastation ripple across the myriad characters of this story, and they are given life with a stunning color palette. Her light, muted color choice is still rife with variations of shade to provide an array of detail on everything from architecture, clothing, and the varied skin tones of the people on every page. Mascolo navigates Ahmed's script with a focused direction, fixating her talents on pivotal moments both humorous and devastating. In this comic, much of what isn't shown on the page is what's the most disheartening, and the creative direction of both Ahmed's plot writing and Mascolo's visuals make this such an intimate chapter of loss and tragedy.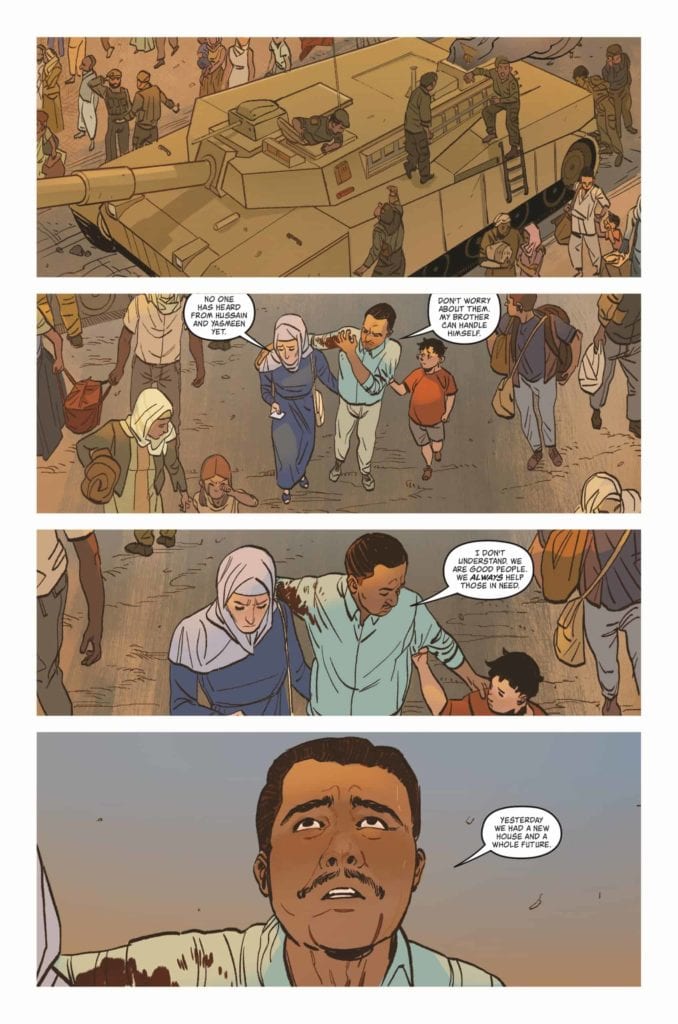 "Yasmeen" #1 is as brilliant an opening issue as a comic series can have, and it is also one of the best single issues I have read all year. Saif Ahmed's wise character crafting and plot direction make for an intimate read, full of relatable people and heartwrenching emotions. Fabiana Mascolo's soft but detailed visuals provide vivid life and direction for the reader to get sucked into. This story offers a perspective that not many of us here in the Western world get to see, and seeing such a story be so well-constructed makes it easily one of the most recommendale comics I've read this year. Be sure to order a copy of "Yasmeen" #1 from your local comic shop by its release on 7/22!