From original series creator Mike Mignola and artist Gabriel Hernandez Walta (The Vision, Sentient) comes a tense and mysterious comic chapter in Hellboy And The B.P.R.D.: Old Man Whittier. Featuring colors from Dave Stewart and letters by Clem Robins, this one-shot is the perfect blend of suspense, mystery, and great humor that the Hellboy universe is known for.
"Trouble runs in the Whittier family! When Catherine Whittier learns she's inherited the family home, she knows better than to go back alone, and Hellboy's experience with the family (in Hellboy: The Whittier Legacy) makes him the perfect one to make sure any unkind spirits are at rest.  Because in a house with a history like this, "plot" can mean more than just a family graveyard."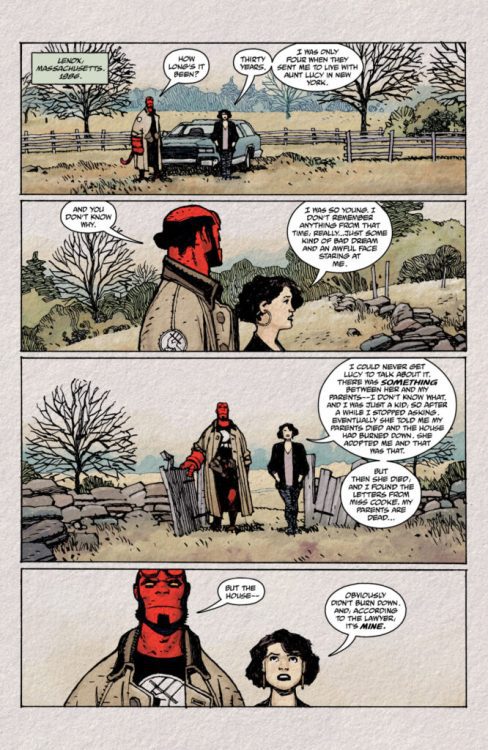 Writing & Plot
Mike Mignola's script for Hellboy And The B.P.R.D.: Old Man Whittier is the perfect blend of slow-burn supernatural mystery and clever character comedy that readers come to expect from great Hellboy comics. Like a mix of Tales From The Crypt and The X-Files, this issue on its face is just a good ol' haunted house investigation that predictably ends up in some occult places. This one-shot is a direct sequel to the 2010 story Hellboy: The Whittier Legacy, but there's no reason to worry if you haven't read it. Like most Hellboy universe stories, this comic fills in the gaps well enough that readers can jump straight in and understand the plot's context without being left out. The comic's engaging plot is perfectly paced, steadily increasing the feeling of unease as the pages are turned and making revelations feel profound and well-earned. Mignola's ear for dialogue seems only to have improved as the years have gone by. The conversations between HB and Catherine Whittier work as compelling pieces of exposition and discovery while still feeling natural. Mignola's comedic timing? As perfect as ever. This is a stellar one shot that will be a real treat for Hellboy readers.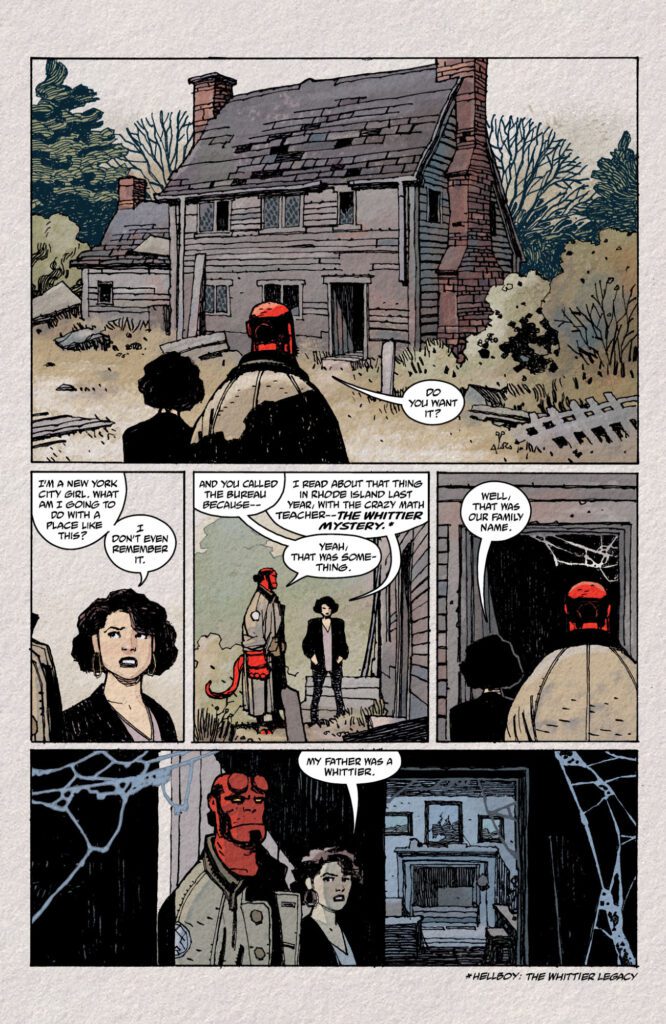 Art Direction
The signature visual aesthetic of the Hellboy universe is brought to life in Hellboy And The B.P.R.D.: Old Man Whittier by the fantastic Gabriel Hernandez Walta. The Eisner Award winner brings his eye for design and composition to this one-shot and it pays off wonderfully. His character animations and in-panel acting bring the reader into the book seamlessly. Walta's use of focus in how he composes his panels here create an increasing sense of unease while HB and Catherine explore this abandoned house – and makes for great, fast paced supernatural action when the Right Hand Of Doom starts swinging. Walta's interpretation of Mignola's script perfectly nails down the blend of supernatural horror, mystery, and well-timed humor that Hellboy stories are best known for.
The colors by longtime Hellboy universe colorist Dave Stewart are, unsurprisingly, aesthetically spot-on. Stewart utilizes a foggy, dusty overcast on a slightly muted palette throughout the whole comic. He completes the atmosphere of this comic and its "abandoned house with a crypt" setting with the usual style of vivid yet appropriately softened artistic approach. The letters are from yet another Hellboy veteran in Clem Robins. His work here sees the same font used in most other comics in this universe. There's a distinct hand-lettered scrawl to his work that lends itself to the reading experience perfectly. Overall, this is a fantastically put together comic on the visual end.
Verdict
Hellboy And The B.P.R.D.: Old Man Whittier is yet another stellar one-shot in a series chock-full of stellar one-shots. Mike Mignola pens a script that blends investigative mystery, haunted-house horror, and that signature brand of Hellboy humor all into one entertaining script. The visuals from Gabriel Hernandez Walta and Dave Stewart nail the aesthetic both for the Hellboy universe and as a horror comic. Great character acting, steadily paced composition, and perfectly timed reveals all make this issue a lesson in how to craft a great single comic book. Be sure to grab this chapter when it hits shelves on June 29th!