Written by Tom Taylor, with art by Darick Robertson, colors by Diego Rodriguez and letters by Deron Bennett, Hellblazer: Rise and Fall #2 is a funny, horrifying, and brutal look at a day in the life of John Constantine. This issue has you disturbed and laughing at the same time. Hellblazer: Rise and Fall showcases all the dangers that just come along with being someone like Constantine. He's got ghosts, demons, and the devil himself to stay one step ahead of. We'll just have to see if he's bit off more than he can chew this time.
Writing
Taylor's writing shines the most when he writes Satan. Not because his version of Satan is especially funny or scary, but because Taylor actually chooses to characterize him. While many writers would write Satan as mystically "always one step ahead" or as a cool-headed embodiment of evil, Taylor makes Satan like a petulant child. He messes with Constantine gleefully and seems to know what he's doing. But when backed into a corner, Satan loses his shit. The whole story of Lucifer is characterized by one thing: he wanted to be his own master. Taylor plays on this every time Satan gets ordered around, even in the most innocuous cases. It makes the character feel like flesh and blood, red horns and all.
Art
From page one, Robertson gives us something to worry about. We see four panels stacked on top of each other, just showing Constantine's eyes. Robertson creates an immediate sense of urgency. The first panel is just Constantine's eyes closed, looking peaceful. The second panel, his eyes are almost the same. We can see the muscles creasing as he's beginning to open them. Then suddenly, the third panel has his eyes fully open. Through this gradual to sudden shift, Robertson establishes the speed of the moment. Constantine's eyes have snapped open, and in the fourth panel he's looking in horror and fear at what's next to him. Robertson uses time on the page masterfully to allow us to empathize with Constantine's panic.
Coloring
Rodriguez's minimalistic approach to coloring this issue allows room for colors to represent certain things. When following Constantine in everyday England, everything looks pretty similar. The browns of the brick buildings match the colors of everyone's coats and the dirty streets. There aren't many eye-catching colors on these panels. But when get a page or two seeing events that occured in Hell, everything is colorful. We see yellow fire and red gore. Throughout the rest of the issue, it's clear to see that red marks a demonic presence. First, we have Satan walking around in his typical crimson form, and then we get the blood and guts that follows where demons go. The only other noticeable use of red is the red of Constantine's tie. He's a man who has one foot in both worlds. He's in a brown suit with grey pants, but around his neck we see a badge of his other citizenship.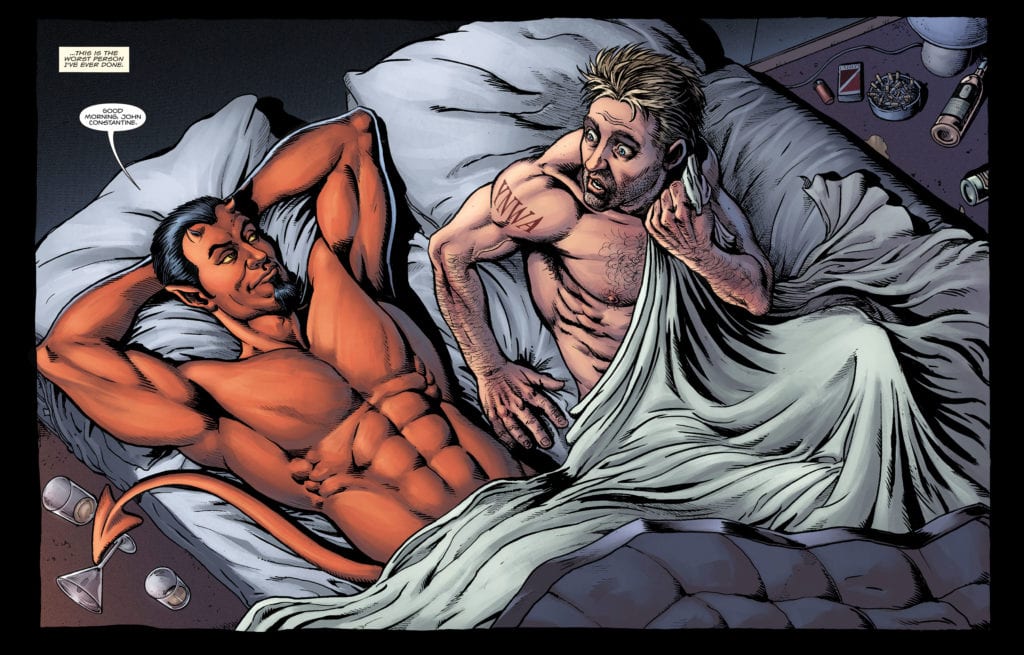 Lettering
Bennett shows that many of these characters have a kind of rapport. When Constantine and Satan are talking back and forth, Bennett often connects multiple balloons from one character with a join. So when Satan interjects, we follow the join to what Constantine is saying next. It makes it feel like there's a back and forth between these two. Whereas, when Constantine is trying to calm Satan down while they're at a bank, his lines are in independent word balloons. There's no banter, it's him struggling to communicate and make himself heard. The fact that Constantine ever has a back-and-forth with Satan, however, gives us plenty to worry about.
---
Hellblazer: Rise and Fall #2 keeps us on the edge of our seats. It's a source of constant worry, laughter and intrigue. John Constantine is staying one step ahead in this wild ride. With Satan joining the cast of characters, it's just going to get wilder. Pick up Hellblazer: Rise and Fall #2, out from DC Comics November 3rd, at a comic shop near you!