Original series creators Cullen Bunn and Tyler Crook, along with artist Emily Schnall, return to our favorite haint-filled town in Harrow County: The Fair Folk #1. This new series is an instant return to form. Bunn's script is full of the same heartfelt character writing that we got in the original comic. He's also still quick to turn up the creepiness and mystery, which is brought to life spectacularly by Schnall. This will be a definite pick for both fans of the original Harrow County and horror fans alike.
"Fresh off the loss of her goblin friend to a strange portal, Bernice must weigh her responsibilities as protector of Harrow County with her desire to get her companion back safe and sound. But the past weighs heavily and the fair folk use Bernice's and her memories against her. And something more disastrous than she could have feared may be around the corner to threaten both the worlds of humans and of haints."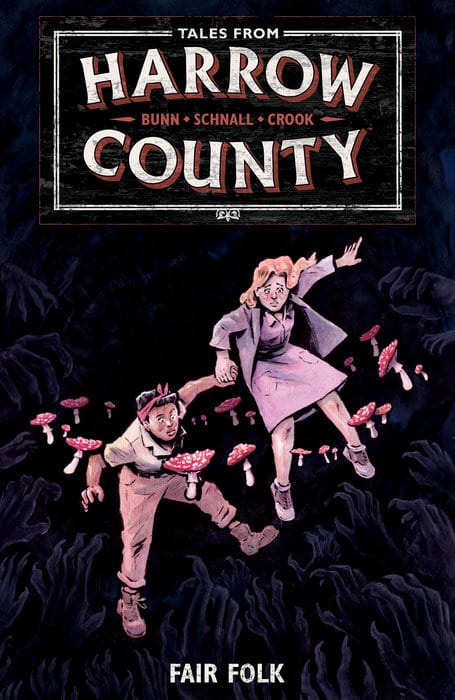 Writing & Plot
Cullen Bunn returns to the town he created in Harrow County: The Fair Folk #1 in the same fashion he last left it. Bunn's character writing has always come across as genuine and full of emotion and humanity despite the horror setting. Fair Folk starts off shortly after the events of Death's Choir with Bernice dealing with the personal fallout. This issue is all about reestablishing relationships and finding old friends. All of the dialogue feels real and unique, and it hits with an emotional reality that makes you feel like you're standing in the room with the characters.
Bunn's penchant for taking the Southern setting and its folklore and both utilizing it while also paying it respect has always been one of my favorite elements of Harrow County. The use of magic and legends feels like manner they're told by superstitious relatives in backwoods North Carolina. Another is how he handles the numerous creatures and their characterization. Granted we only get one speaking monster appearance here, but he is fantastic. I'm all set for more of this series and this world in general.
Art Direction
Emily Schnall has a daunting task in maintaining the visual aesthetic of this established world in Harrow County: The Fair Folk #1. Tyler Crook created the perfect visual language for the original series. This was then continued by Naomi Franquiz in Death's Choir,  who also managed to nail this story's look. Fortunately, Bunn and Crook have an eye for artists as Schnall once again provides top-notch visuals that keep this unique aesthetic alive. Her visual style is distinctive from her predecessors, but still blends in with the prior Harrow County comics. Her thick lines created expressive characters human and haint alike. She follows the designs set out by Crook, but they still have her distinct flair.
Panel direction is much like how it's always been, with a careful visual progression guided by narration. A large portion of what helps Schnall's work blend in with the prior series are her colors. She utilizes the same sort of watercolor style to give this series its unique look. Every surface, from the foliage to the human characters and the monsters themselves are decorated in an array of shades. Tyler Crook himself returns for the lettering, which is as dynamic as ever. His fonts change from character to character, and the way he hides effect sounds within the environment will never not be impressive. This is a stellar looking comic that stays right in line with the rest of this fantastic world.
Verdict
Harrow County: The Fair Folk #1 is a stellar return to this wonderfully eerie and fascinating world. Cullen Bunn's script is full of humanity and charm, and still knows how to being the horror. Emily Schnall fits right in with the artistic legacy of this series, bringing her own style to bear while keeping in line with the world as a whole. Be sure to grab this outstanding new issue when it hits shelves on 7-21!