HAHA #4, hitting stores on Wednesday, April 21st, offers readers one of the most surreal stories from creator W. Maxwell Prince. In a world full of fear and heavy burdens, readers will find commonality with a story focused on lightening their load. Whether it's a young boy weighed down by difficult family circumstances or a clown unsatisfied with life, all of us sooner or later find life heavy. Thankfully, this story shows what it looks like to confront our burdens and lighten their weight.
Story
Upon cracking open this book, readers find themselves staring at a red balloon floating into the sky. But something is off about this seemingly mundane scene—there's a miniaturized clown standing inside the balloon.
Readers are introduced to Gustav the Magnificent, a party clown who's marveling at a number of floating objects inside the balloon itself. The man soon finds that he floats as well, leading him to wonder what these circumstances could mean.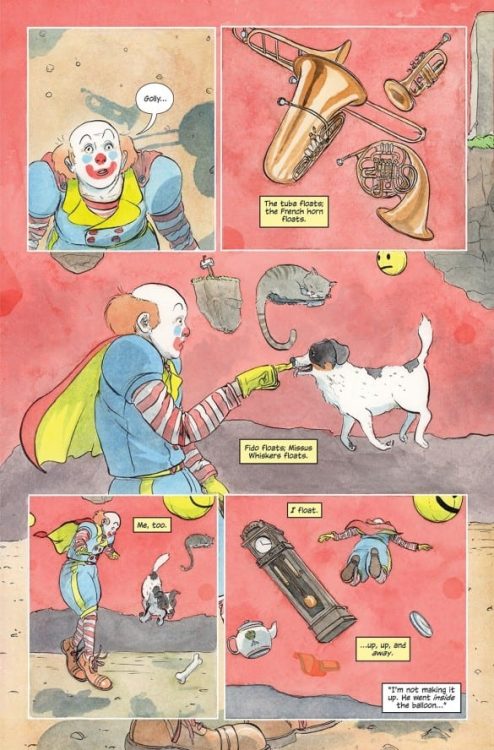 Readers soon find that Gustav was originally performing at a young boy's birthday party before shrinking down and entering the balloon. When the boy tries to tell his mother what happened, she dismisses his claim and draws similarities between the clown and his irresponsible father.
Prince's unique way of storytelling draw readers more and more into the narrative with each page. The parallels he draws between the boy, his mother, and Gustav reminds us how all members of humanity must deal with their own burdens. The deeper into their backstories the narrative gets, the more we sympathize with these well-rounded characters.
Artwork
Patrick Horvath's penciling, ink work, and coloring gave the written narrative the perfect tone. Gustav and the boy's family are rendered with smooth lines and soft hues so as to invite the reader into the story. This effect is used within the internal dialogue boxes as well—letterer Good Old Neon employs a light yellow color to keep the tone mellowed. These aspects make for a relaxing read.
Conclusion
HAHA #4 offers readers a unique deviation in the style of stories the creative team is telling in this series. Though there's plenty of somber tones within the story, we find an undeniable sense of hope as well.
Do you want more stories of this nature in the future? Let us know in the comments below!