From acclaimed comics creator Will Morris (The Silver Darlings) comes a fascinating and endearing piece of historical fantasy in Gospel #1. Smart, witty, and beautifully constructed, Gospel is a style of comic that is seldom seen in the medium — one planted in reality while dabbing its toes in the fantastical, all the while asking the reader to keep up.
About Gospel:
When opportunity refuses to knock for restless hero Matilde, the devil comes knocking. Inspired by the work of Hayao Miyazaki and set in the chaos of King Henry VIII's reign, Gospel is a thrilling fantasy adventure that questions the truth behind the stories we tell. Thrust into action by a hellish arrival, Matilde and storyteller Pitt will quest for answers that threaten to tear them apart and trigger the toughest question of all: "who am I?"
Writing & Plot
Gospel #1 cements its fictional identity with Morris's clever historical fantasy style. A masterful work of tone, this comic stays on the serious side with its subject matter, but is somehow also immensely fun. The reformation of the Catholic church under Henry VIII was, as we could gather, a historically turbulent and brutal time. However, with this period being so long past and with the fantasy possibilities tied to post-renaissance storytelling, Morris jumps at the opportunity to create something both joyfully endearing and insightful. The core plot is relatively simple: Matilde is a parish defender of the faith trying to do good deeds and earn a reputation as a sort of religious hero. Her problem is that, with all this upheaval and chaos in the wake of the Church's reforming, it's very difficult to find anything of note to even do. This is where Pitt the storyteller comes in, as he agrees to embellish tales of her heroics. Of course, the inner details of the characters' lives — as well as the appearance of a possibly truly formidable foe — add complications to the plot that will no doubt make this story all the more intriguing as it continues.
Morris's dialogue sensibilities do a great job of instilling a sense of place as the reader spends time with the cast. He uses a sort of modernized period-speak to maintain the blend of history and fantasy, even through the characters' own words. There's a great moment midway through the issue where the fantastical period speak and more plain, modern dialogue directly clash in one of the comic's most memorable (and a touch confusing) scenes. Morris has created a brilliantly interesting first chapter that may be a bit dense for some, but is a sheer delight for those looking for something as whimsical as it is complex.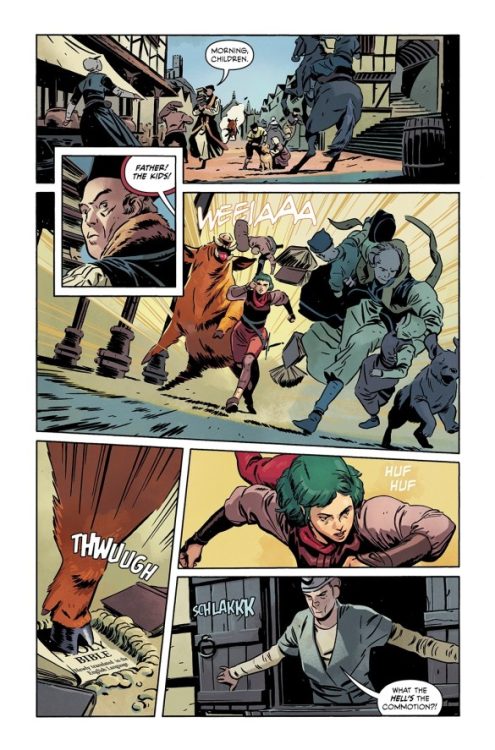 Art Direction
Will Morris is an even more impressive artist than he is a writer, which makes Gospel #1 an even more insane achievement. His densely detailed environments and beautifully animated characters pull readers into the story with ease. His Miyazaki-inspired historical-fantasy direction is remarkable to experience, with Morris crafting one of the most memorable settings in comics this year. His sequential direction stays busy as well, with pages being filled with numerous panels that carry both action and quieter moments along with a perfect sense of pace. The visual experience is rounded out by Morris's vivid and varied color palette, which is some of the most stunning work I've seen in a comic this year. His work here is very similar to Mat Lopes's work in comics like The Dreaming, with a style that retains a sort of familiar realism while being airy enough to pass off as fantasy. This is a visually stunning comic, and I can't wait to see how Morris presents it as the plot thickens.
Verdict
Gospel #1 is a brilliant and unique opening chapter of historical fantasy. Will Morris' storytelling is complex, clever, and constantly fun, making for a wildly engaging read. His visual work is among the best in comics this year, with excellent detail, animations, sequencing, and staggering color work. Be sure to grab this opening issue when it hits shelves on November 9th!