FUTURE STATE: THE FLASH #1, available in stores Tuesday, January 5th, is the first of two issues that will lay out the character's new status quo. After losing control of himself due to some mysterious entity within the Speed Force, Wally West murdered Wallace West and removed the powers of all the Flash Family speedsters. Now the team finds themselves on a mission to steal a helmet that could change the course of Wally's self-destruction.
Writing
Wrecked by the recent deaths of Wallace and  at the hands of a cursed Wally—and his speed powers stripped—Barry opts for a new strategy. He and the remaining members of Team Flash came across weapons from their defeated enemies, opting to seek out more useful items that could help Wally. Their most important mission leads them to The Calculator (initially believed to be the The Thinker).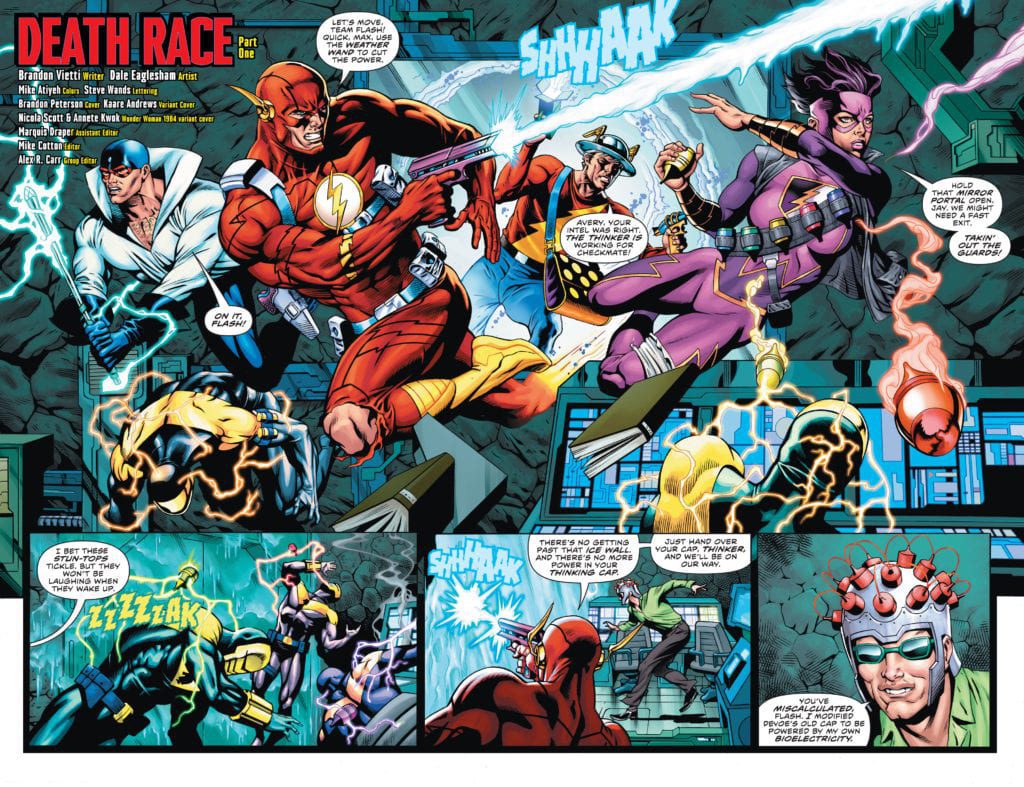 The hope of these heroes emanates from the pages. Readers can emotionally join in with these characters' last ditch effort to save their friend. The coordination, communication, and cleverness in their attack on The Calculator is an inspiring site. But all good things must come to an end at some point. And unfortunately, Impulse feels the full brunt of this via a dangerous energy blast. Will he survive this encounter?
Brandon Vietti's writing is incredibly well-paced. Despite so many scenes of high-paced action, he lays them them out in a way that slowly builds momentum in the main plot. The story has many elements, making for great rereading value.
Artwork
Dale Eaglesham's penciling and ink work, combined with Mike Atiyeh's coloring, put together beautiful illustrations for this issue. Despite losing their speed, the protagonists are cast in a flowing style to still give the appearance of movement. The bright warms colors used for these figures are set against duller backgrounds to help them stand out. Steve Wands's lettering helps complete these effects by placing the word balloons alongside our characters to follow the action.
Conclusion
FUTURE STATE: THE FLASH #1 is a thrilling, dark first step into this new chapter of Barry's story. We are anxiously waiting to see how the Scarlet Speedster fairs against this demonic version of Wally.
Do you think there's hope to save Wally? Let us know in the comments below!