IRON FIST: HEART OF THE DRAGON #5, hitting comic book stores on Wednesday, May 5th, features a massive escalation in tension among the heavenly cities. Hierophant and his servants are hell-bent on stealing the mystical powers of the cities' dragons. And others are vying for the power as well.
Fortunately, Danny Rand and Okoye of Wakanda are hot on their tale. But they'll need to sort out their differences in order to stop the evil forces.
Story
There are two major points of focus in this issue, both on the sides of the antagonists and protagonists. Readers first get an up close view of Hierophant as he wrecks havoc across the cities and their dragons.
Soon enough, readers will find that the tension is brewing between the protagonists as well. After witnessing Okoye kill a dragon herself and absorb its chi, Danny confronts her in a fit of rage. She tries to explain her noble purposes but the optics of the situation prevent any hope of reconciliation.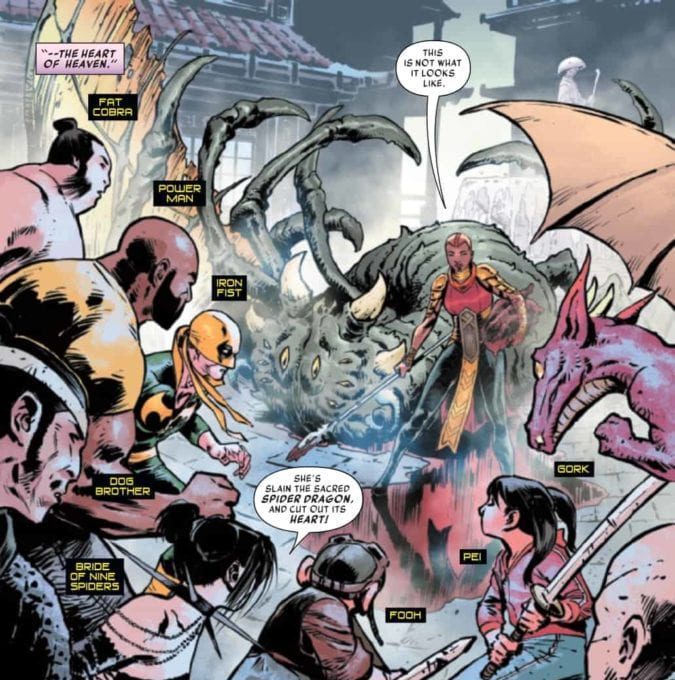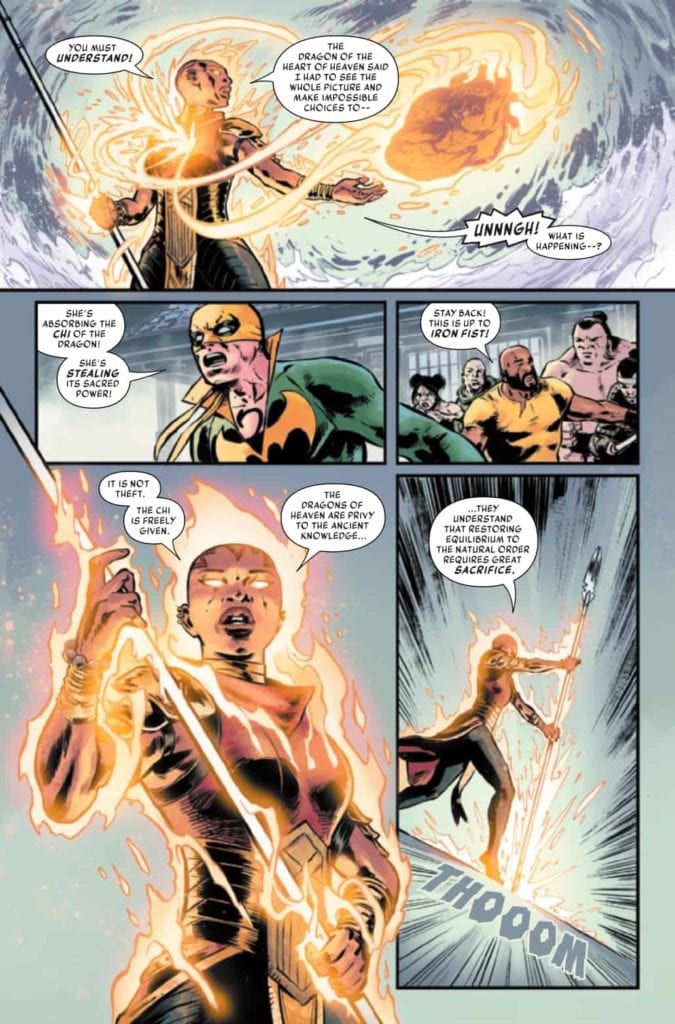 Writer Larry Hama brilliantly builds animosity and tension among the heroes who are the last line of defense against the true foe. Their dialogue reminds us of epic tales from storybooks, drawing us in even more. And the surprise appearance of Brenda Swanson, Danny's former lover, makes this tale all the more suspenseful.
Artwork
The illustrations within this issue are beautiful. Dave Wachter's penciling and ink work does double duty in crafting elegant cities while creating detailed warriors battling within them. These images are brought  to life with Neeraj Menon's coloring, which sets brilliant displays of yellow chi power against the duller backgrounds. In addition, we loved how VC's Travis Lanham's lettering made it extremely clear who was speaking via multiple font styles.
Conclusion
IRON FIST: HEART OF THE DRAGON #5 is the ultimate hype building issue of the series. Bringing together seasoned warriors like Okoye and Danny makes us want to see this amazing series through.
Who else would you like to see Danny confront? Let us know in the comments below!