Dark Horse Comics and CD Projekt Red follow up Trauma Team by taking us underground Night City in Cyberpunk 2077: You Have My Word #1. Available now, the first issue of four is written by Bartosz Sztybor and illustrated by Jesús Hervás. Contributing colors and lettering are Giulia Brusco and Frank Cvetkovic respectively.
You Have My Word #1 keeps the stylish aesthetic from the Trauma Team limited series while opening the world to fresh characters and locales. Writer Sztybor introduces us to three members of the Valentino Gang. Their shady, fedora-wearing boss tasks them with sabotaging Militech Corporation's new urban development in Night City.
Our protagonist, Oriona, is the youngest member of the gang and the only female in the group. She wants to use her payout from this job to move herself and her daughter out of the grandparents' house and into their own space. By focusing You Have My Word #1 on Oriona's point-of-view, Sztybor gives us an easy entry into a poor enclave in Night City. Oriona's naiveté and bright personality contrast with the cynicism and anti-capitalist politics expected of the cyberpunk genre.
Cyberpunk Subversion
Later, Sztybor uses a Hitchcockian twist to keep the reader on their toes and place us firmly in the camp of Night City's lower class. In that case, Sztybor subverts expectations set up in Trauma Team. Regardless, the same spirit that Cullen Bunn put in Trauma Team's Nina exists in Oriona.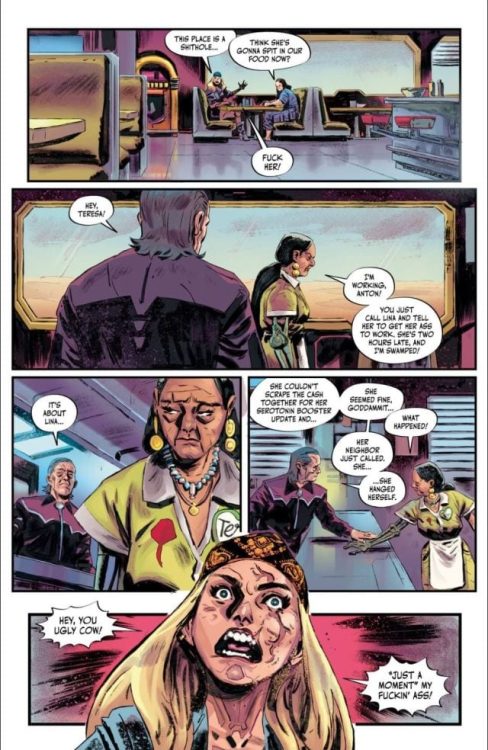 On the art side of things, illustrator Jesús Hervás adds darker lines and rougher brushwork to the delicate watercolor aesthetic established by Miguel Valderrama. This edgier look signals that we're in a different part of Night City now. To that end, Hervás also includes bionic characters, casual clothing styles, and characters of color—more diversity, to put it plainly—than before.
One of Hervás most impressive artistic flourishes is a panel featuring a mural of La Llorona, a figure of Latin American folklore. The mural telegraphs the story itself while highlighting the culture of this part of Night City. Augmenting Hervás edgy style is Giulia Brusco's color palette.
Style and Substance
Colorist Brusco uses competing warm, bright neon, and pale pastel colors against cold gray and black. When the Valentino Gang are out during the day, the environment is bright and colorful. Then, at night or when in shady areas, black and gray consume everything. Any lights on in the city at night are neon pinks and blues. Meanwhile, Oriona's family home is predominantly brown, soft gray, and orange—safe, plainer colors.
Moreover, Brusco's dark colors reflect the city's industrial, mechanized aspects while the neon evokes its debaucherous underbelly. Hervás and Brusco's combined efforts immerse us in the harsh realities of Night City at the same time as they allow us to find comfort and familiarity in Oriona's family home. Thus, alongside the stylish aesthetic, there's a sense of grounded realism.
Last but not least, letterer Frank Cvetkovic, who also lettered Trauma Team, handles lengthy dialogue and captions well. He does so by breaking up dialogue bubbles and using a thin font for the rare occurrence of SFX. This lettering style feels more utilitarian than flashy. And so, Cvetkovic complements both the grounded and stylized elements of the book.
Cyberpunk 2077: You Have My Word #1 is an effecting follow-up tp Trauma Team. The ending twist alone promises an exciting adventure full of deep grief and the possibility of revenge. I, for one, look forward to escalating emotions and plenty of grit in the ensuing three issues.