CRITICAL ROLE: VOX MACHINA ORIGINS III #2, available in comic book stores on Wednesday, April 28th, features the final battles in Vox Machina's underground tournament. What first began as a simple means of gaining coin soon evolved into the perfect team building activity. But working together is easier said than done.
From the creative minds of Matt Mercer and the rest of the team at Critical Role comes a story full of characters who must learn how to fight for a common goal.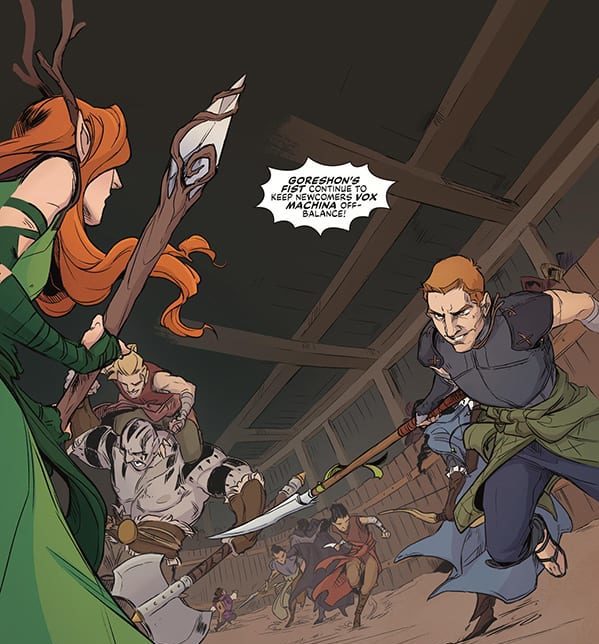 Story
Readers will remember Vox entering a slightly sketchy tournament of fighters last issue. This story picks up right after the combat begins, thrusting us into the action immediately.
With such a strong set of personalities and unique skillsets, it's no wonder Vox's cooperation in battle is horrendous. Their team is mighty, yes, but the complications that arise could cost them the championship.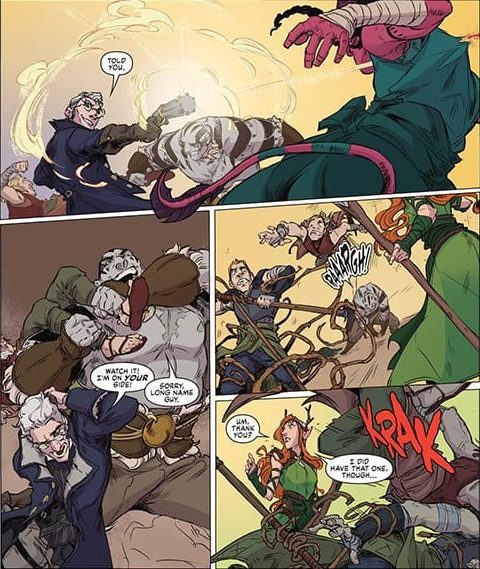 Jody Houser's script captures the essence of true team building. Despite having traveled together for some time now, Vox clearly has some work to do in terms of cooperation. But the progression of Vox from a disorganized group to a synergistic team throughout this story offers readers hope for their potential success.
Artwork
With the heavy focus on action in this issue, it was great having an assortment of talented artists. Olivia Samson's penciling and ink work crafted dynamic characters with detailed muscles and joints, generating an effective sense of movement. Diana Sousa's coloring helps them stand out with vibrant shades for our protagonists set against duller backgrounds. In addition, Ariana Maher's lettering helps add to the panels' energy by adding spiked outlines to the word balloons, referencing the announcer's booming voice.
Conclusion
CRITICAL ROLE: VOX MACHINA ORIGINS III #2 is an exciting installment to this fan favorite series. We hope to see more team dynamics play out in future issues.
Do you want to see Vox compete in more tournaments? Let us know in the comments below!