Humanoids' Space Bastards #1 is a lot to stomach. It's the dark comedy sci-fi we all wish we'd thought of. Writers Eric Peterson and Joe Aubrey, with artist Darick Robertson, colorist Diego Rodriguez, and letterer Simon Bowland show us a world that makes just a little too much sense. In Space Bastards, members of the Intergalactic Postal Service must do anything to get their package delivered. That includes maiming, killing, and otherwise fucking up anything or anyone that gets in their way. In fact, the more bloodshed there is, the bigger the paycheck.
Writing
Peterson and Aubrey's script might seem wild, but it's also incredibly simple. Violent postage people in space. That's all it is. But it's a simple idea that goes a long way. Part of what makes this script work is the bridge Peterson and Aubrey make between the new and the familiar. Sure, the whole Intergalactic Postal Service is new to us, but a violent, deadly, mean veteran of the service, like Manny "The Manicorn" Corns, is something we've seen before. He's the unlikely mentor of our wide-eyed protagonist, David S. Proton. Proton, down on his luck and out of a job, is desperate for things to go right for once. It's the basic set-up for any good script. But Peterson and Aubrey don't stop there. They lull us into believing it's a typical story and then pulls out all the stops. It's a raucous first issue that promises to be as unpredictable as it is bloody.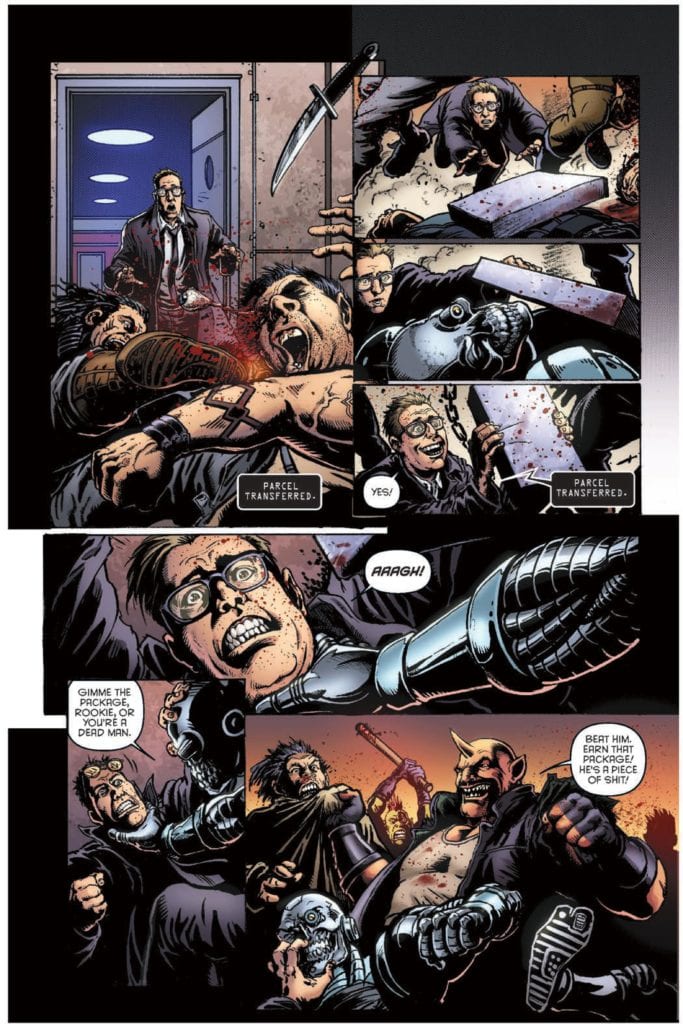 Art
Robertson brings all of his famous grit and gore to Space Bastards. Whether it's someone splattering on a sidewalk or getting knifed in the back, readers know Robertson's the right man for the job. But Robertson does more than create a great death scene… or death scenes. He shows just how different David S. Proton and Manny are from one another. On every page, Manny looks like a damn giant. He is huge, and the terrified faces of every other character seeing him confirms that. But Proton is just one of the many characters who are running scared. He not only looks sweaty and pale, but he looks small. Robertson shows him peeking out from behind Manny's head or getting up off the ground. He's smaller on the page than Manny, and he's almost always pictured beneath Manny too. Robertson shows us clearly who wears the pants in this partnership and has fun doing it.
Coloring
This entire issue is colored in just three colors. Rodriguez uses hues of orange, blue, and occasionally green to show us the world of Space Bastards. And it's pretty clear what each of these colors stands for. Manny walks around, orange-skinned and raining destruction down on whoever gets in his way. Proton, in his blue suit, squeamishly gets through whatever comes his way. But the both of them are slaves to the green lights of the Intergalactic Postal Service's armbands. The green lights of their screens are the futuristic version of a green dollar bill. And so Space Bastards becomes a fantastic combination of blue cowardice, orange chaos, driven by the green of greed.
Lettering
Bowland makes a point of keeping much of the dialogue together. Instead of large paragraphs being told in multiple word balloons, they get delivered in one big chunk. At first, this seems a little weird, but it makes sense as you read what's actually being said. The world of Space Bastards is crazy. The kind of crazy that you just have to push through. So when David S. Proton is being told the details of the job he's just signed up for, the people walking him through it don't give the instructions much room to breathe. That's because every moment Bowland gives us a pause is an opportunity for Proton to turn tail and run. Bowland really showcases how wild this world is by showing how quickly characters have to convey information, so no one has time to think about it too much.
---
Space Bastards is about as crazy as it sounds. It's a blood-splattered charge across the galaxy, with lots of parcels to deliver. Check it out if you like dark comedies and have always wished they'd be in space. Pick up Space Bastards #1, out from Humanoids on January 13th, at a comic shop near you!