From all-star creator Cliff Chiang comes another brilliant chapter of love, loss, and thievery with Catwoman: Lonely City #3. Written, drawn, colored, and lettered entirely by Chiang, this issue continues to demonstrate just how massive of a talent the Paper Girls co-creator is. Featuring a plot that is both devastatingly emotional and an absolute blast, with visuals that are unsurprisingly stunning, this issue nearly seals the deal for Lonely City being the greatest Catwoman story of all time.
"Catwoman had assembled the crew of a lifetime for her heist of the Batcave, and everything was going to plan-until it wasn't. When tragedy and disaster strike, she's got to find a way to land on her feet…but as her need for answers grows stronger and more desperate, she might be prepared to make a deal with the Devil himself…"
Writing & Plot
A comic like Catwoman: Lonely City #3 is a prime example of what the DC Black Label initiative is truly capable of. Cliff Chiang pens a heartfelt, tragic, relevant, and still ridiculously fun comic by taking the classic Batman ingredients and crafting something brand new yet faithful and familiar. The reimagined appearances of classic characters in this dystopian post-Batman Gotham continue to be satisfying. The new characters feel like real characters and also bring out sides in Catwoman, Riddler, and others that make their arcs even more compelling. The tragic events that befall some people in this book come off as earned moments, and their weight continues to add on to the growing tension throughout the plot. Chiang also plays quite heavily with socio-political subject matter in this series, and especially in this 3rd chapter. As always, he nails the execution. The conversations he has about authority and gentrification through the lens of a DC comic are genuinely compelling and unfortunately relevant. I know I'm listing a bunch of heavy subjects that this comic deals with, but that is really what makes the fact that this comic still feels so light at points such a wonder.
What makes this comic so special on a more specific note is seeing Selina portrayed in this way that we've never seen before. Selina has always been a complex character, with her complicated feelings for Bruce and the way she waffles back and forth between hero and villain. Seeing her here, bereft of the man she loved and now feeling responsible for a team of like-minded people young and old, is both a treat and a distressing experience. Chiang makes the creative decision to show just how much Batman influenced and affected her, without just making her "Batman #2." She's written so well that we can be empathetic to her, feel heartbroken for her, and still yell at her through the page when she makes decisions out of fear. Chiang is doing incredible work here, and I can't wait to see how this story ends in the final issue.
Art Direction
Surprise surprise, a Cliff Chiang comic looks amazing. Every positive thing I've said about the last two issues, I can repeat about Catwoman: Lonely City #3. Chiang's character and set designs, detail work, and composition are brilliant as ever. He draws characters with a life and personality that is all his own and it's something that has drawn me to his art ever since I picked up his work on Wonder Woman a decade ago. His conversational sequences are every bit as compelling to witness as his action scenes. This is really saying something too, as his action sequences are an absolute blast and always pack an impressive amount of energy. The composition of his panels makes for an effortless flow through each of his sequences. All of the tension and drama of the comic is rendered in a way that utilizes the medium to its fullest, but is easy to follow and catch every event as it happens.
Chiang's colors are striking as ever, with his consistent use of single-tone pages to set the mood of a scene perfectly. That signature neon-esque color palette he uses is an iconic holdover from his work on Paper Girls, and it still works brilliantly here. Chiang's lettering (yes he letters it too) is as much a part of the visual experience as the art is. His speech bubbles use contemporary, easy to read fonts that shift with the tone in a way that blends into the reading experience. His SFX letters pop in a way that doesn't overwhelm the scene but naturally feels like a part of the visual experience. This is, as expected, an incredible looking comic that delivers a stunning engrossing reading experience.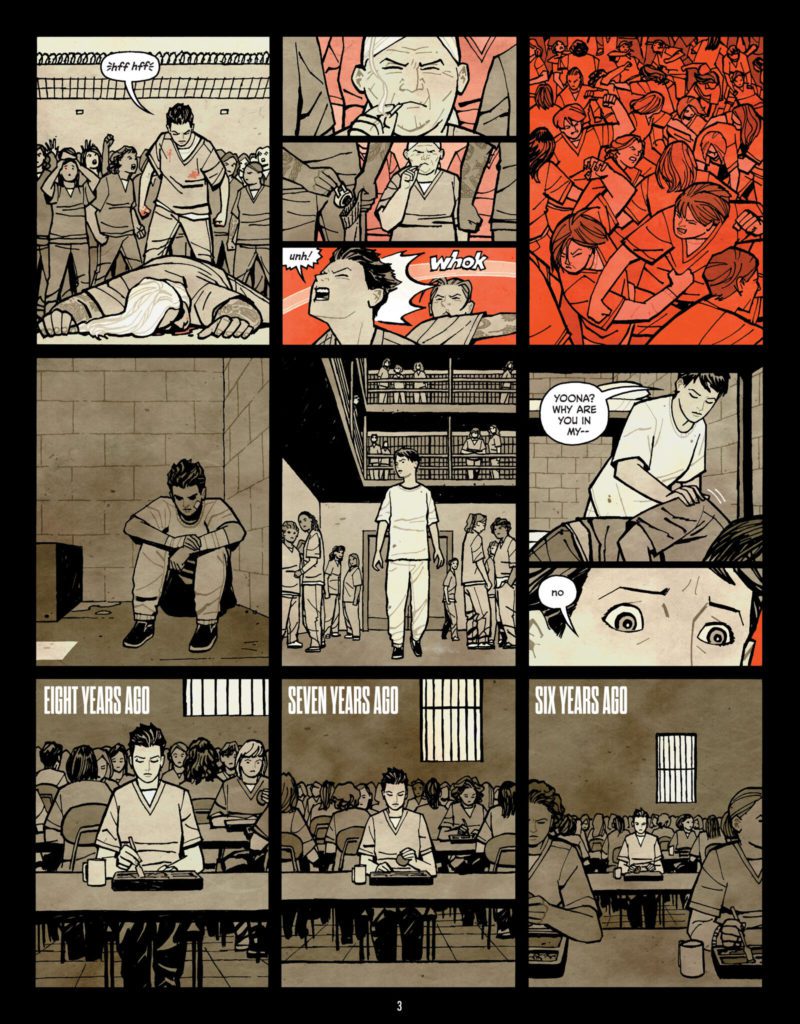 Verdict
Catwoman: Lonely City #3 is a triumph of comic book storytelling. Cliff Chiang delivers a chapter that offers tragedy, loss, and drama while knowing how to perfectly use levity to the advantage of the book's tone. His interpretations of Gotham's villainous denizens may very well be my new favorites. Visually, Chiang is as much of a tour de force as ever, with his impeccable design, composition, and coloring making for a gorgeous and kinetic read. Please be sure to grab this issue when it hits shelves on April 19th!