REAVER #9, available from Image Comics on July 1st, follows Breaker and Rekala as they're "captured" by the town's guards while on the hunt for Stagger. Justin Jordan's story marks the turning point for Breaker as he comes to accept who (and what) he is, and Rekala kicks ass.
Cover Art
Becky Cloonan's cover is a mild spoiler for the ending of the last issue (you can read our review here), zooming in on the face of a bloody and beaten Bren. Technically, it has almost nothing to do with this issue, but it does remind the reader of what's at stake for Breaker and Rekala. Solid composition, intense facial emotion, and you could imagine this is what Breaker sees in his mind's eye when he finally decides to let go of everything holding him back.
Writing
There's not a lot of forward progress in this issue from Jordan's story, but that's perfectly okay. It's more of a character piece, set inside a dungeon/prison that gives Breaker the means to come to terms with his past as a killing soldier. By embracing his past, Breaker decides to accept his role as a killer when it's for something that matters instead of on command.
Conversely, Rekala is a lethal imp who revels in the chaos and the fighting. You'd think such a character would be erratically wild, but surprisingly, Rekala is probably the most clear-minded person in her entire group, almost to a fault. Her viciousness is matched only by her confidence, which makes her oddly charming in a Deadpool sort of way. Rekala is quickly becoming my favorite character discovery this year.
Again, there's not a lot of story progress but a ton of character growth, and I'm intensely looking forward to what mayhem comes in the next issue.
Pencils/Inks
Niko Henrichon's art remains consistently good from the previous issue. The rough lines used to scratch out the characters plays up the feeling of weary and worn warriors that have earned more than their fair share of scars. Breaker is a mountain of a man, but at no time does Henrichon play him up as nonsensically large. Likewise, Rekala's impishly small frame stands out but doesn't look impossibly out of place. Both characters are strong examples of designing unusual anatomy for effect but selling it through consistency from one panel and page to the next.
Equally notable about Henrichon's art is the rough line art on the backgrounds and its effect on the story. Using that rough, chalk pencil-like line style on all the backgrounds gives the impression that every scene is carved in wood, which is thematically consistent with the time period and the setting of the story. You could imagine you're flipping through pages made of woodcut art, adding to the atmosphere.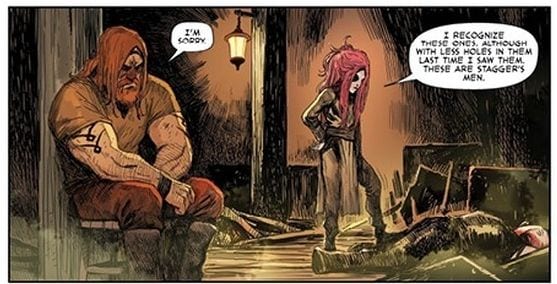 Coloring
Henrichon's coloring adds to the woodcut art style by heavily playing up the yellows to immerse nearly every panel in torchlight. That color choice gives each setting a touch of warmth and life, and it provides a hue to the skin of every character that makes the whites of their eyes pop with intensity. Breaker and Rekala's eyes have a keen intensity that's brought out more so with the soft glow of the environment around them. Henrichon's color choice seems simple and natural, but it's executed well and adds to the intensity of the main characters in a subtle way.
Lettering
Clayton Cowles' lettering is well placed for moving the reader's eye along from panel to panel. There's a lot of dialog in this issue, so Cowles wisely breaks up paragraphs into chunks and spreads them along the panel borders in the direction of the panel flow. It's a common technique that's executed well, and it keeps the reader's eye moving, so you're never bogged down with fits and starts—excellent pacing by Cowles.
Conclusion
REAVER #9, available from Image on July 1st, is a well-executed break in the story to build the main characters and set up their team dynamic for what promises to be a blowout conclusion. The art is rustic in ways that adds to the story's setting, and Rekala is a hell of a lot of fun. I'm eagerly waiting to see what happens in the arc's finale next issue.