From acclaimed writer Kelly Thompson (Captain Marvel, The Girl Who Would Be King) and artist Meredith McClaren (Hinges, Hopeless Savages) comes a Sci-Fi/Fantasy/Political Thriller/Murder Mystery with Black Cloak #1. Featuring letters by Becca Carey, this excellent genre blend is riddled with lore and excellent characterizations, all brought together by a unique visual aesthetic. Black Cloak is for readers who like their DnD campaigns with splashed of Saga and Far Sector in the mix.
"Blade Runner style mixes with SAGA-esque drama in a delectable fantasy/sci-fi blend as two Black Cloaks try to solve the murder of a beloved prince in Kiros, the last city in the known world, before his murder tips the city into war."
Writing & Plot
Black Cloak #1 marks the first book at Image Comics for Eisner Award winner Kelly Thompson, and she makes one hell of an impression at the industry's premier house of indie. Thompson seamlessly blends futuristic sci-fi, DnD-esque fantasy, and political intrigue all together then wraps it all up in a murder mystery plot. Every element of this comic is equally engaging, and this is due to both the comic's extended length (triple-sized debut issue) and Thompson's attention to characterization. Every character we meet in Black Cloak feels like a worn part of this world. From our lead detective with a complex political past to her irritable partner, and even to the shop-owners and urchins we meet in the small scenes, each person feels real. All this, despite the fact that most of these people are elves, minotaurs, or satyrs. Thompson brings in elements of class-consciousness that tie directly into the comic's political intrigue, making the story feel all the more multidimensional. It's grounded in reality while still being a fantastical genre book. Despite Black Cloak's serious subject matter and tone, it still knows how to be funny. The dialogue feels natural and the shots of humor – centered around character quirks – land more often than not. Each character has their own unique voice that makes them feel like their own piece of the story. Every layer Thompson uncovers is equally interesting, and discovering more about this back-alley political murder in this fantasy world will doubtless be an absolute treat going into the following issues.
Art Direction
A huge portion of what makes Black Cloak #1 stick out so much is the unique visual approach of artist Meredith McClaren. Her soft, rounded linework and expressive animations meld with her surprisingly detailed set design to make this sci-fi/fantasy world feel lived in. Her work very much has a modern indie comics/current generation animation feel to it, but this doesn't stop it from being so impressive. Her specific facial details using simple linework and distinct features, as well as her mythical designs, make our time with each character distinct and easily relatable. It's hard not to compare McClaren's work with that of Fiona Staples on Saga, or Jamie McKelvie on The Wicked + The Divine, but she stands out on her own with her specific sequential direction. She tends to grab a lot of detailed closeups on characters, making readers feel as though they're walking in on a conversation that keeps going despite their presence. Every panel carries weight, whether it be a simple shot of a character giving a sarcastic retort or a bird's eye view of a suspected crime scene. McClaren's color art is just as interesting as her penciling, as every page has its own tone and atmosphere. She uses a lot of low-light color features – fog in the outdoors sequences, dim yellow fluorescents in a coffee shop, a room at an inn lit only by a television – that bring a sort of oppressive, conflict filled tone to the overall story. There's an uneasy alliance of beings living together in this city, and the atmosphere demonstrates just how tenuous life among these people is. Becca Carey's lettering is an unexpected treat in this comic. Her dialogue bubble work has a unique, free-flowing style that is easy to read and move naturally with the tone of the character speech. Her SFX lettering is the real treat though. There's an almost chalk-drawn aesthetic to her work in this regard that fits with the disparate urban setting, and her placement always makes for the perfect punctuation on every page. Visually, Black Cloak is a real gem of modern comics artwork.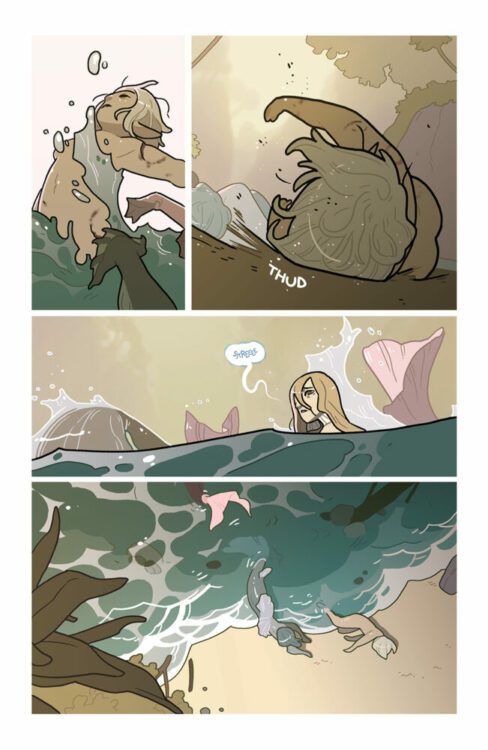 Verdict
Black Cloak #1 is a fantastic start to this Image Comics debut. Kelly Thompson's script seamlessly blends genres into an impossibly intriguing whole and crafts characters and lore that are inescapably compelling. The visuals from Meredith McClaren bring the wide array of mystical characters and this cyberpunk-esque sci-fi/fantasy to life with a distinct style and stellar visual direction. Be sure to grab this series debut when it hits shelves on January 11th!