DC Comics' Batman/Catwoman has been a complex series. The creative team — writer Tom King, artist Clay Mann, colorist Tomeu Morey, and letterer Clayton Cowles — have generally had an incredible knack for making the story (which happens over three distinct timelines) clear. While Batman/Catwoman #11 still manages to be clear in its storytelling, despite introducing another timeline (or two?) to the narrative, its intricacies make it hard for any of the emotional beats to land.
Writing
There's nothing wrong with writing a complex series. King tends to be a master when it comes to making you feel for characters, even when you don't fully understand what's happening to them. And part of what complicates things for Batman/Catwoman has occurred outside of its own story. The series has been plagued by scheduling delays. A guest artist, the incomparable Liam Sharp, was brought in to fill in on some issues. Sharp's visual language is quite different to Mann's. As stunning as Sharp's work is, it was a departure from the status quo from the series, which made some of the narrative a little harder to follow at times. Mann's return to the story, interestingly enough, had a similar effect.
So, maybe King's script would flow brilliantly if not for these creative speedbumps and delays. But as it stands, Batman/Catwoman #11 feels a little dry. Nearly every scene is a fight scene or a chase. These blend together and ultimately have little effect. We jump around in time so often that the reader is spending more time trying to keep track of where they are now. It's hard to actually take in and experience any given scene. Batman/Catwoman #11, however, is a climax of sorts. All of the shit that's gathered over the series thus far is flung at the proverbial fan. And so, maybe the chaos and confusion of the issue is deliberate. Maybe we're supposed to be left scratching our heads when we turn the final page. As is often the case with penultimate issues, only the finale will really tell us if this issue was effective in what it was setting up. Perhaps this series will read better as a collection, where the reader can more easily keep track of each avenue this story goes down.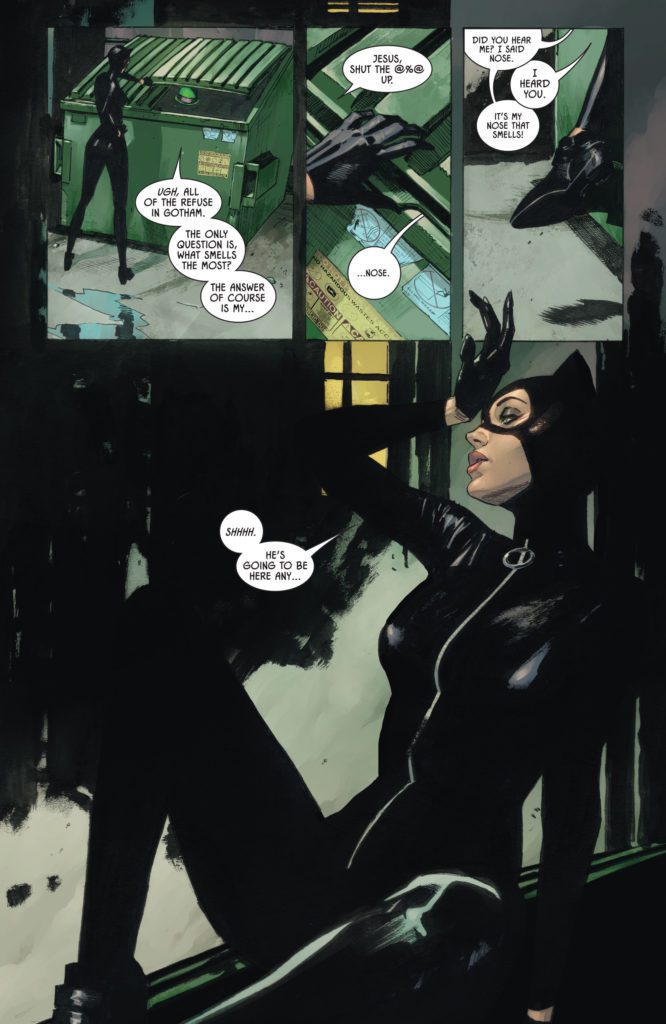 Art
Mann certainly knows how to set a scene. And in the chaos of this issue, he manages to make certain moments stand out as more action-packed than others. Panels teeter, looking like they're barely holding in place. Characters fall into the gutters of the page, punched or kicked over by an adversary. Much of Mann's work has a 3D effect in that sense. You feel like characters are about to fall into your lap, like you could reach out and catch them before they hit the ground. Some moments feel like they're fully focused on the theatrics of the scene, rather than the emotion surrounding what's happening. There are many pages throughout this issue that feel like they pull away from the characters. Several moments obscure characters' faces in shadow, or show them at such a distance that it's hard to see their expressions. When Mann focuses us in on someone's face, he speaks volumes through subtle looks and gestures, counteracting the drama of every other scene. Unfortunately, it doesn't feel like there's enough of these moments to create a good balance in this issue.
Coloring
Morey's coloring choices continue to tie the threads of this story together, color coding each timeline to give us a sense of when events are happening. There is one moment, however, that is quite distracting. The Riddler hides in a dumpster as Catwoman pulls the lid over his head. In the dumpster, as Catwoman closes it, we see Riddler's hat standing out in brilliant green and purple. It feels like his hat should at least look a little duller due to the shadows, if not be completely invisible. Despite this moment, Morey brings plenty of cohesion to Batman/Catwoman, while also telling us something about each scene. In a Christmas themed showdown between Batman and Joker, the scene becomes gradually more and more violent. As the violence increases, so does the red glow that's cast over events. Another rooftop scene is shown in a mix of pinks and greens. The warm pinks are slowly overpowered by the cold greens, as hope drains from one of the characters. Morey's work isn't just eye-catching. It also helps guide this issue through its many thematic arcs.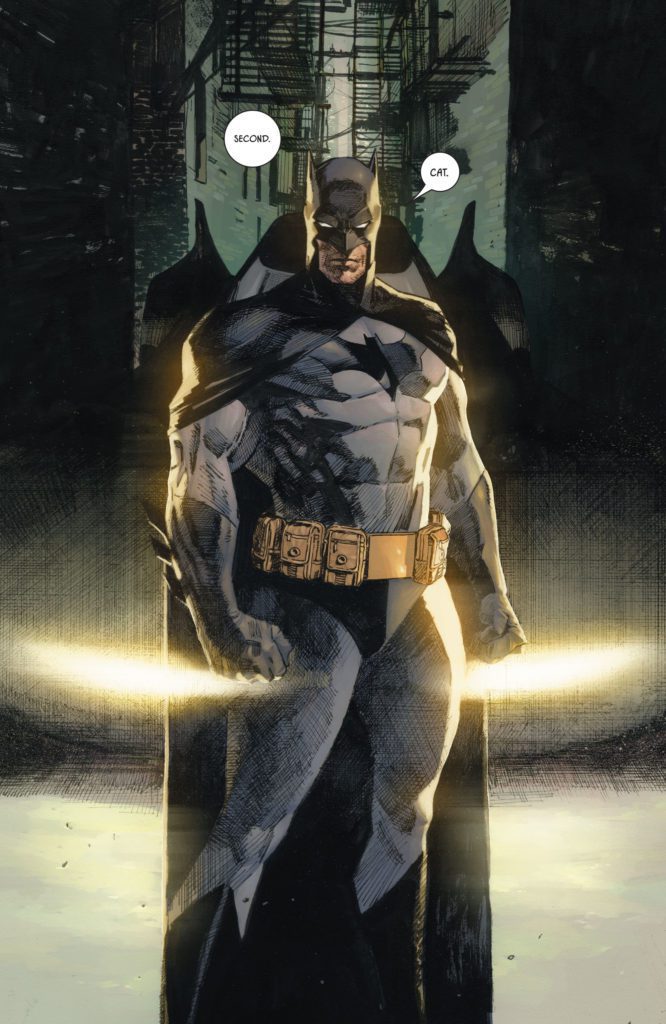 Lettering
The one big upside to the near constant action of Batman/Catwoman #11 shows up in Cowles' lettering. The "BZZZPP" of a futuristic taser, Joker's laugh trailing off far outside of its word balloon in uneven letters, the "BLAM," "POW," "BAM" sounds of battle… all of these moments stand out in colorful glory. The fight scenes feel fun and vibrant thanks to Cowles' work. And then, as the issue comes to a close, he shifts his tone. A "SLLLLKKKKTTTTT" sound effect, accompanying an action that ends out this issue, is shown in scratchy red letters. Cowles doesn't want this moment to feel lighthearted or run-of-the-mill. He makes it look desperate and brutal.
Verdict
There is a lot about Batman/Catwoman #11 that feels like it should be high stakes. But the convoluted nature of this chapter, and the art's tendency to pull away from character faces during action sequences (which make up most of this issue) means that most of the emotional beats fall flat. Batman/Catwoman has gone through changes in its creative team and delays in its release dates, disrupting the flow of the story at times. So it's hard to know how much of Batman/Catwoman #11 is deliberately delving into chaos and confusion, and how much of this effect is accidental. Pick up Batman/Catwoman #11, out from DC Comics April 12th, at a comic shop near you!