ACTION COMICS #1021, available from DC Comics on March 25th, showcases the final defeat of the Justice League at the hands of the Legion of Doom, aided by Red Cloud and Leviathan. Our heroes lie broken at the Legion's feat. Is this truly the end? Let's find out.
Cover
John Romita Jr. and Klaus Janson take on the cover art and interior artwork for this issue. They do an outstanding job rendering our heroes with speed and purpose. The costumes are bright and stand out against the background.
Romita and Janson made an odd choice, however, with the grouping and perspective. It looks like Superman is flying over the city and yet Impulse and the other non-flying characters are running beside him. Either the definition of the backdrop needs to be sharpened to clarify the team is moving at ground level, or this grouping of heroes doesn't make sense from their position.
Writing
ACTION COMICS #1021 is a serialized issue, so it helps to have read the prior books to understand all the players and how they got to this point in the conflict. Brian Michael Bendis still manages to write an engaging story, even if you don't know how we got here. The action is well-paced, and Bendis included more than one surprise to satisfy.
Bendis wrote dialog that suits the personality of each villain, as they do most of the talking. Superman and Superboy also share a pseudo father/son moment that reminds you why Clark's upbringing is what makes him Superman more than his just his powers. It's a sweet moment, and Bendis writes it well.
Coloring
Brad Anderson is responsible for the coloring in this issue, and his work is the best part of this book. There are several scenes where colors show the reader what's happening without a narrator or dialog to fill in the clues. Yet, the coloring makes it very clear what is happening.
Favorite Panel/Page: There's one panel in particular, without spoiling it, where a group is teleported away in a flash of blue light. There's no lettering, narration, or dialog on the panel. There are only pure blue color gradients and a silhouette that makes the panel look very close to a lit-up photograph—high praise for Anderson on the coloring.
Pencils/Inks
Romita tackled pencils, and Janson partnered up for inks. To be blunt, the Romita style can be a bit of an acquired taste. Romita like lines – LOTS and LOTS of lines – to render shading and depth. It's not everyone's cup of tea, but it's definitely a signature and instantly recognizable style.
Here, the Romita style of lines and shading mostly works except for the faces. For Superman especially, it looks like the Man of Steel has a lot of odd tribal tattoos on his face instead of the lines representing depth and contour. The faces would look better of either thinner lines were used, or go the "less is more" route and just not use so many lines by relying on color shading to bring the contours through.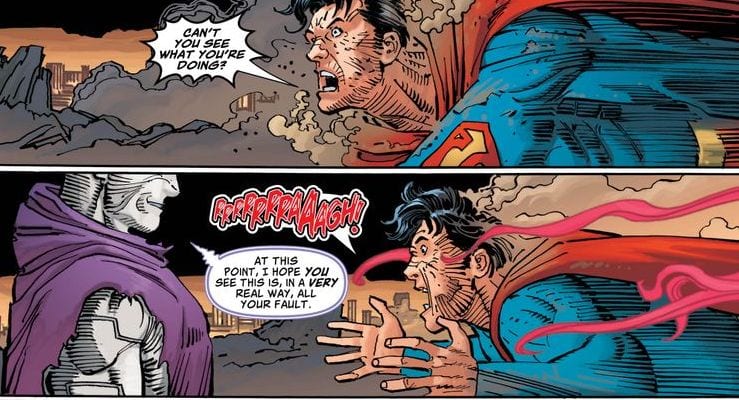 Conclusion
ACTION COMICS #1021 is a well-written and well-paced skirmish between the super teams. The coloring takes top marks, but you may be lost if you haven't read the prior issue(s). This is a take or leave it recommendation.
Writer's Note: Local Comic Shops (LCS) are going through a tough time right now with the pandemic outbreak of COVID-19. Comics fans of every flavor that care about his or her LCS should try to do what they can. So, here's my part:
If you're in Northern Delaware, South East Pennsylvania, or Southern New Jersey area, please take a moment to visit Captain Blue Hen Comics in Newark, DE. Say 'hi,' pick up a book, order a book (they're on Comichub.com), and let them know you support them.
If you're nowhere near that area, please find YOUR LCS using Comic Shop Locator and lend your support.
Thanks, and stay safe.