JIM HENSON'S THE DARK CRYSTAL: AGE OF RESISTANCE #12, available in stores on Wednesday, October 21st, concludes this comic book adaptation of Netflix and The Jim Henson Company's beloved televised series. As the Gelfling clans travel to their meeting location, Dot'leth finds herself among the first arrivals on SkekSa's ship. But with the new All-Maudra presumed dead, coupled with the dubious meeting location, can any true peace be made?
Story
This chapter opens with Dot arriving on the ship of SkekSa, hoping to begin clan negotiations. She is greeted by Fenth in an awkward, yet telling display. One senses the shame the Gelfling pirate feels after a piece of his past faces him and his current life choices.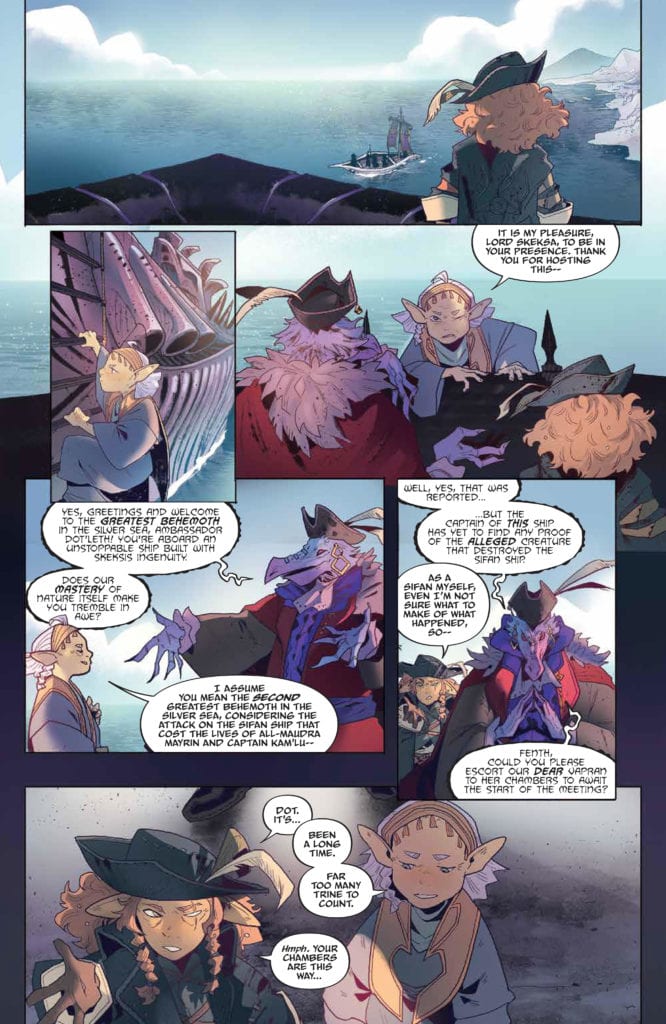 The reunion is cut short, however, when the Mondo Levidian crashes their meeting. Dot, having spent time mourning Mayrin's supposed death, shouts for joy after realizing her beloved granddaughter is alive. But then an attacking swarm of Zoa appears! Can the new All-Maudra turn the tide and finally establish peace among the Gelfling clans?
What ensues is a high-adrenaline battle for the fate of Thra. We see Mayrin embrace her role as All-Maudra and attempt to save her fellow Gelflings. The pressure of filling her mother's shoes is daunting, but the encouragement from Dot and Kam'Lu may be the motivation she needs
Matthew Erman's narrative offers readers a heartfelt story of inner strength. Thanks to an indominable will and a slew of support from friends, his version of Mayrin embodies the sense of wonder that draws so many to the story.
Artwork
The illustrations beautifully reflect the magical elements found within the television show. Jo Migyeong's penciling and ink work, along with Fabiana Mascolo's coloring, beautifully translates the visual appeal of the show to the panels of this comic book. The characters' details are extremely precise, from the unique dimples and wrinkles on their faces to the fixtures on SkekSa's ship.
We loved the brightly colored backgrounds setting the scenes for these animated characters. And Jim Campbell's lettering provided the finishing touch so readers could imagine the manner of speech they employed.
Conclusion
JIM HENSON'S THE DARK CRYSTAL: AGE OF RESISTANCE #12 beautifully concludes The Journey into the Mondo Levidian storyline. We loved watching our favorite characters come into their own in this thrilling finale.
Were you satisfied with the conclusion of this series? Let us know in the comments below!