King In Black: Ghost Rider #1 isn't just an April 1 tie-in to Marvel's King In Black Event; it's the end of writer Ed Brisson's run after getting cut short. What better way to show this closure than with returning art team of Juan Frigeri and colorist Jason Kieth? Also joining is letterer Joe Caramagna to make the series voices stand out. Because everyone in-story deserves remembrance as the status quo settles in for the next Ghost Rider run.
Tying Up Loose Ends
King In Black: Ghost Rider is what Brisson's critically successful run boils down to. It was perfect for Johnny Blaze to be Mephisto's tormentor for a change. That is until the inevitable status quo needs to come in. The reader shares this feeling of defeat with Johnny as this means giving a bully back some of his power. Fortunately, Danny will be at his brother's side as the Death Rider when Mephisto makes a move. It certainly feels worth the wait after all of the Covid delays even if it does come with the baggage of a tie-in where Ghost Rider and allies fight dragons.
King In Black: Ghost Rider – Art Of Kings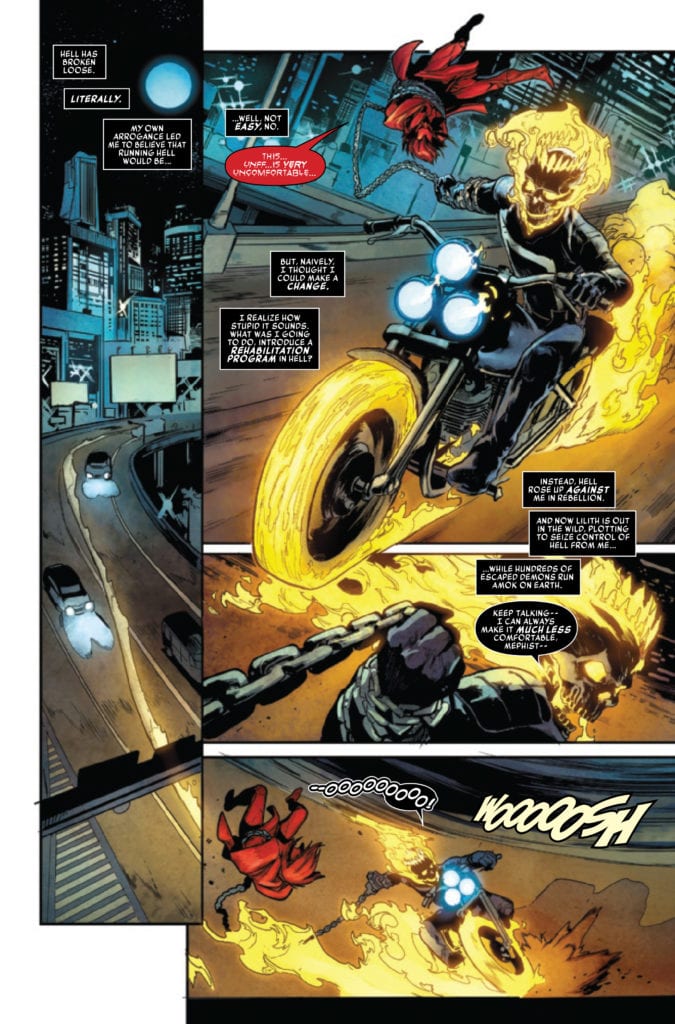 Frigeri keeps the dynamic movement of King In Black: Ghost Rider moving at a steady pace. Seeing Mephisto getting dragged around in chains by Ghost Rider riding his motorcycle is certainly a sight to behold, especially when a quick stop makes Mephisto skid against the asphalt.
Even more eye-opening is the coloring by Keith. The ever scarlet Mephisto stands out strongly in every scene he's in, as are the flames accompanying Ghost Rider. Against the night sky and symbiote dragons, the power these characters have is felt throughout the pages.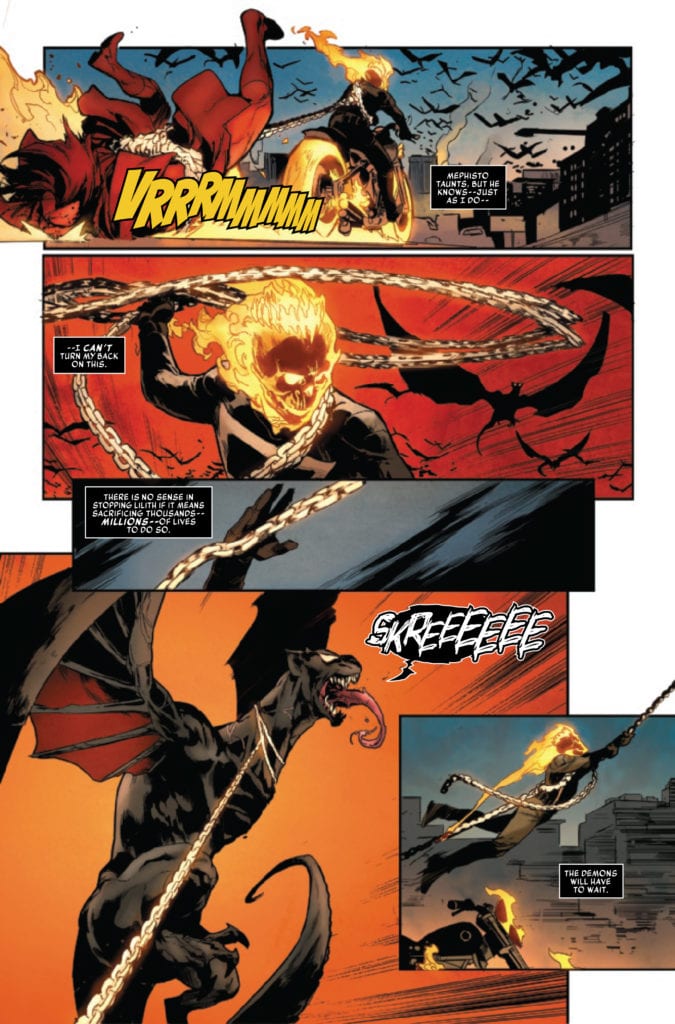 Caramagna's lettering makes the characters stand out twice as much. The words exchanged between Ghost Rider and Mephisto in color-coded word balloons highlight their character. Mephisto tries to taunt Johnny with monologues in an intimidating red word balloon. Unlike Ghost Rider, who speaks few words in black word balloons and as he revs his Hellcycle in loud sound effects.
King In Black: Ghost Rider – The Final Lap
King In Black: Ghost Rider ends on a bittersweet note the way it's supposed to. After a wild ride fighting slimy dragons, this issue celebrates Ghost Rider and his supporting cast. It was certainly good to see Danny and Johnny making piece after everything that happened. Now all fans have to do is wait for the next run of Ghost Rider.