The Muppets are some of the most enduring characters of all time, and have made a come back with two hit movies in the past five years. So, it makes sense for them to transition back to TV again. Last night the premiere of their modern show debuted, and gave us a different take on Jim Henson's classic creations. Rather than just focusing on bad puns, celebrity guests, and songs, we also get to see a more introspective look at The Muppets and their personal lives.
The format of the show is very similar to Parks and Recreation with interviews, and a mockumentary filming style. While the Muppets themselves are fully aware of the gimmicks and overuse of this style, they manage to use it sparingly, and each interview was used for good humor or too advanced some character development. However, the more interesting angle is the setting, which is similar to 30 Rock.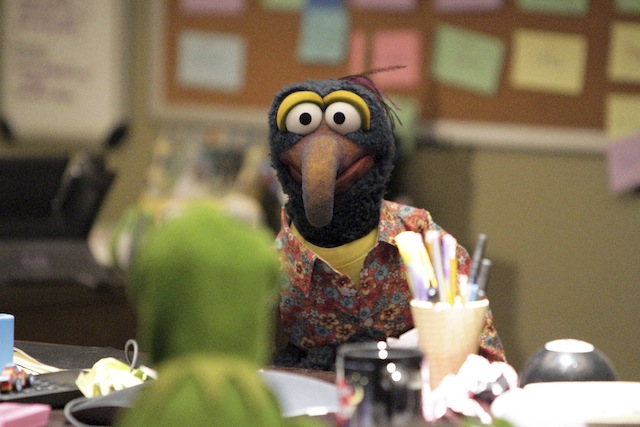 Miss Piggy is the host of a late night show called "Up Late With Miss Piggy." Kermit plays the Liz Lemon type as the producer of the show, Fozzie Bear is the warm up comedian and sidekick, Gonzo is a writer/performer, and the rest of the Muppets have specific jobs to help the show move along. Each of their roles shows a complex hierarchy and gives more depth to the setting of the show. Thankfully, all the Muppets are true to their original characters: Kermit is constantly stressed, Fozzie is overly anxious, and Miss Piggy is, of course, a drama queen. Even Statler and Waldorf maintained their place as hecklers for the show.
While the show could have easily just banked off the Muppets name by hashing out predictable Muppets-esque story lines and parodies, the writers chose to dive deeper into the characters and create some interesting drama. Most of the episode focuses on Fozzie meeting his human girlfriend's parents who don't take kindly to the fact that their daughter is dating a bear. We see Kermit start to fall for another pig named Denise. But most importantly, we actually get a reason about why Piggy and Kermit broke up, and it's surprisingly heart breaking. It's definitely a welcome addition to balance out the zany characters and their antics.
The show isn't perfect, some of the Muppet performers seem to gobble up their words, and at times it was genuinely hard to understand what they were saying. Also, while the humor is accessible for those of all ages, there are some pretty adult jokes. Most are very funny, but it was sometimes weird to see these beloved child icons make some pretty dark and disturbing jokes. Again, none of them are even close to South Park level (chances are kids will not understand them), but it's a little strange to hear these jokes from such adorable puppets.
And of course it wouldn't be a Muppets show with out a slew of celebrity cameos. Elizabeth Banks, Tom Bergeron, Jere Burns and the members of Imagine Dragons all make great jokes, and are a lot of fun working off The Muppets. Elizabeth Banks in particular pokes a lot of great fun at Miss Piggy (and herself for that matter), and has a pretty entertaining fight with Scooter on a golf cart.
Overall, this pilot was a strong first step for hopefully a strong series. Give it a watch and let us know about your thoughts below in the comments section.