Iron Fist Heart of the Dragon #2 continues Marvel's martial arts epic on February 17. Larry Hama continues to write about the martial arts world of Iron Fist converging with the greater Marvel universe. With how artist Dave Watcher depicts each new character joining the fray, the tension and excitement builds. Colorist Neeraj Menon enhances the mythic scale by showcasing how the settings envelop the characters; all while the lettering by Travis Lanham showcases the cheesy dialogue of some of these characters.
Iron Fist Heart of the Dragon #2: Crossover Catalyst
Hama shows that the greater martial arts world is ready to become something more than a Marvel niche. With this series, as well as Shang-Chi, getting more exposure, it's good to see some in-universe recognition. Due to the actions of an enigmatic antagonist, the greater Marvel world can't ignore this series any longer. While it is nice to see this less represented mystical part of Marvel, there are some concerns.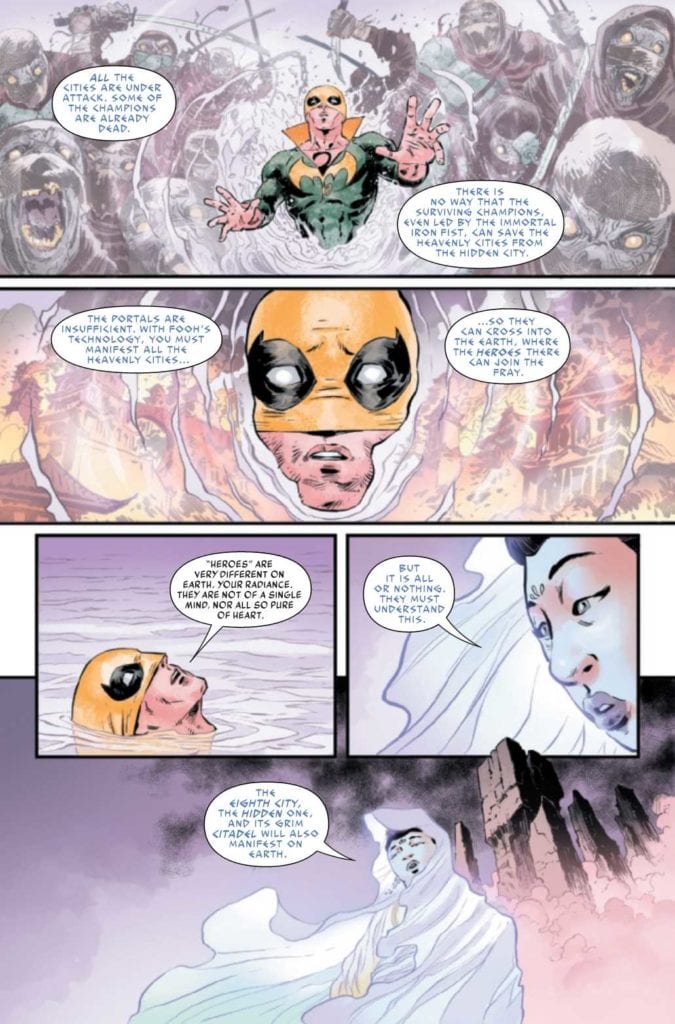 Luke Cage, being only casually invested thanks to his friendship with Iron Fist, notes that even with a new threat, characters from the greater world of Marvel don't exactly have any personal stakes. World-ending threats are so common, it's too hard for Marvel's superheroes to take these things seriously. It's nice to see Iron Fist Heart of the Dragon #2 having a sense of self-awareness.
That's not to say that some parts of Marvel don't mix with this wuxia style world. Black Panther's Okoye looks ready to join the battle. With how many appearances she makes outside Wakanda, it's nice to see her brought into different a new niche.
Art of the Hidden Dragon
Iron Fist Heart of the Dragon #2 features mythic backgrounds by Watcher. The architecture of the Under Heaven cities can look genuinely divine as they materialize in places like a Wakandan jungle. The very presence of the dragons in these cities make even the run down Bao Fu look otherworldly. Then there are the Immortal Weapons who jump out of their debuting panels and converge on a conjoined ground. It's a sense of narrative weight so strong, it brings three seemingly separate panels together.
Menon makes the otherworldly presence all the more obvious. When Iron Fist speaks with an actual goddess, the surrounding cool colors, in juxtaposition with his costume, make Iron Fist feel small. Then there's the darker settings of Bao Fu where Iron Fist's colorful costume (regalia) feels empowering. It's like a light through the dark city.
Then there's the lettering by VC's Lanham. The goddess Guan Yin speaks in a light blue colored and archaic looking font. This makes her appear more divine and presents her as a benevolent force. Otherwise, the way Lanham presents the Immortal Weapons is like watching an old dubbed wuxia movie. In a few panels, the Immortal Weapons practically speak in sequence, like they rehearsed their lines. The lettering flow certainly brings that sentiment through how many words they speak in one breath.
Continue The Journey In Iron Fist Heart of the Dragon #2
Iron Fist Heart of the Dragon #2 will certainly strike some readers' fancy, especially those willing to take a break from A-Listers and tie-ins. The wuxia styled world of Marvel is ready to make itself known. The series is really shaping up by displaying its mythic glory. I'm certainly looking forward to more developments.