Aaron Dalla Villa (Immortal) plays Nolan Parthmore, your average nerd in director Dan Lantz's Alpha Rift, an action-adventure film that's a loving mix of Dungeons and Dragons and Star Wars that sets up a whole world of stories for a new generation.
Nolan runs a gaming store with friends Gabby (Rachel Nielsen) and Lewis (Christopher Ulrich). The trio forms an entertaining dynamic with Nolan joyful caught somewhere between Lewis' need to nit-pick and Gabby's whip-smart sense of humor. Nolan's nerd expertise is the mythology about an ancient order of knights that protected the world against demons known as the Nobleman. Myth becomes a reality when Nolan puts on a magical helm that reveals his true destiny as a knight. But will he become the hero the world needs before it's too late?
PopAxiom spoke with Aaron about becoming Nolan in the independent action-adventure film Alpha Rift.
New Reality
The last time we spoke, Aaron had just finished Immortal. Since then, he's been part of 14 other projects from television and back again with Alpha Rift. "Dan Lantz and I, this is our fourth project together."
"I got the audition through my agent," Aaron says unsurprisingly. "Honestly, it wasn't one of my best auditions. But I got the callback thanks to the callback Gods and ended up booking the role."
Is that feeling of a bad or good audition ever accurate? "You never know. I've had auditions that I thought I was terrible, but I booked the job, then I've had auditions I thought I was the best I've ever been and never heard back."
"Sometimes they don't give you anything," he continues about the audition process. "Sometimes, it's a brief character description and maybe a few pages of dialogue."
But things were different for Alpha Rift. "I had the initial script. If you can get a script, you're lucky."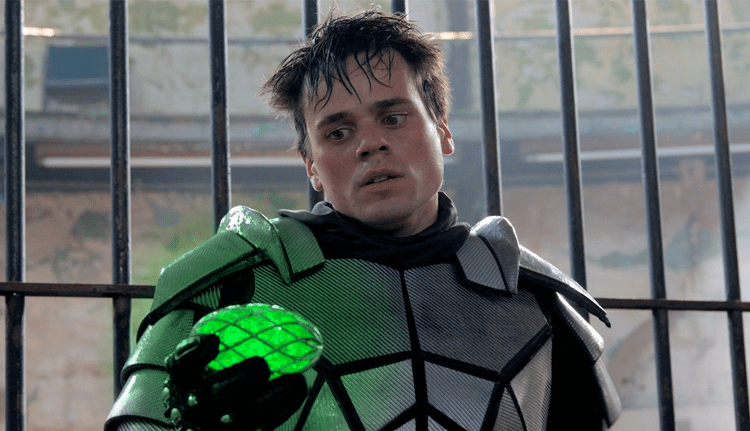 About Alpha Rift
Aaron describes in a name who is at the heart of Nolan's character. "Marty McFly."
Intending to channel the charming energy of a beloved 80s character in mind, Aaron adds, "We talked a lot about the wardrobe. He's wearing a D&D shirt. I think Nolan's outfit is iconic because it hearkens back to those 80s movies."
Alpha Rift features swords, shields, action, and legendary actor Lance Henriksen (Aliens, Pumpkinead). "What else could you want?"
"It's got a reluctant hero, a pretty heroine, Lance Henriksen, and a great villain," he continues, "It's a good time. It's an original IP superhero film franchise."
Aaron reveals, "Dan wrote this script 20 years ago. I got to read that original version. He had the idea 20 years ago, and it came to fruition. It's his baby, and I will support it to the end."
Alpha Rift is an action film that requires the dancer-turned actor to sharpen his sword-fighting skills both on-screen and off. "A lot of green screen," Aaron adds. "People are going to be surprised with what we did. Dan is a wizard when it comes to special FX. COVID pushed the release of the movie back. So Dan got more time to work on the FX."
Aaron ends the Alpha Rift talk with a word about working with Lance Henriksen "learning from his expertise was amazing. He's a national treasure."
Wrapping Up
Alpha Rift made its debut at the 2021 Dances With Films. It's made a theatrical run and is available on Apple, Amazon, or YouTube. Aaron keeps moving, "I've got several films coming that are in post-production. Another project called All Those Small Things starring James Faulkner (Downtown Abby, Game of Thrones). Another Dan Lantz film, Hayride to Hell, where I play Kane Hodder's son. I'll also be in an episode of Gossip Girl."
"I'm focused on doing the next thing and keep doing the work."
Is Alpha Rift on your watch list?
Thanks to Aaron Dalla Villa and Studio Matrix PR
for making this interview possible.
Read more interviews from Ruben R. Diaz today!