The phenomenal hip-hop supergroup Czarface has teamed up with Z2 Comics and artist Ariel Olivetti for an insane fictional-biographical graphic novel in Czarface: A Czar Is Born. Full of music, wrestling, alien invasions, and dudes dressed like dogs, this absurdly fun comic story is the kind of treat made by comic fans, for comic fans, in a way only comics can accomplish. I got to sit down and talk to lead writer and Czarface member Seamus Ryan, a.k.a. MC Esoteric, about his influences and the creative process behind bringing this graphic novel to life.
"Hero to some, villain to others, Czarface's true origins have remained a mystery…UNTIL NOW! Who are the Zarta Ku? And why has their desperate mission brought them to Planet Earth? Meanwhile, Zach and his dog were just a washed up wrestling tag team making ends meet on the comicon circuit when they crossed paths with a woman who will change both their lives forever. Written by Czarface's own Esoteric (Merry X-Men Holiday Special) with art by veteran illustrator Ariel Olivetti (Cable; Punisher War Journal), this landmark original graphic novel is a must-have for Wednesday warriors, wrestling marks, and hip-hop heads–or fans of all three combined!"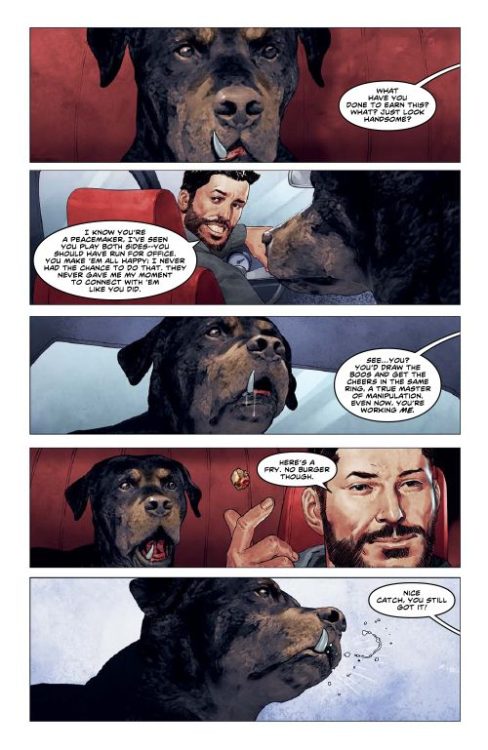 MFR: You writing a comic about Czarface and full of all the over-the-top comic moments and tropes makes too much sense. Where did some of these characters, namely Zach and Fang, and the Zarta Ku, find their origin alongside you guys in this comic?
MCE: Czarface's origin previous to A Czar Is Born was told in our release First Weapon Drawn, and had similar themes, using Zach as a washed-up wrestler exploiting an '80s Russian gimmick, but nothing to do with the music. With Z2 approaching me about an OGN, I wanted to steer it in a different direction. Since their lane is connecting music to comics, I saw that as an opportunity to bring the actual music aspect of Czarface into the fold of his comic story. The Zarta Ku's names, mainly Wageet & Feent, were names my kids invented for themselves as we were all losing our minds during the pandemic. Fang was inspired by Pepper, one of the two dogs we adopted during the pandemic, and also loosely inspired by Matilda, the mascot of the wrestling tag team The British Bulldogs.
MFR: Anyone who listens to your music could probably make a guess as to your favorite comics. What comics and creators did you find most influential while creating A Czar Is Born?
MCE: I always keep Jack Kirby's art close, and I was reading Invincible so having Ryan Ottley draw Czarface for a print that came with the book was pretty damn cool. I'm pretty sure I was also reading Black Hammer from Jeff Lemire, Al Ewing's The Immortal Hulk around the time I was writing A Czar is Born, but the past two years have been verrry fuzzy.
MFR: Z2 has been helping a lot of cool stories see the light of day as comics. How did you get in touch with them and how did they contribute to making this vision come to life?
MCE
: Chris Robinson held an editorial position there, and hit me up about the opportunity. I had known Chris from when he held a similar position at Marvel and asked me to write an X-Men story there, so Chris has done a lot to pull me into the comics world, and thankfully this venture with Z2.
MFR: A Czar Is Born is brilliantly drawn by Ariel Olivetti and co-written by Chris Robinson. How did you get involved with this creative team and how was the process of putting this book together?
MCE: With Chris it was mostly over the phone, I had a lot of thorough conversations with him about the ideas I was developing and, with his experience, he helped me decide what worked and what was missing and how to rectify that. Thankfully Ariel was up for the job as illustrator. That connection was cool because I was a fan and already had some of his books like Punisher: War Journal and Venom: Space Knight, so I was able to visualize how he'd illustrate Czarface, and he really knocked it out of the park. Our communication was essentially done through Chris and then through a translator, as Ariel's from Argentina and I'm here in Boston, so that was a unique process for me.
MFR: More and more I feel like I'm seeing wrestling culture and comics collide, and here we have it again with Zach in Czar Is Born. In your experience, how do these two mediums get along so well and what draws them together?
MCE
: Yeah shouts to Aubrey Sitterson, he put in a ton of work on his
The Comic Book Story of Professional Wrestling
… I feel there's always been that wrestling element dating back to Crusher Hogan in Spider-Man's first appearance, and I remember that short run from the early '90s that Marvel did with WCW! I think they relate because there's the good vs. evil element and the combat element, and the wild storylines that keep fans roped in!
MFR: Kind of a follow-up on that last question, Hip-Hop, and music in general really, has always had a sort of clandestine relationship with the comics medium. How do you think that works, and how do you channel it in A Czar Is Born?
MCE
: I think they're both artforms that take a ton of passion and a touch of imagination. They're also escapes from reality for a lot of people, where they can feel like or become the main character of something in a moment alone. A lot of hip-hop gets its power from confidence and bombastic boasts, where you're positioning yourself as larger than life, and I feel a lot of music artists draw inspiration from heroes they read in comics or saw in animated series….and artists when writing or animating or illustrating can get some refreshing vibes from the music. To me…where I'm sticking my sword into both worlds, it's symbiotic.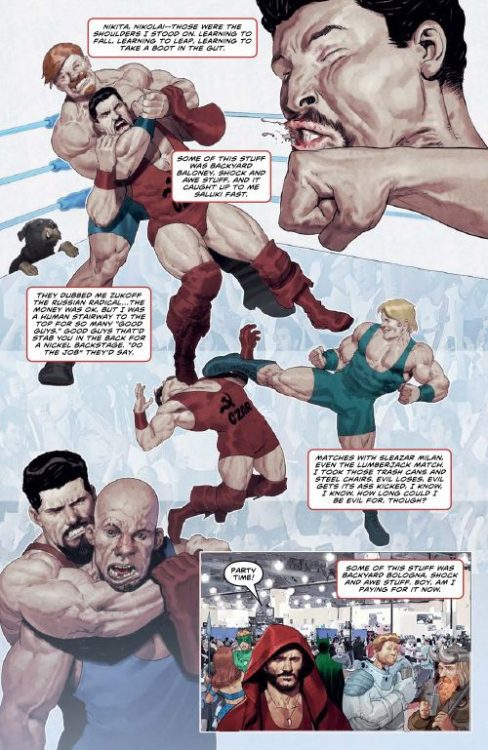 Be sure to grab this rad as hell graphic novel from
Z2 Comics
today!