Glork Patrol (Book Two): Glork Patrol Takes a Bath from James Kochalka hits your local book store on March 9, but thanks to Top Shelf Productions, Monkeys Fighting Robots has an exclusive preview for our readers.
About the book:
Guess who's back for even more wacky outer-space adventure? The Glorkian Warrior and his crew! It's a sticky, soapy, messy delight from the award-winning creator of Johnny Boo and Dragon Puncher!
What a mess! It all started when Glorkian SuperGrandma told the Glork Patrol they could eat candy for breakfast… now their "Dada," the Glorkian Warrior, has a lot of cleaning up to do. Super Backpack gets a robot super-suit made of candy wrappers and takes Baby Gonk on the adventure of a lifetime, while Glorkian Warrior stays behind and tries to help the uncontrollable Baby Quackaboodle take a bath.
Families come in all kinds… even in outer space. This kooky, colorful adventure will feel hilariously relatable and have kids giggling through story time and bath time alike!
Check out the preview below.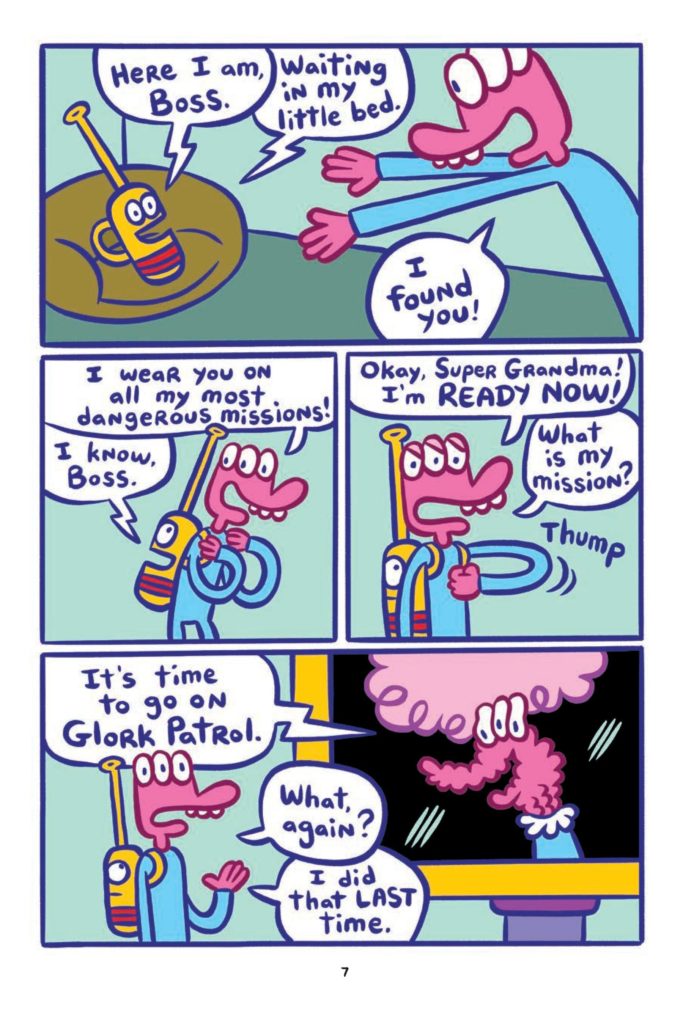 ---
ABOUT JAMES KOCHALKA
James Kochalka is, without question, one of the most unique and prolific alternative cartoonists working in America today. His comics have been published internationally by almost every alternative comics publisher; he's recorded several music albums under the name James Kochalka Superstar (making him a favorite at college radio stations across the country), and he's developed animated cartoons for Nickelodeon and Cartoon Hangover. He is the first official Cartoonist Laureate of the state of Vermont, appointed in 2011. Among his best-known works are the Monkey vs Robot series, the superpowered frathouse comedy SuperF*ckers, the beloved Johnny Boo and Dragon Puncher series for children, and his magnum opus, the decade-plus span of daily diary comics known as American Elf. James lives in Burlington, Vermont with his wife Amy, their two sons, and their cats, all of whom appear frequently in his comics.
---