DC Comics' Batman/Catwoman Special #1 is a tough read. Don't get me wrong, it's beautifully written and masterfully rendered by all the creators involved. But, as many know, this particular issue saw a big change in its creative team during production.
Originally, Batman/Catwoman Special #1 was to be drawn by a giant in the comic book industry: John Paul Leon. But 13 pages into this issue, along with breakdowns and covers completed, John Paul Leon died of cancer. Writer Tom King brought artists Bernard Chang, Shawn Crystal, and Mitch Gerads, along with colorist Dave Stewart, and letterer Clayton Cowles, on board to finish the issue. Instead of a simple history of the Bat and the Cat, Batman/Catwoman Special #1 became a meditation on grief and loss, dedicated to John Paul Leon. Some spoilers ahead for this issue.
Writing
King takes us through a history of Selina Kyle's life. We see her as a young orphan, growing into the role of Catwoman. King's tone is empathetic and warm. We don't judge Selina for her choices. Instead, we understand why she chose a life of crime. In fact, it's hard not to respect her for it. But King, in the latter half of his script, makes a change. He begins to focus on the trials of old age and the heartbreak of loss. Selina carries Bruce through his last days as his health deteriorates. Eventually, she stands by his grave. There, Selina tells Bruce that he's wrong. There's nothing noble or beautiful about grief. Grief sucks. Perhaps King is expressing some of his own frustrations in this moment. His script, following Bruce's decline, seethes with emotion and rails against the idea of accepting that these things just happen. King beautifully and devastatingly communicates his sadness and fury at losing a friend and collaborator.
The beauty of this script, beyond its connection to John Paul Leon, is in how King writes Selina Kyle. We see her grow from a curious little girl into a tired old woman. But when she's young, there's a wisdom that's beyond her age. When she's old, she has the mischievousness of a toddler bent on wrecking havoc. King's Catwoman is a wonderful paradox. Only a character like this, so rounded and human, could feel the weight of the grief King is portraying in this issue. But "feel" might be the wrong word. King doesn't show Selina in tears or screaming in anger. She stuffs the many, complicated emotions down. She's too strong — or maybe, more accurately, too cowardly — to truly feel them. It's grief in a nutshell: realistic and upsetting in its depiction.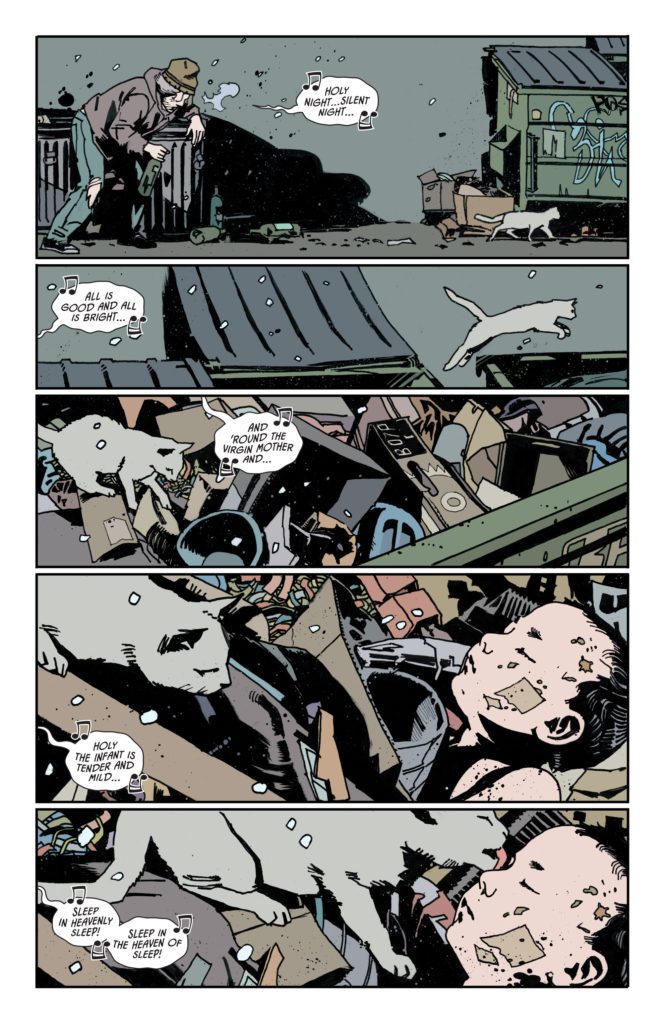 Art
John Paul Leon's finished pages are mesmerizing. He pulls you into the world he's creating and you become completely immersed. Leon had the ability to include all the right details, and let everything else fade away. In some of the most emotional sequences, Leon's backgrounds disappear altogether. Yet, in other scenes, we see Selina balancing over a detailed cityscape. He also makes subtle choices in drawing Selina, which speak volumes about her. In Leon's pages, Selina rarely looks at the "camera." She looks down and away, often with her eyes closed. She's a girl who is full of shame and fury. When she does look at us, her eyes are brimming with tears. But she looks concentrated, even mad. Honestly, it's hard not to cry reading these pages. Not only because it's proof of the beauty John Paul Leon brought into the world, not only because these pages show what a giant we've lost, but because Leon was such a powerful storyteller and he gets you to feel as the characters do.
Chang and Crystal's pages have an unmistakable Leon flavor to them. Leon completed the breakdowns for the pages that Chang and Crystal finished. You can see Leon's visual language at work. Some panels have no background, while others focus on nothing but details in the background. Yet, there's an immediate change in the art too. Not only do the faces of each character look quite different, (Chang and Crystal show us characters that have more prominent features than in Leon's work). But we also see a release of emotion. Where Leon pulled back and away from the reader, Chang and Crystal push forward. We see Selina looking right towards us, with a sorrowful expression on her face. In the middle of this rather muted issue, we get an emotional storm. Coming on the heels of Leon's pages, it feels like Chang and Crystal are allowing the characters to mourn the loss of the pen that depicted them only pages before.
While Gerads does work with his own breakdowns in the final half of this issue, he also employs the visual language of Leon's works. Remove some of the creases on the characters faces, some of the patterns on their clothes, and you could almost be made to believe these were Leon's pages too. Yet there's also Gerads' own ingredients that are added into the mix. We see a touch of levity sneak in. There's a celebration of the characters' highs before the onset of grief. We see interlocked panels: panels that show characters looking at something, what they're looking at, and then back to see their reaction. It has an almost comedic affect at times. And Gerads actually feels like the perfect choice to be doing these final scenes. There's a stark reality to them that Gerads' style works brilliantly for. Every wrinkle, every wart, every grimace, every smile is shown in an unadorned realistic art style.
Coloring
I can't speak to the timeline of when decisions were made by this creative team, but I have a hunch about the coloring. John Paul Leon's cover to this issue has a very different color palette to the interior pages. The cover is warm and nostalgic. The inside pages, perhaps colored by Stewart after Leon's death, feel muted and sad. Regardless, there's an intimate, candlelit feeling to this issue. Stewart turns the lights down, making every scene feel like a quiet chat between friends. Gerads adopts this same palette for his pages too. The few exceptions are the bright orange jumpsuits of Selina's stay in prison, the vibrant red of wrapping paper, the shocking red of Selina scratching someone in a fight, and the neon yellow on the front of Helena's batsuit. But these aren't the halcyon days of dazzling costumes and glittering action sequences. Stewart and Gerads make it clear, this is the twilight of these characters' lives.
Lettering
One of the most stunning things about Cowles' lettering is how he changes his sound effects to match the style of each artist. Often, the sound effects in John Paul Leon's pages are shown in big, hollow block letters. Cowles manages to achieve the feeling of a big noise, while avoiding covering much of Leon's artwork. In one case, Cowles uses thin black letters that actually mimic Leon's lines. Later, in Gerads' more lifelike, wrinkle-filled pages, Cowles uses a messy font for one of his sound effects. The sound of a scratch almost looks like it has been scratched into the page. And when Selina speaks to Bruce's tombstone, her word balloons come down in columns on each side of the page. Visually, it almost looks like the words are hugging his grave.
---
DC Comics' Batman/Catwoman Special #1 is truly something special. For fans of John Paul Leon, this is a celebration of the artist's life and a furious mourning of his death. Complete with essays by folks who knew Leon, and variant covers that many artists used as a way to pay tribute, this issue is heartbreaking and beautiful. It's out from DC Comics on January 25th, at a comic shop near you.
R.I.P. John Paul Leon: April, 1972 – May, 2021
Thank you for inviting us into countless worlds and making us feel at home there.