Originally a novella by Joe Hill (Locke & Key, Plunge) and adapted by writer David M. Booher (Canto) and artist Zoe Thorogood (The Impending Blindness of Billie Scott), Rain #1 is an emotionally devastating and human-centered first issue of this unique apocalyptic comic. With a compelling narrative, great characterization, and wildly singular art, this is an unconventional horror story worth picking up.
"On a seemingly normal August day in Boulder, Colorado, the skies are clear, and Honeysuckle Speck couldn't be happier. She's finally moving in with her girlfriend Yolanda. But their world is literally torn apart when dark clouds roll in and release a downpour of nails—splinters of bright crystal that shred the skin of anyone not safely under cover. RAIN makes vivid this escalating apocalyptic event, as the deluge of nails spreads across the country and around the world, threatening everything young lovers Honeysuckle and Yolanda hold dear."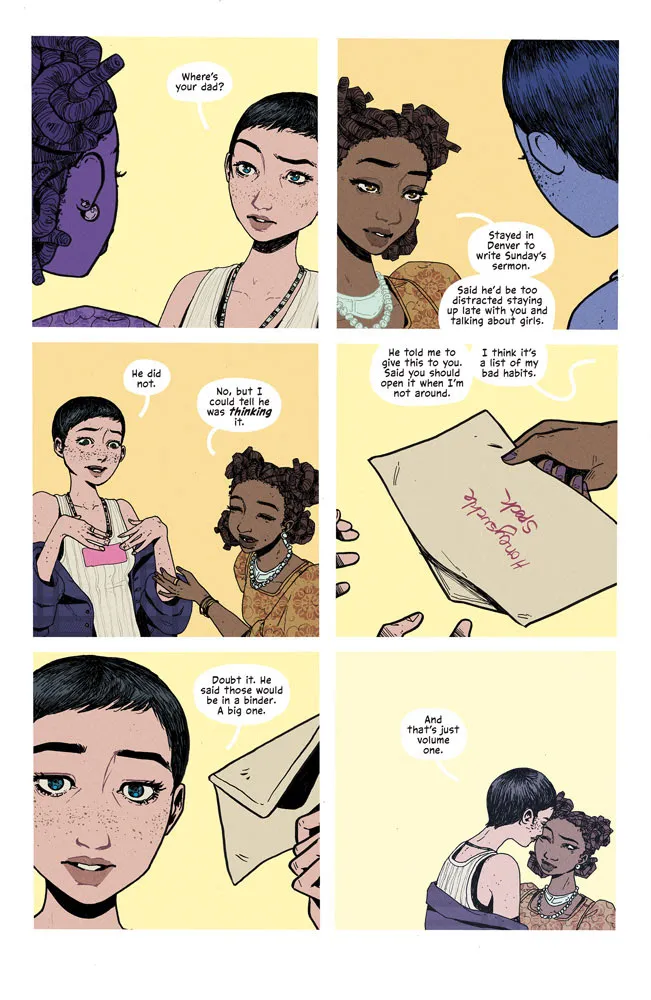 Writing & Plot
In a medium chock-full of apocalyptic scenarios, Rain #1 is a breath of fresh air. Joe Hill's concept of icy needles raining and impaling people is outlandish and horrifying. On the surface, this idea sounds like B-movie schlock. However, the concept is delivered in a plot dedicated to the story and humanity of its protagonist. Hill's narrative, expertly scripted by David M. Booher, is emotionally heavy and beautifully presented. From moments of genuine romantic love to gut-wrenching loss, Hill's prose and Booher's presentation of it crafts a story that brings humanity and severity to a ridiculous-sounding concept.
There is an art in scripting prose writing in comic form, and Booher nails the approach. Internal dialogue that serves as narration is prescient and smartly laid out. His dancing between it and the dialogue would have you believe that this was his story entirely in the first place. All of the pieces of the script mesh together to create something memorable in its beauty and devastation.
Art Direction
Rain #1 is blessed with the unique visual talents of relative comics newcomer Zoe Thorogood. With help from Chris O'Halloran on colors, this comic's art direction is the perfect blend of stunning and disturbing. Thorogood's gorgeous yet unusual character depictions, lanky with big eyes basically, is offset by her eye for detail in facial features and clothing. This latter piece is so effective for how real her choices seem. It's rare I see a comic that depicts how people in their late teens/early 20's actually dress. Aside from this, her depictions of gore are all the more disturbing because of her distinct style. Tha manner in which she depicts such lively looking character being suddenly and viciously impaled by sky-needles makes this comic all the more unsettling – and proves her mettle as a top-tier horror artist.
O'Halloran's colors mesh with Thorogood's pencils in a atmospheric, modern manner. His use of flat tones adds even more of an uncanniness to the visuals while maintaining a gorgeous yet disturbing experience. His variety is worth noting here too. No two people have the exact same shade of skin tone, and no two surfaces are the same color. Overall, this comic is a stunning visual experience that fits its unsettling tone.
Verdict
Rain #1 is a brilliantly human and heartbreaking start to this apocalyptic-horror comic. Joe Hill's work is expertly adapted by David M. Booher's scripting, with cutting narration and standout dialogue capturing the story's humanity. Zoe Thorgood's pencils and Chris O'Halloran's colors make for a uniquely gorgeous yet unsettling visual experience. Be sure to get this on your pull list so you can grab it when it hits shelves on January 12th!