X-Men: Curse of the Man-Thing #1 brings to comic stores the finale of a Marvel Comics mini-event on May 5. Writer Steve Orlando completes the arc of the titular Man-Thing with help from the X-Men. Artist Andrea Broccardo provides dynamic artwork that makes monstrous characters look heroic. Colorist Guru-eFX continues the atmospheric contrast of the settings. Finally, letterer Clayton Cowles gives impact to every decision and action.
X-Men: Curse of the Man-Thing: Embrace Your Monster!
Orlando's focus on Man-Thing and his subconsciousness Ted Sallis comes to a resolution. After all of the self-pity in previous issues and a talk with X-Men's Magik, it's nice to see Ted take back control of his life. For Man-Thing and Ted, this self-acceptance comes with a bittersweet reward. While it is nice to see them exacting payback on Harrower for the first issue, it's hard not to feel frightened by how the Man-Thing is no longer passive. With Ted driving his actions, this development is comparable to Immortal Hulk.
Art
Broccado gives X-Men: Curse of the Man-Thing character dynamics in art. Man-Thing, for example, is accompanied by Magik's Dark Riders, mutants with monstrous appearances. Considering these monsters are attacking the conflict's source while the regular superheroes are on cleanup, it says a lot about their narrative weight. Man-Thing, alongside these mutants, looks more heroic than the Avengers. Even if the scenes they share feature generic pin-up posing.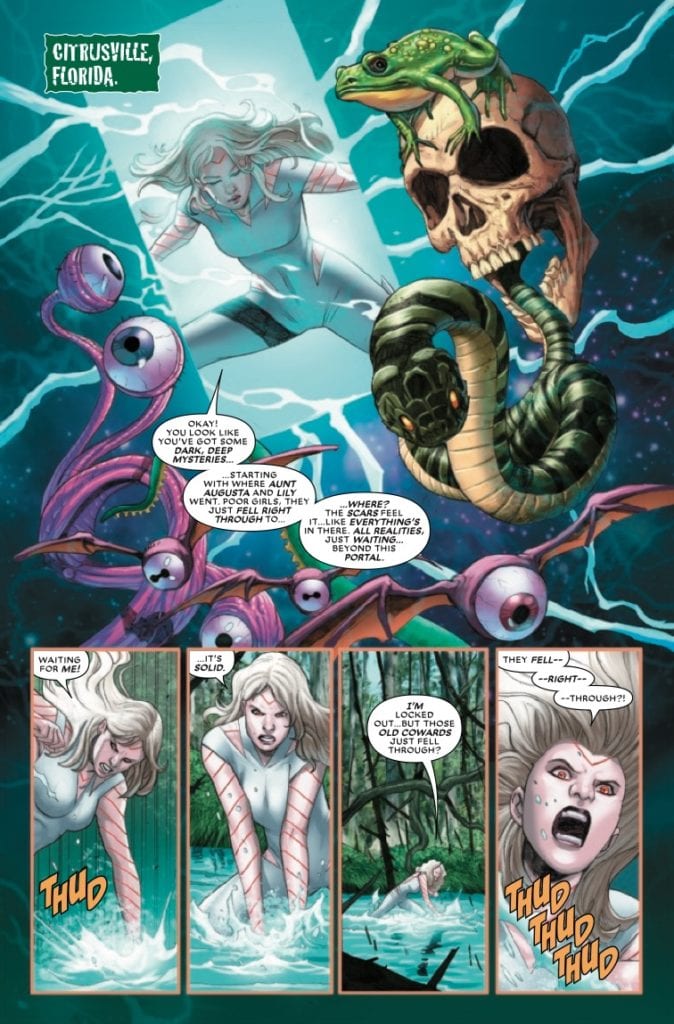 Guru eFX provides a dark atmosphere that looks enticing in X-Men: Curse of the Man-Thing. Everything concerning Ted Sallis takes place under a cover of darkness. It brings an air of suspenseful mystery waiting to unravel. The bright daylight that Harrower and the Marvel superheroes are under looks boring in comparison. A small glimpse into this weird and wonderful world is enough for the reader to understand Harrower's frustrations at not reaching it, especially when she tries to force her way past an invisible wall with sound effects by Cowles.
See X-Men: Curse of the Man-Thing Through
X-Men: Curse of the Man-Thing closes out this crossover series in a satisfying manner. With Ted and his mushy alter-ego just beginning their new status quo, the readers will be eager to see more of them. Hopefully, with as much appreciation for their inner monster as they do Man-Thing.