Marvel announced that they would be revealing some big news pertaining to its "Legacy" event on Friday, June 23rd. Could it have been new titles? New creative teams? A shake-up for the editorial staff? A new mission statement? Oh what could The House of Ideas be doing to "change the comic book industry?"
52 (oh there's irony in that number) homage covers set to debut before Marvel Legacy later this year. No release dates announced. No creative teams announced. Only a few titles are actually new series. At best, this was a wildly misleading PR stunt that was given more steam than it should've. At worst, this is evidence that Marvel just isn't listening to its reader base.
Before we go further in the Marvel bashing, let's just do a little bit of comparing and contrasting. In February of 2016, DC announced its "Rebirth" line. It did not win hearts and minds immediately. "Another reboot?" But, something very interesting happened at Wondercon the following month. While the DC bigwigs announced all the new books, creative teams, and release dates they basically admitted and apologized for its past shortcomings. They felt, and realized that "The New 52" initiative was drifting away from what its beloved characters stood for. That admission gave fans and critics the belief that DC was sincere in its strive for change.
Marvel's recent announcement was void of any form of admission of fault. The brazen announcement of homage covers without any real context to the content of the stories looks more like a sales gimmick. Nothing about this makes me believe that Marvel is listening to the main grievances fans have been having. Marvel prints out too many events (four major events came out since May of 2016). They are constantly renumbering, and relaunching titles, which makes it difficult to keep up with what's going on. Books can get canceled after two issues due to a lack of marketing. There are too many books and not everyone can buy them because readers have a limited income.
It really felt like Marvel released all these homage covers and said, "look at all these cool covers, don't you want to buy them? Aren't they awesome? No need to thank us, just kindly hand over your wallet."
I know I'm being cynical toward this, but can you blame me? I'm looking at a company I love and grew up with make grand, empty gestures to try and maintain its fanbase. I can't speak for everyone, but all they needed to do to win me back as a reader was promise fewer events, fewer titles, and a stronger focus on creative teams. Because there is good work being done at Marvel: Black Panther, Punisher, Daredevil, Thor, X-Men Blue, Ms. Marvel, The Defenders, Invincible Iron Man, Peter Parker: Spectacular Spider-Man, The Ultimates, Captain America (both Steve Rogers and Sam Wilson), and so many other stories.
I have no idea what Legacy will entail. It might be an amazing story that really does get fans excited about the future of Marvel comics. I certainly hope Marvel's Editor in Chief, Axel Alonso is right when he says:
"Our titles will unearth gems from Marvel's rich history, remind readers of connections between characters, and usher in the return of some major characters who've been missed. Above all else, we want to inject our comics with a massive dose of fun!"
I want Marvel Legacy #1 to knock my socks off. I want Legacy to be the renaissance the comic book industry needs. I want to see fans both young and old stand out in line for hours and hours waiting to get copies. I desperately want Legacy to prove my negative self-wrong.
That being said, there is a rather noticeable hiccup in Legacy's release. When DC Universe Rebirth #1 was released it was 80 pages long, and only cost $2.99. On top of that, Geoff Johns famously said, "if people didn't like it, he would personally refund their money." It also was followed up by a large line of new titles with new creative teams. Marvel Legacy #1 is $5.99, and only 50 pages long, and instead of announcing new titles, or new creative teams, they released a bunch of homage covers.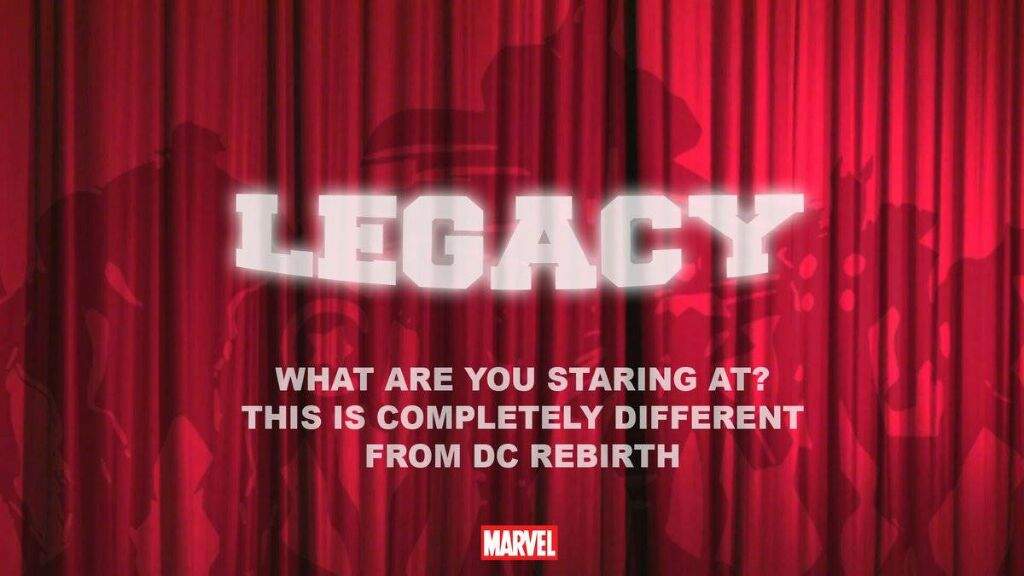 Marvel, you're not changing the industry. You're maintaining the status quo.