WICKED THINGS #6, available Wednesday from Boom! Box, brings with it the conclusion to Lottie Grote's story, and adventure. It may not have been the adventure she'd choose for herself, but it has been entertaining nonetheless.
All of this began when Lottie Grote, teen detective, was falsely accused of murder. The irony, right? Now she's working for the police (on a trial basis), and doing her best to solve crimes and prove herself an innocent person.
Okay, it's not all about proving her innocence. Lottie is not the sort of person that can look away from a mystery, once it has been spotted. With the only exception being the only crime that she's been accused of – that seems to be one she's content to steer clear of. Oh, the irony.
Wicked Things #6 is the conclusion to Lottie's little adventure, yet it is unlikely that this will be the last that fans see of her. After all, she's managed to make her way through several of John Allison's series at these points, and she's unlikely to stop now.
The Writing
Wicked Things #6 had a lot to deal with, and very little time to do so. It wasn't just the conclusion of an arc, but the conclusion of a miniseries. Unsurprisingly, John Allison it all with grace and precision.
By that, I of course mean that it was full of humor, resolution, and just a little bit of action. It is a formula that was perfected in Giant Days, and it was put to good use here. Granted, it does come off very differently, with somebody like Lottie taking center stage.
Do you know that feel-good vibe that comes from teen detective stories? Where everything works outright, and the hero puts all the pieces of the puzzle together before it's too late? That is very much the tone of this final issue.
With a few twists, naturally. There's a sardonic addition to the story, thanks heavily to the characters and their sense of dry humor. It made for a unique take on what could otherwise have been a run of the mill conclusion.
What is interesting is that this series leaves off with a hint of something more. There's no cliffhanger, but there certainly is an open door. At least one of the characters from this series will certainly be making an appearance in the future.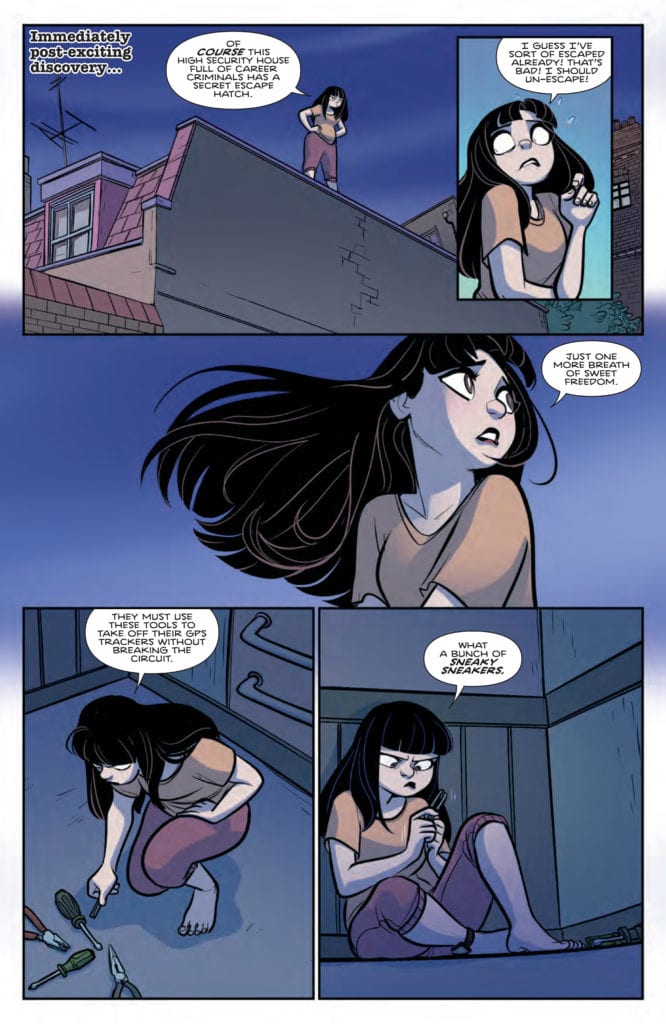 The Art
The artwork inside Wicked Things #6 is every bit as charming as the rest of the series. If you enjoyed the bold colors and shapes of Giant Days, then you're going to love what was provided within these pages.
Max Sarin (art), Whitney Cogar (colors), and Jim Campbell (letters) all worked together to bring Lottie's adventure to life, and it the perfect balance of fun and sassy. The bold characters stand out, thanks to the strong lines and colors used, not to mention their sometimes over the top expressions.
Really though, Lottie is a character one would expect to react strongly, so the artwork makes her quirkiness shine through. Just in comical ways, here and there. The details are the real highlights of this particular issue, from the quirk of a lip to the cramping of a finger.
The backgrounds make everything pop, as most as solid blocks of color whenever possible. It makes the characters, their expressions, and their commentary stand out as nothing else could. Meanwhile, the lettering allowed for a nuanced tale, one that can practically be heard all on its own.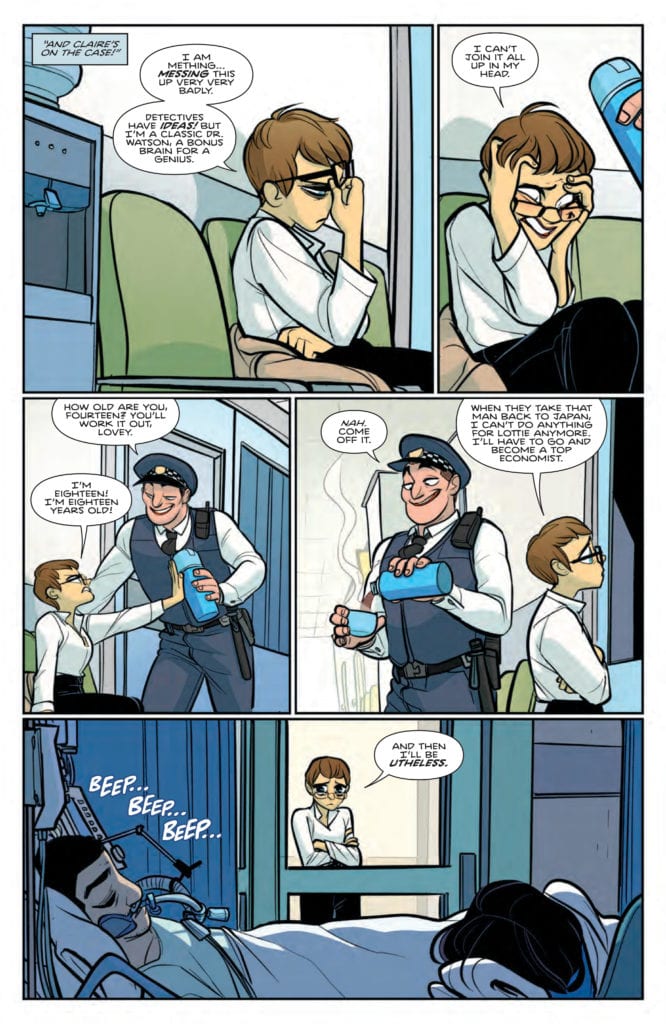 Conclusion
They say that all good things must come to an end, and that is certainly the case with Wicked Things #6. It's bittersweet, seeing Lottie's adventure come to an end, but knowing that she'll almost certainly appear at a later date. When she does, the odds are good that she'll be causing chaos or laying down some sass.