The third episode of Succession reminded fans and critics worldwide that we can't judge a series just based on the success or failure of a singular collection of moments.
While last week's episode was incredibly slow-paced (possessing little redeeming qualities as well), last night's menagerie of seedness and intrigue more than made up for it. Was the second episode of Succession just a setup and this week was our payoff? Could a deluge of distrust, dishonesty, disloyalty, and creative uses of available space ( those who have seen episode three know exactly what I'm talking about) be on the horizon?
If anything, Succession reminded everyone that this series is at its best when the focus is placed on a myriad of storylines rather than one singular focus.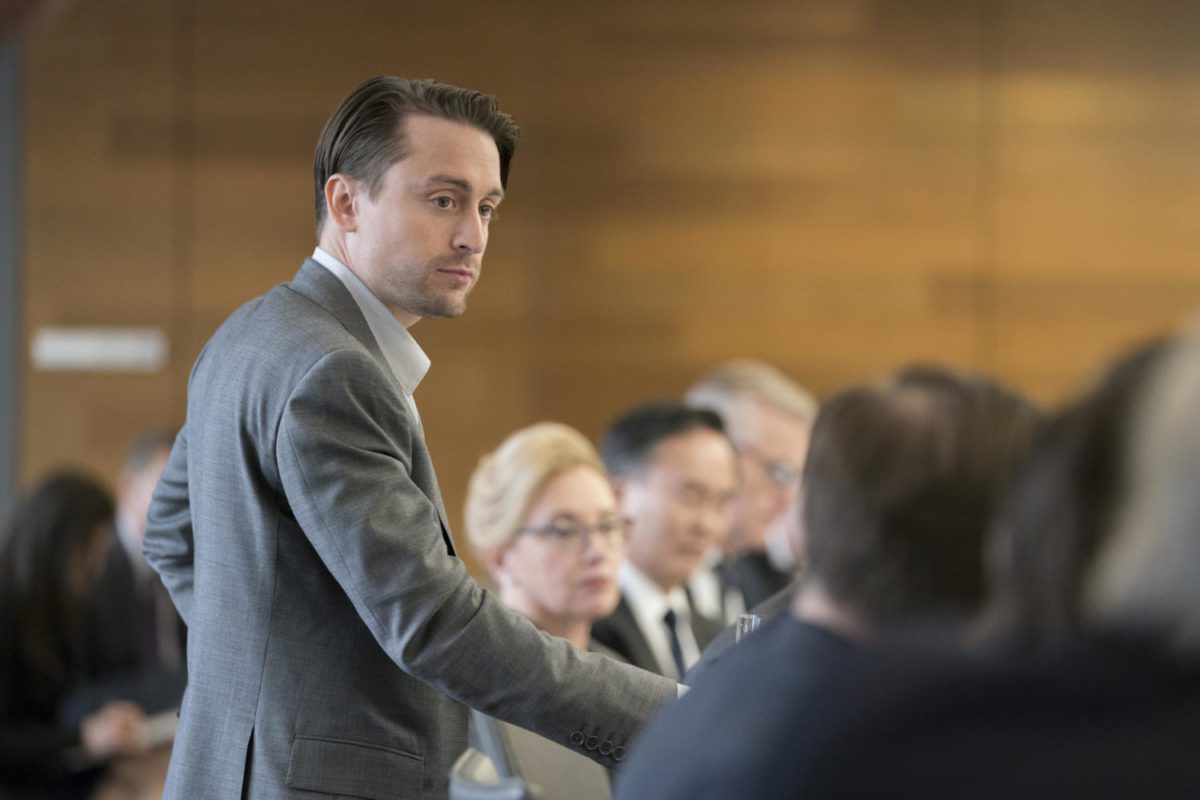 Episode three's narrative centers around the current state of the Roy family following Logan's (Brian Cox) return home from the hospital. Kendall (Jeremy Strong) is still reeling from the news of the massive debt Waystar has incurred. As Kendall, Roman (Kiernan Culkin), and other members of the board struggle for a solution, the mystery behind their father's condition is growing. Marcia (Hiam Abbass) has been restricting access to Logan telling all who want to see him that he needs his "rest." Shiv (Sarah Snook) is had it with her step-mom restricting access to her father and is going to put a stop to it. Shiv even reaches out to an old boyfriend to get some dirt on Marcia as her current behavior has made Logan's only daughter suspicious.
Tom (Matthew Mcfadyen) and Greg (Nicholas Braun) are adjusting to corporate roles and seem in over their heads. As the stock continues to plummet, Kendall is forced to reach out to an outside investor to save the company from disaster (but might have invited an enemy into their lives). Feeling pretty pumped about appearing to save Waystar, Kendall tries to reconcile with Rava (Natalie Gold), who seems conflicted about staying together.
Jonathan Glatzer's writing made ample use of the weaknesses in each of the Roy children, which resulted in unpredictable and entertaining third episode. Kendall is driven by how others perceive him. He realizes that his ascension to temporary CEO is partially to blame for the stocks free fall and wants it to end. By bringing an outside investor into the fold, it creates the perception of the issue is resolved (even though it is not) and Kendall being able to deal with the day-to-day operations of Waystar.
Glatzer really highlighted the depth of these family members in Succession's third episode. Some of the most appealing moments were seeing Strong's character squirming and clearly over his head during these negotiations and seeing how frantic he was to make a deal which he will regret later on. We also get to witness how self-serving Roman is. After his trainer embarrassed him, Culkin's character makes it his mission to tear him down just because he can. It appears the Chief Operating Officer of Waystar is more concerned about personal gratification whether it's in his professional or private life.
It was certainly nice to see a battle brewing between Shiv and Marcia. The staging of their confrontations on the stairs was perfect and may have been a preview of what's to come down the road. There's more to Marcia than meets the eye and her wrath might be forthcoming.
Perhaps, the highlight of the first three episodes of Succession came when Kendall attempted to win Shiv back with this great line –
"You Claim (of course I Don't Believe You) that when we lived together you were unhappy , one us is going to be unhappy .. I just don't see why it has to be me."
Overall, Succession got back on track with an episode which seems to be the start of some explosives moments to come. Fans will continue to stay with this show provided they keep this course and the focus remains on the dysfunctional members of the Roy family.