Shadowman #1 out from Valiant Entertainment on April 28, reintroduces its title character to readers. Writer Cullen Bunn keeps the character and motivations at an easygoing pace. With the horror-action aesthetic by artist Jon Davis-Hunt and colorist Jordie Bellaire, a simple plot is easy to digest. Clayton Cowles' lettering beckons the reader's attention by enhancing all of the story elements' expression.
Shadowman #1: Who Is Jack Boniface?
From an interview with Bunn from 2020's C2E2 there's a lot going into this series since his earlier Voodoo series Punk Mambo. But before any of that happens, Shadowman #1 serves to set-up the title character and the conflicts he will face. Jack Boniface is a semi-average person who just wants to play his saxophone. Only for his supernatural superhero life as Shadowman to take priority. Spirits coming out of the Deadside and wreaking havoc? He's your guy, even if the smarmy death loa Baron Samedi is the one pointing him in the direction.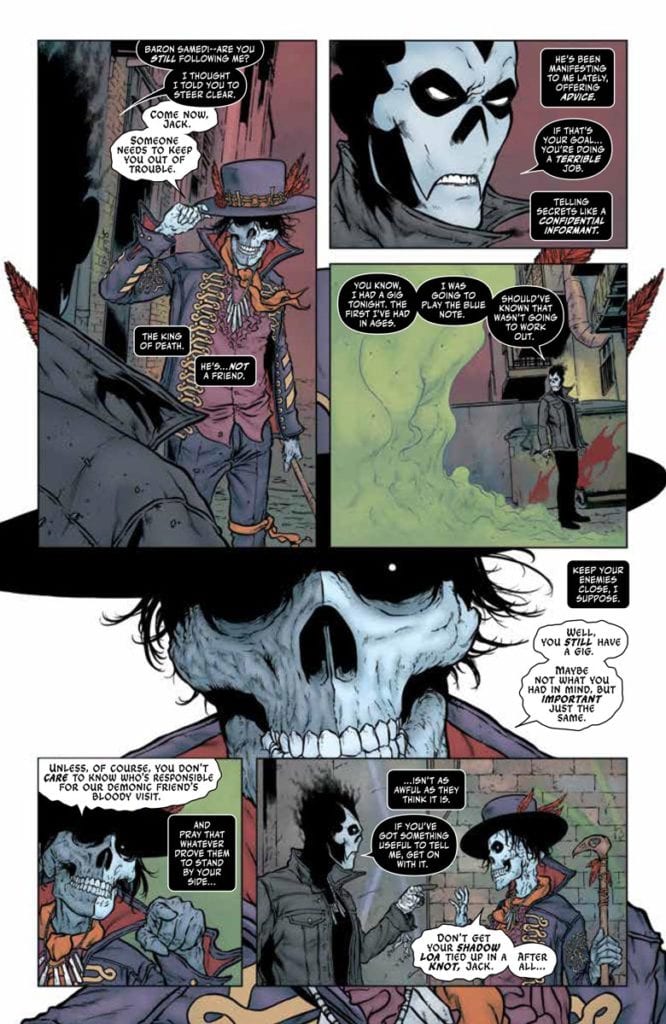 So when a cultish rich bunch are up to something, superhero fans like myself expect something big to come out of it. Only to find that this event barely counts as plot progression. These are cheap thrills at some poor souls and a spirit's expense for a ritual. Surprisingly it's rather good with the horror-action themes; Shadowman is quite capable against things going horribly wrong. Seeing ghost locusts burst out of a body can scare away regular men. But when Shadowman realizes that someone else set these events into motion, the reader can't help but immerse themselves into the mystery. Things look like they're about to get worse.
Action Before Horror
Shadowman #1 features action-style panel work by Davis-Hunt. This style makes a strong first impression by steadily displaying elements at play. As the reader approaches the site of conflict, there comes images to ready them for something big. A damaged mask with bloodstains, sharp pale teeth, and Shadowman's dog tag gives way to a big action scene in a two-page spread.
Within this two page spread comes an action sequence where the panel size showcases how much time moves. One big image is practically frozen in time to give a short but sweet exposition in art and lettering. The first thing the reader sees is a white alligator-headed spirit with a height advantage over Shadowman. Bellaire's coloring is a strong contrast to the darker Shadowman, like he wasn't already a threat to the hero before. The fact that Cowles color-coded captions are heading towards Shadowman feels like the action is happening in slow motion until the smaller panels speed up the battle with the yellow backgrounds used to highlight moments of impact.
Don't Skip Out On Shadowman #1
Shadowman #1 may not be the most impactful start to a series, but it does give new readers a chance to know Jack Boniface. Besides, action-horror thrives on how capable characters like him are against initial threats. It's what this issue prepares in the background that will keep readers around.