Writer and actor David Dastmalchian and artist Lukas Ketner return to the realm of B-horror mayhem and grease paint makeup with Count Crowley: Amateur Midnight Monster Hunter #1. Featuring colors by Lauren Affe and letters from Frank Cvetkovic, this opening chapter to this sequel-series is a fast-paced and fun start to the continuing adventures of Jerri Bartman – recovering alcoholic and horror-host extraordinaire! With a sharp script and ever-outstanding art, this comic is a welcome release for fans of the surprise hit original series.
"It's been a hell of a week for Jerri Bartman. She lost her job, crashed her car, took the only gig available hosting the midnight monster show, and . . . oh yeah–dismembered a zombie. No big deal. Now, to protect the people she loves, she's going to have to take a crash course in monster hunting. And quickly–a vengeful vampire just booked a first-class flight into town."
Writing & Plot
Fans of the original series will be treated to a nice reversal of fortunes for our protagonist in Count Crowley: Amateur Midnight Monster Hunter #1. In the first issue of the first volume, writer David Dastmalchian handed us a Jerri Bartman that was down on her luck in every conceivable way  – then he threw a werewolf at her. Here, that luck is trending upward. We get to see our reluctant/amateur monster hunter kicking the sauce and going cold turkey, showing up for her job, and even being (relatively) personable. One of the biggest surprises and endearing qualities of the first series was just how complex and dynamic a character Jerri turned out to be. The results of those elements are on full display here, with Jerri feeling like a mix of Ellen Ripley and Jessica Jones but still being unique. Now of course while this is all great, the real draw is the whole "monster hunting" bit. It's here where Dastmalchian really opens up with his love of creature-feature horror. This issue makes it clear that there's going to be a much heavier focus on the lore of this world and its beasties this time around. We get introduced to how the different monsters work together and, most importantly, where vampires fit into all of this. I gotta say, making a group of slimy one-percenters blood suckers is a huge win in my book.
I do have a minor word of warning about this issue. Due to this being a direct continuation of a very recent series, it isn't newcomer friendly. If you jump into Amateur without first reading Reluctant, you're going to be missing a lot of context. This issue takes place in the same week as the prior series, so things happen pretty fast here. In other words, this could have easily been an issue #5 instead of a new #1. This being said, Dastmalchian's snappy, fun, and naturalistic dialogue as well as his penchant for great character writing and goofy monster antics make this comic more than worth jumping into.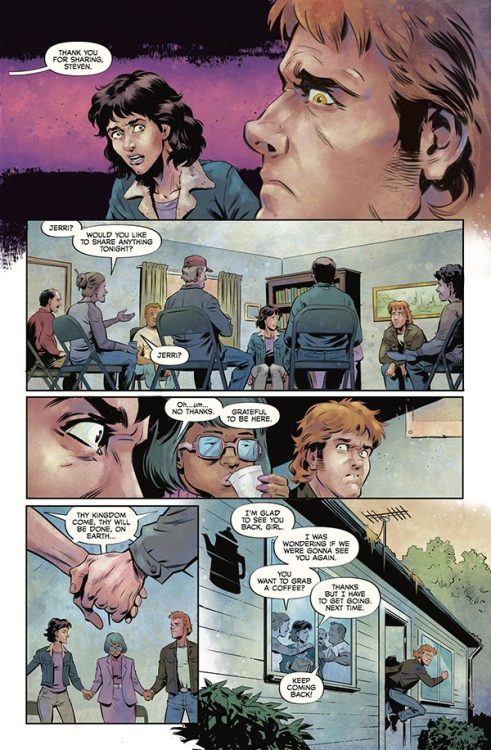 Art Direction
Just like with the first series, artist Lukas Ketner is on hand to deliver an absolutely stellar visual experience for Count Crowley: Amateur Midnight Monster Hunter #1. His well-animated and detailed character drawings are a constant draw for this book. His style in this comic lands somewhere between a Hanna-Barbera cartoon and a haunted house story. Each of his characters obviously share a similar look, but Ketner gives them each a life and personality all their own. The way he composes his scenes really puts this comic's influences on display. There are tons of horror film-esque build-ups and turn of the page reveals that seal the book's similarities to classic B-horror films. These elements, and Ketner's careful composition while orchestrating the comic's visual pace, make his work here just as outstanding as it was in the prior series.
Perfectly completing the tone and visual atmosphere of Count Crowley is the coloring of Lauren Affe. Also returning from the prior series, Affe's murky, chalky coloring nails the smoky retro VHS horror aesthetic this comic strives for. Every color appears muted while still being rich and full. The lettering from Frank Cvetkovic is functionally perfect. Every one of his font changes and SFX letters pop at just the right moments while performing their job and blending into the reading experience. Overall, this comic is an absolute visual triumph.
Verdict
Count Crowley: Amateur Midnight Monster Hunter #1 is a successful return to this little love-letter to creature features and late night horror. David Dastmalchian's script, while simplistic and exposition laden, is so fun, snappy, and filled with compelling character writing that it remains a treat for readers of the original series. The visuals from Lucas Ketner and Lauren Affe are brilliantly well-detailed, animated, and tonally spot-on and deliver the perfect reading experience for this monster-hunting mystery. Be sure to put this series on your pull list, and grab the collection of the original series from your local comic shop!