Matt Reeves' The Batman will go down as one of the best comic book movies ever. Nearly 10 years after Christopher Nolan's trilogy, Batman returns in this dark and spectacular iteration of the caped crusader. The Batman will keep audiences enthralled with its cinematography, terrifying villain, and unique portrayal of Bruce Wayne. I can't decide where it ranks, but The Batman left me excited to see what could come next.
Initially, Robert Pattinson's involvement was a concern, but he silenced my doubts here with a gripping performance as Batman. The film's production struggles also were a source of concern, and thankfully, these hurdles didn't stop it from being the near-perfect film that it is. The Batman managed to tell an engaging noir-style story with a grim backdrop, Gotham City. Reeves directs and co-writes alongside Peter Craig, and for horror fans, you may get the feeling you are watching Seven.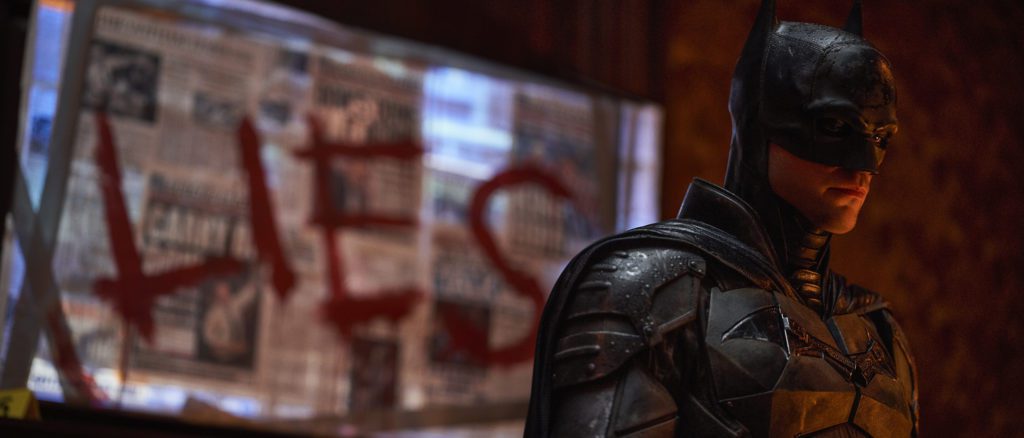 Pattinson is joined by some great talent, including Zoe Kravitz, Paul Dano, Jeffrey Wright, Colin Farrell, Andy Serkis, and John Turturro. The Batman Follows Bruce Wayne, as he navigates the streets of Gotham while pursuing the Riddler (Dano). Kravitz stars as Selina, better known as Catwoman, a wrench in Batman's good vs evil thought process. The similarities between the two allow them to form a complex romance. Selina's emotional turmoil is captured tremendously by Kravitz, who does a great job in the role.
This approach to Batman plays with the murder mystery, which keeps the narrative so intense. In fact, Batman's character comes off as very menacing due to the way the story is handled. He's the hero, that is expected, but certain shots speak to the internal trauma within Bruce Wayne. His silhouette arrives on the scene, slowly appearing out of the shadows, as his foes look on with terror and intrigue. These shots effectively build interest regarding Bruce and his struggles. You get the traditional comic book lore, orphaned at a young age, but the film handles the death of Wayne's parents in a refreshing manner.
Riddler is hyped up throughout the film, so much that his inevitable meet-up with Batman feels like an earned payoff. He's threatening and unnerving, and this is only amplified by Dano's powerful performance. Commanding your attention every moment Riddler is on screen, delivering his lines in a calm, yet sinister fashion. The Batman is one of the most aesthetically pleasing films in recent memory, Greig Fraser's cinematography captures the hopeless, depressed, and grim nature of Gotham. The lighting assists in setting the bleak tone that is maintained throughout the film.
Batman's symbol of hope only grows stronger as his silhouette stands out among the miserable city. Certain frames capture that theme gloriously, and one, in particular, happens right after a thrilling chase sequence. A fire rages on behind him, but Batman slowly walks ahead towards his target. It's a shot that compliments the mystery of the character so well, while also creating fear from the villain's perspective and maybe some audience members too. Michael Giacchino's brilliant score heightens the drama that unfolds and effectively builds on the suspense that constantly swells up.
Reeve's direction here has earned him the honor of being responsible for one of the best depictions of Batman. The Batman has breathtaking shots and is possibly the most grounded iteration. I would say the pacing could have been better in the third act, and there were a few instances that felt unnecessary. Still, Reeves delivers a tense, gritty, and highly suspenseful detective story that keeps you engaged.
The Batman will be regarded as one of Pattinson's best achievements, as the film is truly near-perfect. He is incredible in the role, and I look forward to seeing him return as Batman. Gotham is depicted as a crumbling waste land, so that was an aspect millions will instantly talk about for many months. The film doesn't rank above The Dark Knight for me, but this is another brilliant Batman movie.