The 355 was an entertaining experience carried by strong lead performances and thrilling action sequences. The chemistry between its leads keeps the narrative compelling, but never enough to truly care about the outcome. Suffering mostly from its lackluster plot, The 355 doesn't make the most out of its potential to be a great spy film. It would have been a worse outcome without this talented group of actresses.
Jessica Chastain leads the ensemble cast of talented actresses, who all make their characters feel unique. Sadly, The 355 doesn't deliver a story that is worthy of all the talent it features. An international spy film that is very fun at times, but its rapid pacing can grow tiresome on many occasions. Chastain is joined by Penelope Cruz, Diane Kruger, and Lupita Nyong'o. The 355 follows Mason Browne (Chastain), a CIA officer, who teams up multiple agents to stop a terrorist organization from starting World War 3.
As compelling as it sounds, this film doesn't always retain its intrigue when the action ceases. Mason Browne is a skilled CIA agent that possesses a lot of confidence in her role. She joins forces with Khadijah (Nyong'o), an old ally after a device designed to take over computer systems falls into the wrong hands. These ladies team up with Gracie (Cruz) and Marie (Kruger) after they identify a common enemy. While they all stand out on their own, the film's pacing makes it difficult to grow attached.
Performance-wise, The 355 stays afloat thanks to the brilliance of its main quartet. Everyone plays off each other well, and over time, there is a familial bond growing between the characters. I just can't understand why the film didn't decide to give the characters more depth. There's tremendous acting on display for flat characters, which doesn't always leave a good impression. It had the ingredients to be something special but just came across like another action film.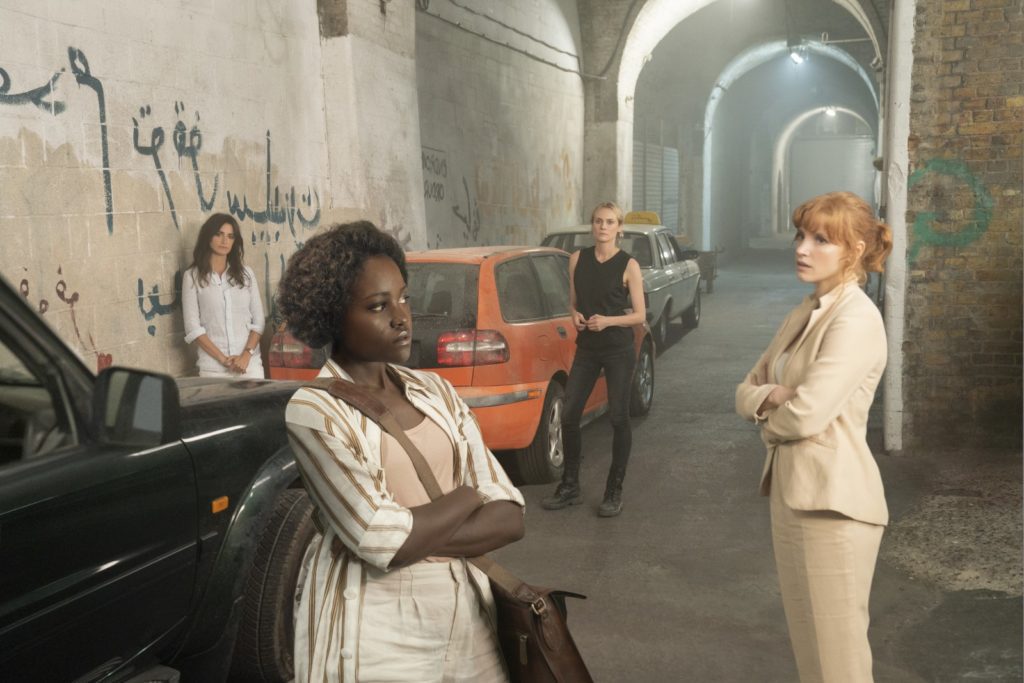 The action sequences will have you on the edge, and the choreography is great as well. However, this is always when the film is at its best because the character interactions aren't always interesting. The 355 might leave some viewers confused due to the narrative feels like it's running a marathon. Despite its two-hour runtime, this movie could have benefitted from letting its plot breathe. It does grow hard to follow at times due to how much information is being unpacked at once with almost no time to process it.
Director Simon Kinberg collaborated with Theresa Rebeck on the screenplay for the film. Its biggest issue lies in how its conflict shines brighter than the characters involved. As a whole, The 355 doesn't give strong reasons to care about these ladies stopping World War 3. While admirable, Mason and her partners just get overlooked in terms of character development. The 355 allows bits of their personal lives to become intertwined with the conflict, which heightens interest in the ladies silencing the doubt they face from their respective agencies.
The film's messaging about female empowerment is made loud and clear. It doesn't get shoved down your throat, but some dialogue could have been left out. Witnessing the quartet of women travel the globe in elegant clothing was another highlight. The multiple locations they visit amplify the high stakes. Kinberg makes all the hard-hitting action exciting, and I'd say this was better than the last project he directed.
The 355 has all the ingredients to be something great but didn't come together as neat as it could have. This won't launch the Bond-type franchise, and possibly is going to be ignored upon release due to the lack of marketing. A star-studded spy film that coasts on its star power the most. The 355 will not be the film everyone rushes to see, but it's entertaining enough.