Writer and artist Mirka Andolfo (Mercy, Unnatural) graces us with her long-awaited erotic comedy in Sweet Paprika #1. This raunchy romantic comedy is deviously funny and endlessly charming, with genuinely laugh out loud humor and relatable awkwardness. With stunning colors from Simon Tessuto, letters from Fabio Amelia, and excellent localization from Steve Orlando, this gorgeous comic is a must read for  fans of raunchy erotic comedy.
"Paprika is a successful businesswoman, a New Yorker of Italian origin. Job and career consume her, forcing her to neglect her personal needs as well as her friends and family. Her heart is broken from a previous relationship and its consequences, and a rigid upbringing has made her a very introverted person. She wants a romantic relationship, but she doesn't know what she's doing. Not like Dill, a naïve and suave delivery boy with an angelic attitude, handsome, and always surrounded by beautiful women falling for him. He doesn't have a worry in the world, and this makes Paprika very nervous. But he's the guy who could help her with her feelings (and with…sex)."
Writing & Plot
Andolfo successfully crafts an endearing and hilarious experience in Sweet Paprika #1. What makes her story work is how she blends goofy hilarity with completely relatable interpersonal issues. Paprika's likestyle begins and ends entirely with her work, and this directly interferes with how she has (or doesn't have) personal relationships. Andolfo couples this with her reservations about relationships (mainly sexual ones) and her early life. This raunchy comedy is surprisingly adept at nailing very real problems many people have no doubt dealt with. Paprika is a likeable and relatable person (err, demon) despite her stylized presentation and wealthy lifestyle.
Let's not beat around the bush here; Sweet Paprika is very much a raunchy romantic comedy. As such, this comic does not shy away from numerous kinds of sexual content. Most people picking up this comic likely already know what they're getting into, so there's not much of a need for warning. I am here to say though that the handling of this content is thoughtful and often completely hilarious. Andolfo's over-the-top handling of the characters and situations of her semi-fantastical world translates neatly into her sexual content. She handles the sexual situations in the same manner she does the comic's other personal issues. Every plot element here is guided with a careful mixture of absurd comedy and relatable character writing.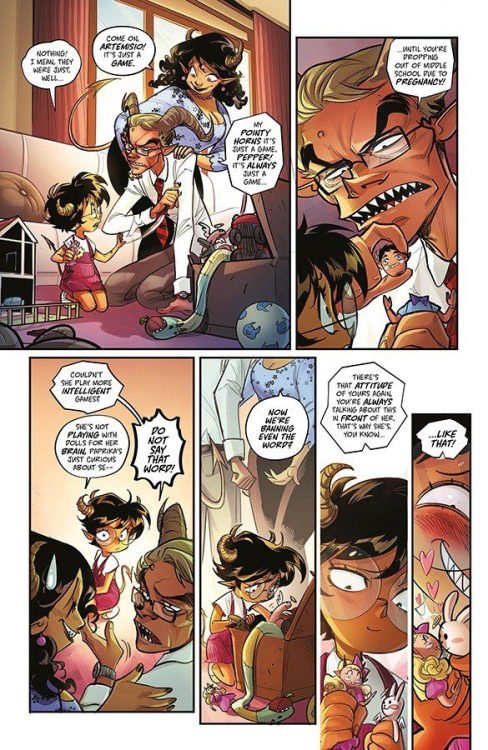 Localization
I have to give credit to the localization efforts of Steve Orlando on this comic. Andolfo's first language is Italian, so making the dialogue and narrative easily accessible to English-speaking readers required a bit of extra help. Orlando knocks the localization out of the park here. All of the core elements of the narrative, as well as the humor and intimate character detail are all maintained naturally in this version. While the comic's subject manner and brash attitude may throw some readers off, this is a fantastic read for the right audience.
Art Direction
I imagine many readers will be picking up Sweet Paprika #1 primarily for Andolfo's artwork. They will be in for a treat, as this comic's visuals are wonderfully vivid and fun to behold. Andolfo injects so much life into her work here that it's difficult not to smile while reading this comic. Her often cartoony animations perfectly illustrate the tone of the story, and give all of her characters a massive amount of personality. The panel and page direction is unpredictable and wildly creative. There's a sort of spontaneous style to how Andolfo puts scenes together that is only feasible for a hyper-talented cartoonist.
Simon Tessuto brings the visual experience to an incredible high with his outstanding color work. The vividness he brings to Andolfo's pencils is almost surreal, as his palette is a huge reason why the often over-the-top cartoony visuals actually work so well. The way Dill's teeth glint as he flashes a charming smile, or how Paprika's face changes shades of red are great details that are all owed to Tessuto's eye. Fabio Amelia's letters are reflexively solid, with a clean modern font that naturally changes style to blend into the reading experience. This is an incredible looking comic in every aspect, and one that is sure to please fans and newcomers to Andolfo's work.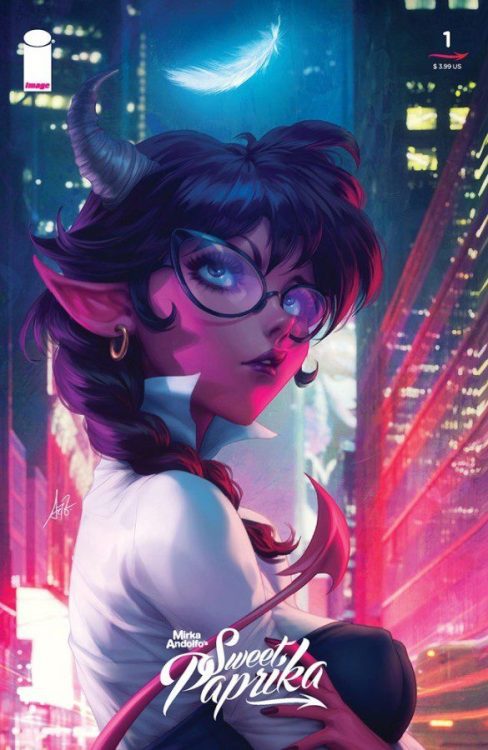 Verdict
Sweet Paprika #1 is a triumph of an erotic comedy comic book. Mirka Andolfo's story manages to be hilarious and relatable, mixing fantastical absurdity with great personal character writing. Her pencils in conjunction with Simon Tessuto's colors make for a lively and vivid reading experience. While this comic's directness won't be for everyone, this will be sure to please fans of Andolfo's brand of raunchy comedy. Be sure to grab this issue when it hits shelves on 7/28!