DC Comics' Nightwing #80 is an incredibly fun comic. Especially since it occurs right after a grisly murder. But writer Tom Taylor, artist Bruno Redondo, colorist Adriano Lucas, and letterer Wes Abbott know that the best way to underscore tragedy is by ignoring it.
Writing
As the issue opens, Dick Grayson is informed that a man he tried to help has been found dead. It's a pretty rough way to start a comic, but you wouldn't know it from Nightwing #80. Immediately, Dick jumps into detective mode. There's no time for the trauma to sink in and no soul searching in these pages. Taylor doesn't spend time having Dick search his emotions. He knows that's bad writing. Taylor has Dick ignore everything and get straight to making it right. In a way, this makes the trauma of the situation feel even more powerful. One of Dick's first good deeds with his newfound wealth ends in tragedy. "Did you know him?" someone asks. "Not really," Dick responds. He gives a brief synopsis of meeting the man. "I'm sorry," the person says. "We're getting off here," is all Dick replies. He can't think about it and he does what he can to make his own evasiveness as noble as possible.
Art
Redondo does just as much work in making this issue fun. He experiments with a double-paged spread that shows Dick and Barbara moving through Dick's apartment. He has Barbara appear as a tiny cartoon character at one point. Redondo shows us a step-by-step of Nightwing assembling his baton, looking like something right out of a safety guide on an airplane. Every page pushes the art to new, entertaining heights. But there's a darkness beneath the surface too. One of the few times Dick actually talks about the murder, his face is obscured. We see him as a black outline, with his domino mask showing in bright blue. Even as a silhouette, he almost looks angry. So, Redondo sprinkles in hints that everything isn't as alright as everyone is trying to make it seem. Dick is hurting inside and the fun of the issue is making for a great distraction.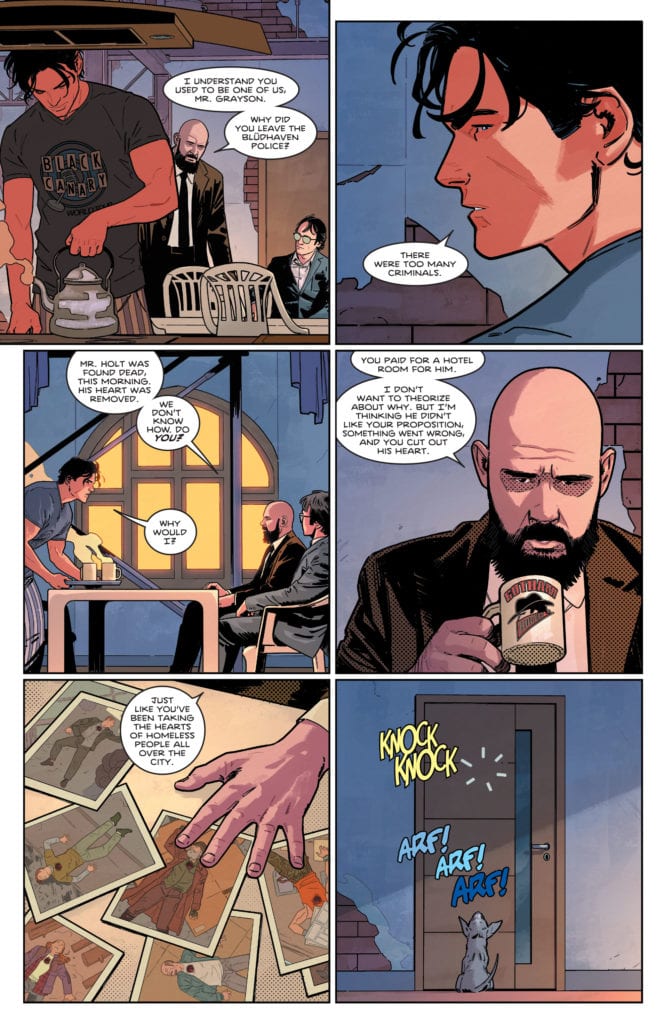 Coloring
Just as in the last issue, Lucas colors everything like the sun is setting. Scenes have an orange haze to them. At times, it makes the comic feel both beautiful and a little lifeless. The characters occasionally look pale in the light, like they're not feeling like themselves. But when Dick runs into some supervillains, everything changes. We see the bright purple power emanating from them, and the blues on Nightwing's costume look brighter than ever. Lucas points out to us here how some of Dick's coping is unhealthy. He's pushing his emotions down and jumping at the chance to distract himself. Even if it means beating up two-bit baddies.
Lettering
Abbott uses the page brilliantly to show the timing of the dialogue. Some word balloons practically overlap each other. Often, they're followed by a bigger gap between lines of dialogue. It gives us a sense of the rhythm of what each person is saying. But more than that, it makes us feel like these characters know each other well. They're comfortable butting in and saying what they were thinking. They also know each other's cadence enough to know when someone is done talking. But that's only half of what makes Abbott's lettering so great. The rest of it is his sound effects. Many of them work seamlessly into the art: a "TOK!" behind a villain's head as it's getting hit or the "FZZZZT!" of another villain shooting lightning. All of his sound effects are bold, bright, and lots of fun to see.
---
Not only is Nightwing #80 a blast to read, it shows this creative team gets people. They know how the human brain works. In the wake of a strange and unexplained tragedy, this cast of characters is chipper. They're all working overtime to avoid thinking about it. Every member of this creative team shows us that. Pick up Nightwing #80, out from DC Comics May 18th, at a comic shop near you!