If you haven't read Martian Lit's Necropolitan yet, part of me really doesn't blame you. Mike Phillips, Julian Darius, and Steven Legge's vision of Hell is haunting. Calling a story about Hell "haunting" might seem a little obvious, but Necropolitan's way of unsettling you isn't obvious at all. It sneaks up on you when you're least expecting it. You're likely not to sleep again after getting a peek at this particular underworld. Writers Phillips and Darius, along with artist Legge, hide the most disturbing facets of their take on Hell deep beneath the surface level death and torture. When you wade through all the blood and guts, what you find at the center of Necropolitan is a story about the lies we tell ourselves.
Writing
Phillips and Darius waste no time hitting you with the twisted wildness of their series. In the first page, we're introduced to some poor sap who's the newest resident of Hell. He's being pushed out of a demonic birthing canal, tears streaming down his face. Before he can gather himself up, he's mercilessly beaten by his soon-to-be guides, Jack the Ripper and Elizabeth Bathory. His hair is pulled and his throat is cut. The blood starts spraying right away in this series, and it rarely pauses for long. There's torture, rape, murder, and characters who laugh and whoop in the face of all of these things. But believe it or not, these aren't the moments that really stick with you.
No, the scenes that will keep you up at night happen in the quiet between instances of chaos. Roman orgies and gang wars won't faze you as much as when Jack the Ripper chooses a woman to escort him home for the night. When you see people decapitated or shot up in battle, you'll be able to shake it. You won't be able to shake the way Elizabeth Bathory playfully taunts a woman who she's planning to disembowel later. And soon, it's clear that the main character of this series is just as self-deceived as the others. He thinks he was a good killer — a righteous man. Phillips and Darius almost seem to be asking us a question. "Waking up in Hell and still believing you're a good person… that makes some kind of twisted sense, doesn't it?" The heart-dropping, blood-freezing truth of it is: yes, it does.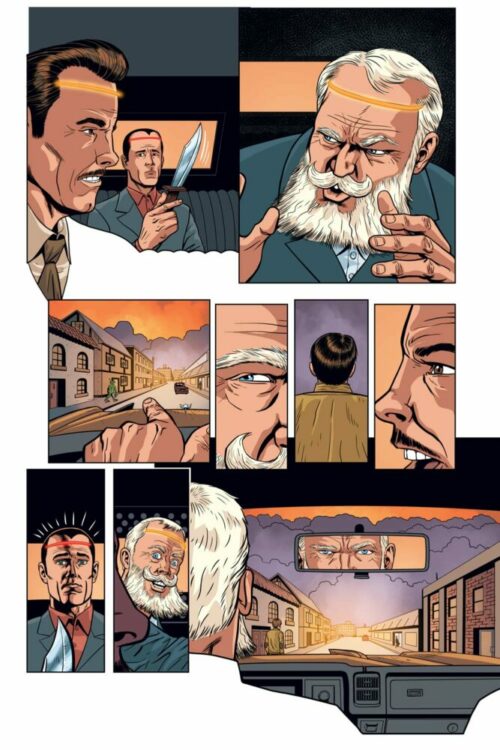 Art
If you read Necropolitan without a credits page, you'd have to assume that the three issues were drawn by separate artists. The first issue mostly uses thin linework. It's a fantastic style, but one that feels very detailed and anatomical. By issue #3, Necropolitan's art has taken on a much looser look. There are thicker lines, relaxed character designs, and an exciting push towards style over realism. The art of Necropolitan comes alive in a way it hadn't before.
Every issue of Necropolitan is drawn by Legge, but the first and last issue came out several years apart from each other. Issue #1 came out in January of 2017, while issue #3 came out in the last month. It's such a joy to see Legge's art change and adapt in these pages, especially because the art starts in a brilliant and experimental place, as it is. In the first issue, Legge uses Roman archways as panel borders and has roads cut through the page layout to pull the story along. By issue #3, we have panels that teeter precariously through action sequences and pages that seamlessly blend one moment of time into another. Even the pages you ought to be shielding your eyes from — Legge renders them so beautifully, it's impossible to look away.
Coloring
Donovan Yaciuk colors issues #1 and #2. Yaciuk's creates a bleak and pale Hell. He uses a lot of browns, greys, faded blues, and unsaturated reds. His backgrounds almost look like there's sand in the air. The greenish blue of the sky fades into a whiteish hue at the bottom of the page. With this, Yaciuk sets a lot of mood. Hell really feels like a place that the color has been sucked out of. Later, when the characters start traveling through a Roman section of Hell, Yaciuk gives everything a golden haze. It's a perfect preamble to Phillips and Darius' discussion of the "golden age" of the Roman empire that quickly follows.
Chris Chuckry takes over colors for issue #3 and the change is immediately noticeable. The first pages of issue #3 are a flashback, and Chuckry creates a great contrast between the characters and their environment. The characters look greyish blue and faded, while their environment is a warm mix of purple, red, and yellow. Throughout the rest of the issue, Chuckry often pushes the color palette into that warmer range. You get deep and bright colors. It perfectly coincides with the increase in pulpy action we see in this issue. But we also get the sense that our main character is starting to get used to his bleak atmosphere — maybe even seeing it a little differently. Both Yaciuk and Chuckry have great approaches to coloring this series, and the little ways that they set themselves apart from each other highlights the strengths of each colorist marvelously.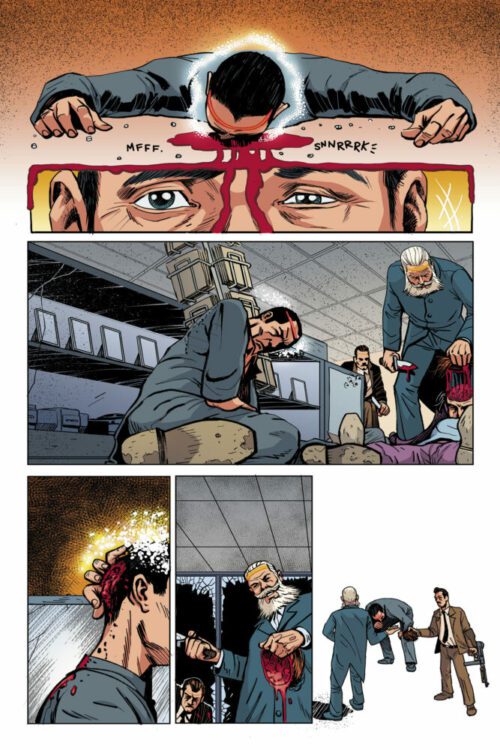 Lettering
Legge and Darius do the lettering for Necropolitan, and it's clear they have lots of fun with it. Every sound effect looks handcrafted to fit the specific scenario it shows up in. All gunshots sound different, as do explosions or screams. Every sound has its own flavor. In the opening to the series, our main character gets a knee right to the face. The big "CRACK" we see fly across the page is written to look like glass that's shattering. But it's in issue #3 that all the stops really come out. The "GLUG GLUG" of Jack the Ripper downing some booze is perfectly fitted to fill the dead space of the panel. One page sees the sounds of bullets flying, windshields breaking, and cars crashing. Every noise is written in different fonts, colors, and angles. The resulting chaos is glorious.
Conclusion
Martian Lit's Necropolitan is a meal to dig into. It may seem like your typical schlocky, shocking, gore-fest at first, but what's hiding beneath that bloody façade is a narrative that's deeply interested in the nature of evil. It's thought provoking and disturbing in the best ways possible. You can get the first volume, collecting issues #1-3, from Martian Lit's website, here.