There are plenty of ways to lose your soul in the world of comics. You could be like Johnny Blaze, making a deal with the devil, or you could become host to a force that's greater than yourself, like the Spectre. But in One-Star Squadron we get one of the most chilling examples of characters losing their souls. They simply live each day, scrounging for money and sacrificing their values to make ends meet. Until one day, they realize they're not who they once were. One-Star Squadron is a series that has never shied away from the nitty-gritty details of mundane life. With One-Star Squadron #5, writer Mark Russell, artist Steve Lieber, colorist Dave Stewart, and letterer Dave Sharpe deliver their most devastating chapter yet.
Writing
The characters in One-Star Squadron cover the panels in their long-winded thoughts, shown in caption boxes that dot every page. They're melodramatic, often trying to find meaning and symbolism in the strangest places. Red Tornado has soliloquized about the unfairness of the game musical chairs and characters opposite him have delivered unconvincing rants about how famous they once were. Russell wants you to laugh. He wants you to see the ridiculousness of their thoughts and actions. He wants you to notice the melodrama of it all. But One-Star Squadron #5 does something different. The tone doesn't change. We still live in the world of high-minded speeches and self-important internal monologues. But now, the events of this series rise to meet the tone of the dialogue and captions. Now, their exaggerated reactions to everything no longer feel exaggerated at all. All the tragedy they've claimed has surrounded them in their lives is finally here. And so Russell is no longer in it for the giggles. He's here to break your heart.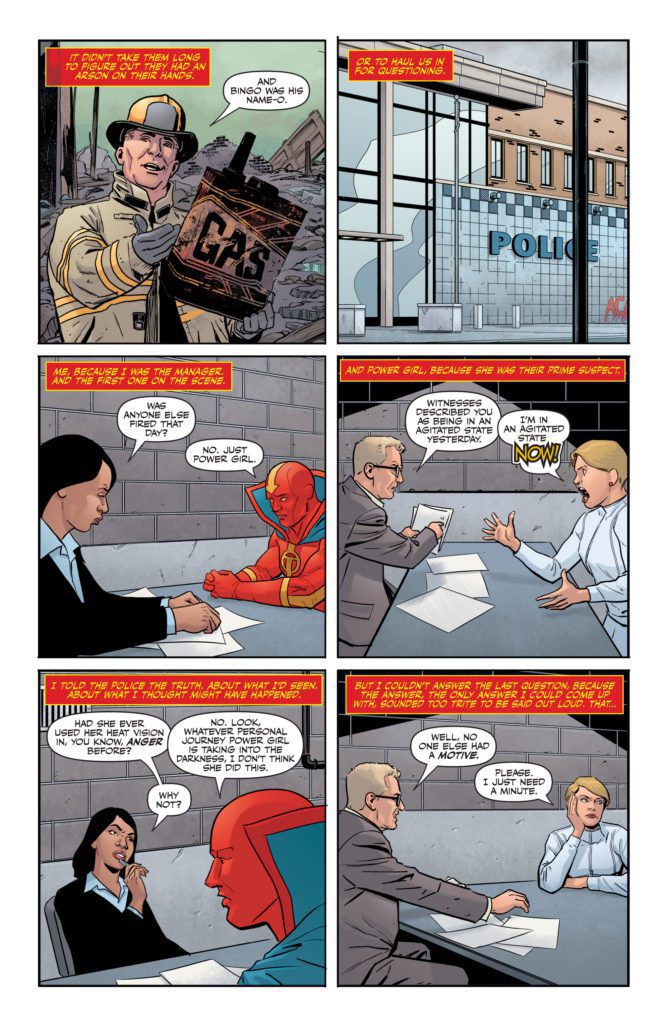 Art
Lieber's art is incredibly emotive. The smiles, frowns, and grimaces on his characters' faces are as clear as day. But in One-Star Squadron #5, he pulls the emotion back. We still get moments of extreme emotion: we see G. I. Robot's eyes bugging out as he yells through a drunken stupor and we see a villain smiling ear to ear as everything seems to be coming into place. It's the really emotional scenes, though, that feel played down. At one point, Powergirl feels like she's at the end of her rope. Lieber draws her face with a rather normal expression, but you can't help but notice the tears welling up in her eyes. The next panel, she's rubbing her eyes and looking down. Lieber shows us characters who fight back emotions before their fear and depression finally takes over. It's heart-wrenching to witness.
Coloring
Stewart's color palette for this series tends to look a little strange at first glance. You have our characters in gaudy yellow and red costumes standing around in relatively colorless settings – painted in greys, browns, and whites. Red Tornado stands out like a sore thumb. And Stewart has doubled down on this. Even in scenes that happen at night, there's always a light around to shine on Red Tornado so he stands out as bright as ever. Stewart's coloring highlights how odd it is to see these characters in regular, real-life scenarios. Their costumes ought to be surrounded by the vibrant colors of battle, not the bland shades of an office space. And while this approach continues in One-Star Squadron #5, we get one scene where our characters' costumes look muted by the darkness of the setting. They stand around in the rubble of their lives, and the dullness of their existence is finally getting to them.
Lettering
There isn't a ton of action in One-Star Squadron. After all, it's a story about down-on-their-luck superheroes trying to make ends meet. But Sharpe makes the most of the action that's there, pulling out all the stops. Whether it's Powergirl being questioned by police, and losing her patience in yellow font that explodes past the borders of her word balloon, or the "CRAAASSH" and "KABOOM" of a building going up in flames, Sharpe makes sure these moments stand out in all their bombastic glory.
Verdict
One-Star Squadron has always been funny with a hint of the tragic. Now, the comedy is taking a backseat in this series. We're seeing the devastating consequences of characters forfeiting their souls so that they can feel special one more time. Pick up One-Star Squadron #5, out from DC Comics today, at a comic shop near you!